There are officially no stragglers left. Shortly after the 49ers inked draft picks Nick Bosa and Deebo Samuel, the Jets announced the signing of No. 3 overall pick Quinnen Williams.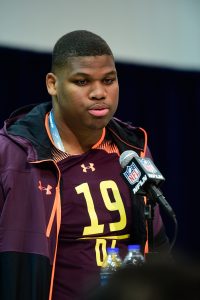 Williams, a defensive tackle out of Alabama, did not report to training camp with his fellow Jets rookies because of issues related to his signing bonus payout structure. Ultimately, it was a difference of $100K that prevented the Jets from signing Williams sooner.
The Jets and Williams reached a compromise on that matter, Ian Rapoport of NFL.com (Twitter link) hears. The defensive lineman will have a 25% signing bonus deferment to Year Two, but he'll get the other 75% at signing. With that out of the way, Williams should be on the field with the Jets on Friday.
Here's the full rundown of the Jets' draft:
Photo courtesy of USA Today Sports Images.