The hits just keep on coming for the 49ers. Shortly after learning that defensive end Nick Bosa is done for the year with a torn ACL, the 49ers announced that defensive lineman Solomon Thomas has suffered the same injury. Needless to say, Thomas' year is over.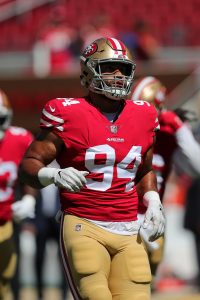 [RELATED: 49ers' Nick Bosa Done For Season]
Thomas didn't just go down in the same game — he went down two plays after Bosa. This marks a lost season for the former No. 3 overall pick in the 2017 draft after a string of disappointing campaigns. The Stanford product started at least 12 games in each of his first two seasons but was first string just three times in 2019. After playing on just 41% of the Niners snaps, he turned into more of a role player than the star SF envisioned. This year, he started in both of his games, but he won't have an opportunity to build off of that.
In 2017, Thomas was widely regarded as the second-best defensive lineman in the class, behind only Myles Garrett. On draft night, the Niners sent their No. 2 overall pick to the Bears and tapped Thomas, even though they already had a loaded defensive front featuring Arik Armstead and DeForest Buckner. With that, the Bears got Mitchell Trubisky and the 49ers got a king's ransom for sliding down just one spot. Unfortunately, they missed on Thomas. In four seasons (really, three seasons-and-change), Thomas registered six total sacks while starting just 30 games.
In other Niners injury news, the club received good word on quarterback Jimmy Garoppolo. He's day-to-day with his high-ankle injury, giving him a small chance of playing this week against the Giants and a better chance of returning for Week 4 against the Eagles (Twitter link via NFL.com's Ian Rapoport). Running back Raheem Mostert, meanwhile, will be out for several weeks with a knee injury.
Photo courtesy of USA Today Sports Images.