This wasn't the first time in recent years the Raiders entered an offseason with plenty of money to spend. However, the franchise's effort in convincing marquee free agents to accept its offers unfolded in exponentially better fashion, creating the Raiders' best roster since their 2002 AFC champion effort. This one also features more key players in their prime. The Raiders haven't possessed this kind of team – one with a core featuring players in their prime or on the way to their prime – in decades.
Expectations exist in Oakland for the first time in ages. But the team has not even produced a winning season since 2002 and only two of its seven victories in 2015 came against teams that didn't end up possessing top-six draft picks. With Mark Davis openly pursuing Las Vegas, 2016 promises to be a complex year for the Raiders. Their rejuvenation effort is impossible to deny, though, especially when compared to so many forgettable offseasons in the recent past.
Notable signings:
Oakland saw Derek Carr throw 32 touchdown passes and Amari Cooper become the first Raider since Randy Moss in 2005 to surpass the 1,000-yard receiving barrier. Latavius Murray also became the franchise's first 1,000-yard rusher since 2010. That talent remains in place, but the Raiders did not supplement it with much defensively last season. A defense lacking much depth to supplement Khalil Mack or Charles Woodson ranked 22nd in yards allowed and 26th against the pass. Their free agency effort focused on this problem.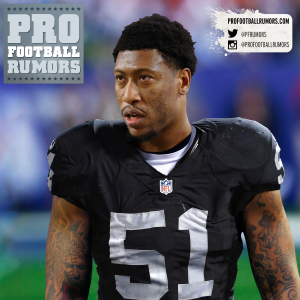 Mack's All-Pro breakout season included 15 sacks, but the team featured no other edge player who recorded more than four. The hybrid linebacker/defensive end will now have Irvin complementing him as a pass-rusher. The Seahawks ended up keeping several players from their landmark 2012 class — Russell Wilson and Bobby Wagner chief among them — and didn't have room to retain their own hybrid linebacker.
Seattle's 2012 first-round pick has experience lining up as a defensive end and linebacker for full-season stays, which should benefit him in a Ken Norton Jr.-coordinated Raiders attack that will use both 4-3 and 3-4 concepts as it did a year ago. Norton coached Irvin in Seattle, and that will benefit the fifth-year player as well.
The Raiders have now equipped Mack with several ancillary pass-rushers to take pressure off of him, a group that includes the still-suspended Aldon Smith. But Irvin will be the primary player tasked with doing so. He has 22 sacks in four seasons, with his most (eight) coming as a rookie when the Seahawks opted to line him up primarily as a defensive end. On passing downs, Irvin figures to drop down and rush quarterbacks opposite Mack. His seasoning at both end and non-rush 'backer makes him an ideal signing since the Raiders were also thin on their second level.
Going into last season, Oakland's cornerback corps carried several homegrown talents that have not yet shown they're capable NFL defenders. That D.J. Hayden-fronted contingent will now vie for nickel responsibilities after Oakland solidified this position by signing not only Sean Smith but extending 2015 waiver claim David Amerson.
The former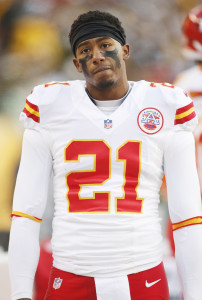 profiles as a rangy man corner, which Norton prefers. Smith served as the Chiefs' most consistent corner from 2013-15 and played a key part in Kansas City trotting out three straight strong pass defenses. Defensive rookie of the year Marcus Peters led the NFL in passes thrown his way in 2015, with Smith being the player opposing offenses wanted to test least when facing the Chiefs. The 6-foot-3 outside stopper became the rare high-end starter to sign a third contract before turning 30, and he and 2015 surprise Amerson give the secondary a vital talent infusion. Hayden, T.J. Carrie and Neiko Thorpe functioning in the Nos. 3-5 roles at corner instead of as the team's top trio should fit the holdovers' skill sets better.
Woodson did not see his production tail off to the degree most 39-year-old talents' have, and the Raiders are going to miss the future Hall of Famer. Nelson was one of the few players involved in more turnovers than Woodson last season. En route to Pro Bowl acclaim, the 32-year-old Nelson tied Peters by intercepting an NFL-high eight passes, and the former Jaguars first-rounder recovered two fumbles.
No one will confuse Nelson of matching his free safety predecessor's instincts, especially after Woodson snared five INTs and recovered four fumbles at 39. But the Raiders needed a veteran presence on their back line since Nate Allen's standing within the organization plummeted after an injury-marred 2015 and a subsequent release/re-signing. Nelson's two-year deal seems reasonable for a talented player who will be 34 at its conclusion.
It's debatable Aldon Smith will play for the Raiders in 2016, but the team clearly felt confident he'd return to some semblance of his All-Pro form. The former first-round pick and first-team All-Pro could conceivably be a difference-making presence down the stretch for a Raiders team that's enhanced its pass rush. Mack, Irvin, and Smith could form a NASCAR package-style look of their own in select sequences, providing Smith's reinstatement — set for Nov. 17 at the earliest (Week 10) — unfolds smoothly. That's no lock, as Josh Gordon and several others can attest.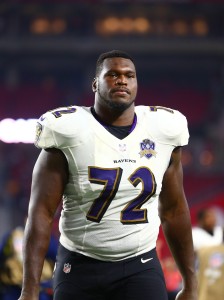 The Raiders allocated most of their prime resources to defensive upgrades but made their biggest financial commitment to Osemele. With Gabe Jackson already in the fold, Oakland's need at guard didn't match the ones that existed on defense. But the Raiders had more than $70MM in cap space to start the offseason. This signing should make their offensive line one of the game's best. Oakland saw four of its five linemen receive quality grades from Pro Football Focus, with J'Marcus Webb at right guard being the only outlier.
The franchise immediately signed Osemele to fix a weak spot and made the fifth-year player by far the highest-paid guard in the league. The former second-round pick is basically on his own tier as far as guards go, with his $11.7MM-per-year deal nearly $4MM clear of the second-highest-paid guard, the Eagles' Brandon Brooks ($8MM), in terms of AAV. The Raiders' cap situation allowed them to frontload Osemele's contract, and his $13.2MM 2016 cap number sits north of every other offensive linemen by at least $1MM.
Osemele, 27, will return to what has been his best NFL position, left guard, relocating Jackson to the right side for the first time as a pro. The Ravens used Osemele at left tackle down the stretch last season and likely inflated his value. One of the best run-blockers in the league will help Murray attempt to replicate his quality 2015 season, but for a bit in March it wasn't yet known which position Osemele would play.
Donald Penn's decision to re-sign in Oakland, where he'd played well on a below-market contract the past two years to earn a rare raise at age 33, made sure Osemele would begin his Raiders tenure as a guard. Penn increased his value after two solid years with the Raiders but didn't end up signing for that much more than he did when he inked a two-year, $9.6MM accord in 2014. So, the Raiders will be paying for the final years of the left tackle's career in all likelihood but had the money to retain their only notable expiring contract.
The Raiders' O-line now consists of four veteran contracts (Penn, Osemele, Rodney Hudson, and Austin Howard), with three of those representing top-10 money at their respective positions. Oakland's payroll now houses an incredible imbalance between homegrown draftees and outside hires. The top nine figures on the Raiders' 2016 cap sheet are allotted payments to hired guns acquired in the past three years, with Cooper and Mack's coming in at 10th and 11th, respectively. This became possible due to poor drafting for several years in the late 2000s and early 2010s and several UFAs leaving in that span, Jared Veldheer and Lamarr Houston among them.
This spring's spending spree gave the Raiders a nucleus that will be tethered to their plans for the next few years, and while the commitment proved extensive, their starting lineup can now measure up with the Broncos' and Chiefs' first units as the franchise hopes to compete with its top rivals.
Click here to read more about the Raiders' offseason..
Notable losses:
While the offseason quickly became about what the Raiders acquired compared to what departed, the franchise did lose one of its best players ever in Woodson. The 39-year-old maintained a high level of play for longer than about anyone in league annals and stands as one of the best defensive backs in the NFL's 97-season history. Pro Football Focus rated Woodson as its No. 28 safety last season, but he booked his ninth Pro Bowl berth 17 years after his first. The former Heisman Trophy winner and first-round Raiders draft choice in 1998 held an overmatched Oakland secondary together as the unit cycled through safeties and attempted to get by with just one dependable corner.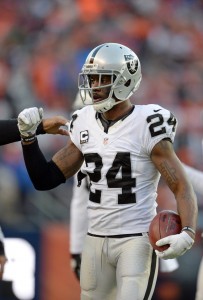 Tuck was set to be an unrestricted free agent after being one of the few Raider free agent success stories in many years. Although his most memorable Raiders moment may have come when he called a timeout and admonished Sio Moore and Khalil Mack for being well offsides while celebrating a late-game sack in 2014, Tuck delivered on the field when he was healthy for his second NFL employer. He registered five sacks in 2014 and played well through five games before suffering a season-ending chest injury.
Neither Lofton nor Webb turned out to produce much for the Raiders, the former being benched despite signing a three-year contract last year and the latter being the team's worst starting lineman. One year after coming to the Raiders for $18MM, Lofton remains unsigned. The former Saint's deal did not feature any guaranteed money coming after the first season, so the Raiders escaped relatively unscathed. Webb looks to now start for the Seahawks, who despite their success appear to have a far worse offensive line than the Raiders.
While the Raiders added Kelechi Osemele as a high-profile guard replacement, they'll likely turn to second-year player Ben Heeney as their first choice to succeed Lofton at middle linebacker. The 2015 fifth-rounder started in three games down the stretch for the Silver and Black, who did not address the position until the sixth round of the draft. The Raiders are in need of a linebacker to join Malcolm Smith on passing downs, a role that's become more relevant than starting middle linebacker.
Trades:
Acquired a 2016 fourth-round pick (No. 100) from the Browns in exchange for a 2016 fourth-round pick (No. 114) and a 2016 fifth-round pick (No. 154).
Draft picks:
A hard-hitting safety, Joseph fills a key void for the Raiders, with the franchise not having much to build around long-term on its back line. Reggie Nelson will be 33 in September, and the 28-year-old Nate Allen no longer has long-term security after the events of this offseason. The 22-year-old Joseph did not suit up for the Mountaineers after their fourth game last season. His torn meniscus could well keep Allen in the Raiders' starting lineup early, with the team likely not being in a rush to install Joseph as a full-time player until he's ready.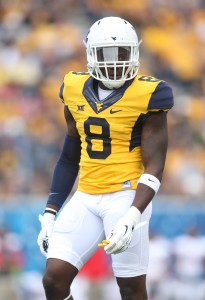 Known more for his tackling ability, Joseph was having a career year in terms of forcing turnovers. The eventual No. 14 overall pick intercepted five passes in less than four full games for West Virginia in 2015, eclipsing his total from the previous three years combined. It's been several years since the Raiders possessed a young safety they could build around; Tyvon Branch represented the last notable qualifier here. But the current Cardinals defender's injury troubles sidetracked his Raiders tenure.
Joseph should be a starter alongside Nelson before long, with a healthy Allen potentially being a key charge as a third safety for a team that has questions at its nickel and dime spots. Using the formerly durable Eagles safety as a dime defender could help the Raiders the same way Branch did for the similarly cornerback-strapped Chiefs last season.
Ward and Calhoun will arrive at Raiders camp with disparate Big Ten resumes. An Illinois product whom many considered a reach in Round 2, Ward played two seasons with the Fighting Illini after transferring from a junior college. He made 104 total tackles (13 for loss) in 2014-15 despite coming into last year with knee problems. Ward could be of use for the Raiders as a run defender and, after some development from a prospect labeled as fairly raw, serve as an interior pass-rusher in 4-3 sets or reside as a five-technique end when Oakland shifts into 3-4 looks.
Calhoun, conversely, looks closer to a finished product after his Spartans career ended with 27 sacks and 44 TFLs. Calhoun won't be asked to start, but his edge-rushing acumen — one that induced Pro Football Focus to bestow its second-best pass-rushing grade among edge defenders upon him in 2015 — could make him a weapon off the bench behind Khalil Mack and Bruce Irvin. Oakland will likely ask its third-rounder to serve in a similar capacity Denver deployed 2015 first-rounder Shane Ray — as a fresh rusher to spell its starters.
Oakland bypassed apparent needs at running back and inside linebacker in order to take Calhoun's teammate, one who became the rare college talent known for his lack of captain status. Cook fell to the fourth round and now does not look to have an avenue to a starting job barring a trade. Once thought to be a potential second-round pick and a target for quarterback-needy franchises, the former Michigan State passer now could loom as trade bait similar the way Kirk Cousins was once viewed after going three rounds after Robert Griffin III in 2012. However, the Raiders appear to have upgraded their backup spot. Cook should usurp "Moxy" Matt McGloin this season once he becomes somewhat comfortable and give Oakland more insurance behind Derek Carr.
The Raiders waiting until the fifth round to take a running back showed belief in Latavius Murray, an impending free agent. They will almost certainly install Murray behind an improved offensive line in hopes the blocking enhancements will boost the run game. After catching 124 passes for 1,091 yards with the aerial-based Red Raiders, Washington could grow into a passing-down back should he prove adept at pass-blocking — an area in which many rookies struggle. But Murray, who is looking to become the first Raider to rush for 1,000 yards in back-to-back seasons since Marcus Allen in 1984-85, appears to have avoided immediate competition as pushes the Raiders (or another team) for a lucrative deal.
Extensions and restructures:
Merely ten months after arriving in Oakland as a waiver claim, Amerson proved to be the team's most consistent corner. The Raiders' drafted talents here have not panned out, and the franchise's decision-makers recognized that this offseason and have invested in two long-term options. Amerson's deal also appears to be a pay-as-you-go proposition, protecting the team in case the 6-1 corner reverts to the ways that induced Washington to waive him last September.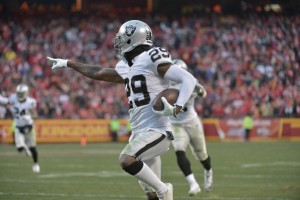 This extension gave the former second-round Redskins pick a $1MM base salary for 2016, but more importantly a $3MM roster bonus. That essentially quadruples Amerson's '16 income during what would have been a contract year. But, with the deal including just $5.5MM in full guarantees, Amerson still enters this season with a chance of being cut next offseason should he regress. His 2017 salary of $6.5MM becomes guaranteed on the third day of the next league year, with a $5.5MM '18 base structured identically a year later.
Amerson did not bet on himself in the traditional sense, eschewing a contract and joining what now looks like a talented cornerback free agent class before extensions are signed. But he's banking on 2015 being a turning point and not an aberration. Still, the 24-year-old corner took the money early, and if he proves to be a good fit for the Raiders' man-based scheme again this season, the Raiders will be happy to pick up those figurative option years and trigger those additional guarantees. Because they'd be getting a quality No. 2 corner in that event for less than $7MM AAV. As the cap continues to rise, that's a favorable scenario for the team.
Other:
Aside from the Raiders' talent boost this offseason, the biggest Raiders story in 2016 thus far has been where their long-term headquarters will be.
Near the offseason's outset, the Raiders hoped their joint effort with the Chargers for a Carson, Calif.-stationed stadium would win out, but the owners approved the Rams' Inglewood venue instead and gave the Chargers first dibs on joining them in Los Angeles. The Raiders stand to get another crack at L.A. chance if the Bolts pass on that offer by January of 2017 and Mark Davis' franchise became loosely connected to San Antonio and San Diego at different times. But, another possible destination has emerged.
Could Las Vegas really be an NF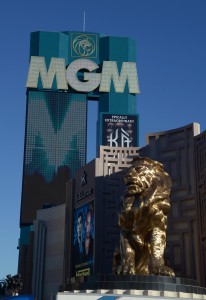 L city? Sin City quickly transformed from an afterthought to a serious threat to steal the Raiders, progressing much further in its pursuit of finalizing a stadium plan than the team's current city has. Davis has pledged to move his team to Vegas if the city approves a stadium, putting Raiders fans in a strange spot.
Oakland mayor Libby Schaaf has held firm on not using public funds to finance a long-term Bay Area home for the Raiders, who returned to Oakland in 1995, yet still play in the same stadium they used for much of their previous stay in northern California. Open since 1966, O.co Coliseum will house the Raiders again in 2016 after the team signed another one-year lease to stay there. While Oakland doesn't have much established in terms of financial parameters of securing a Raiders venue, the Southern Nevada Tourism and Infrastructure Committee is determining how money will be distributed for a stadium that could surpass $2 billion in total costs. The SNTIC has until Sept. 30 to send a plan to Nevada governor Brian Sandoval, with the only hangup being how much public money (largely be collected via hotel tax) will be used to finance this project.
While most owners have not come out publicly on a Vegas NFL team, influential leaders like Jerry Jones and Robert Kraft have voiced support for Davis and shown flexibility on a team's relocation into the nation's gambling mecca. It looks closer than ever a team will move there, with Davis now having distanced himself from Los Angeles. Those talks could pick up again should either the SNTIC not complete a plan or if 24 owners don't approve a move. But the Chargers are also mired in potentially futile stadium talks after a California Supreme Court decision stands to severely limit a November measure for a downtown stadium's chances of passing.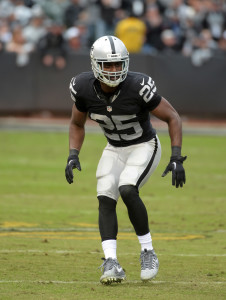 Dean Spanos already agreed in principle to join Stan Kroenke and the Rams in Inglewood, so there's still a chance the musical chairs game ends with the Raiders in Oakland beyond 2016. But Vegas has gained sufficient steam and could well put the owners to a vote. The Bay Area already having the 49ers could be seen as a boon for LV's prospects since this would represent a foray into a new market, albeit one that isn't among the top 40 in the country. But the Raiders could be a rare and awkward position this season of having playoff aspirations as a relocation looms. No team since the 1970 merger has moved on the heels of a playoff campaign.
Other offseason decisions did not involve as much drama. The Raiders passed on Hayden's fifth-year option after the former No. 12 overall pick underwhelmed considerably in his first three Oakland slates. Hayden's 2017 salary would have been top-20 cornerback money as of now, and the supplanted starter has not lived up to that status yet. He'll play out a contract year in 2016 as a result. Hayden looks to enter training camp as the Raiders' top nickel option, but the more versatile T.J. Carrie could usurp him there as well. A Houston product who suffered a frightening injury during Cougars practice in 2012, Hayden looks set for his final Oakland season.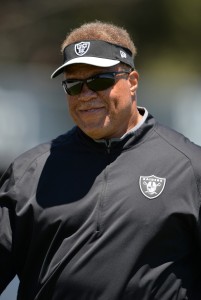 The team, though, extended the GM who drafted Hayden. As the Raiders sit on the precipice of potential contention for the first time in ages, they agreed to an extension with their architect. Al Davis' decision-making successor remade the Raiders over the past five years, with his most noticeable upgrades coming over the past three. Drafting Khalil Mack, Derek Carr and Gabe Jackson in 2014 and adding Amari Cooper a year later, McKenzie has stockpiled better young cornerstones than the Raiders have possessed in decades. Signing the likes of Rodney Hudson, Dan Williams and Michael Crabtree paid off last year, and McKenzie's much-publicized 2016 haul made bigger headlines.
The Raiders are now operating like a stable organization after years of mismanagement. McKenzie's second head-coaching hire, Jack Del Rio, comes with a pedigree of lifting teams to the playoffs as a head coach and elevating defenses as a DC over the past 10+ years. A 53-year-old GM who spent 18 years with the Packers, McKenzie will now have a chance to see his operation through, no matter where the Raiders decide to play. They don't have the wins to show for it yet, but the Raiders are in far better shape than they were prior to McKenzie's arrival.
Smith's unspecified trip to rehab only seems to further diminish his chances at making a notable contribution to the Raiders this season. There is no guaranteed money on his two-year deal, protecting the team in the event the talented 26-year-old pass-rusher cannot overcome these off-the-field issues. McKenzie indicated the Raiders will not bail on Smith but also noted the former University of Missouri standout has an "uphill battle" ahead of him. Smith's only started more than eight games in a season once, in 2012, and produced 19.5 sacks that year. That's tied for the 12th-most in any season since sacks became a stat, but his top form hasn't surfaced in years. Smith's teetering on what-if terrain.
Top 10 cap hits for 2016:
The Raiders look to have amassed enough talent to make a legitimate challenge for the playoffs in a division that, after years of mostly Broncos dominance, could be highly competitive this season. They'll be attempting this ascent under the backdrop of what could well be an acrimonious season amid relocation drama, but the Raiders appear to be situation well on the field for a change. They have a core group of performers on the books for at least two more years. Given the statuses of their cornerstone players, the Silver and Black should be primed to contend in the near future.
However, Oakland has not proven much with this group yet on the field. Denver still should deploy one of the league's best defenses, and Kansas City probably has the most balanced team in the division after advancing to the playoffs in two of the past three years and not losing what the Broncos did offensively. The Raiders are in position to make some noise at long last, and this season will go a ways toward determining how prescient the front office's investments were over the past three years.
Information from Over the Cap, Spotrac, and Roster Resource was used in the creation of this post. Photos courtesy of USA Today Sports Images.
Follow @PFRumors