The runaway headline kingpins of the 2022 offseason, the Browns will enter the season with a fully revamped quarterback room and a much higher profile. If everything goes according to plan, the first part of this equation would give Cleveland a franchise-caliber passer to fill a void that has existed for decades.
Of course, little has gone according to plan since the Browns traded for and extended Deshaun Watson. And the cost of that move rises exponentially after 2022. After one of the most controversial transactions in NFL history, this is the franchise's identity. And it will take a bit before the on-field chapters of this much-discussed saga begin.
Trades:
Browns vilification should not come merely for acquiring Watson via trade. They joined three other teams — the Falcons, Panthers and Saints — in being prepared to pay the historic cost. Teams beyond the four finalists pursued Watson as well. If it had just been the trade the Browns made, the blowback probably does not reach the place it did. Cleveland's 11th-hour contract proposal to outflank NFC South destinations Watson preferred, along with the comments from the key principals involved, led this process to a messy place.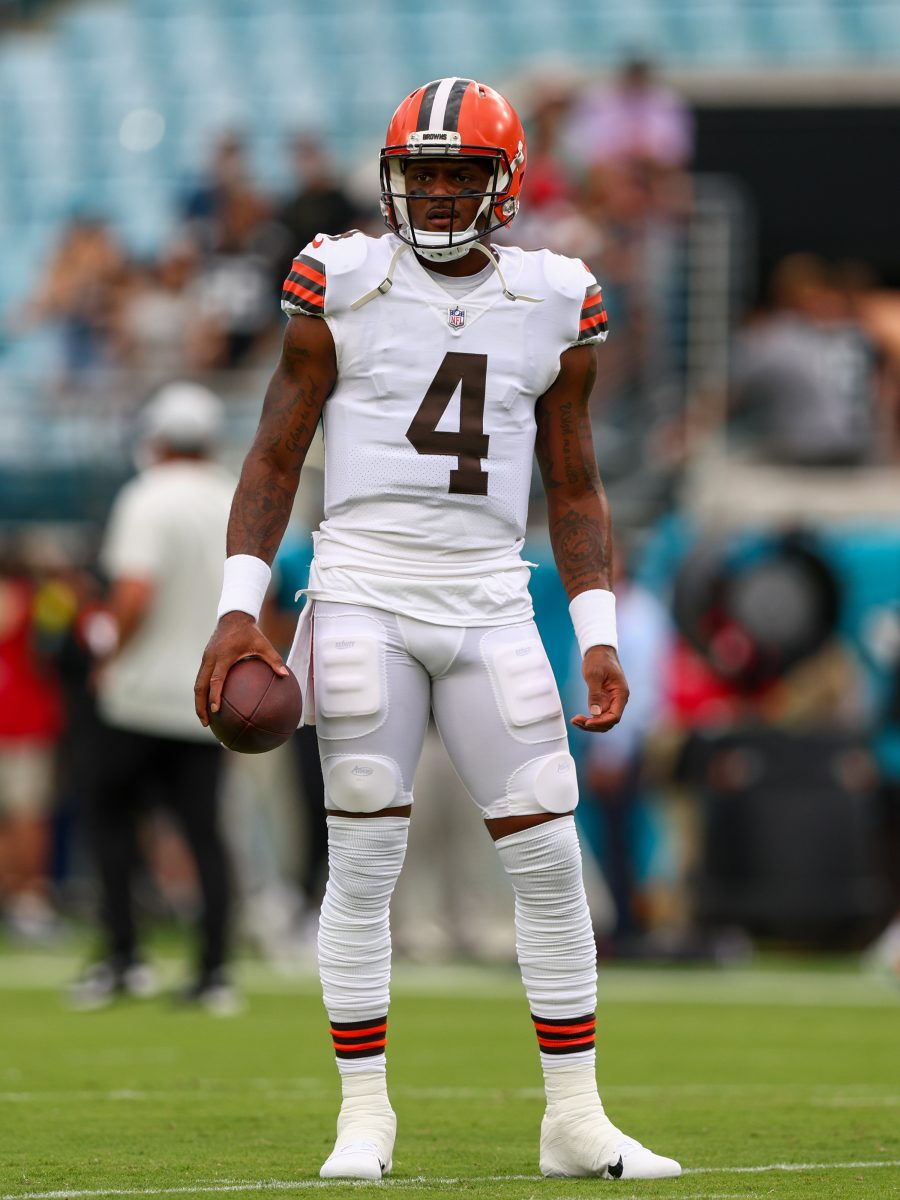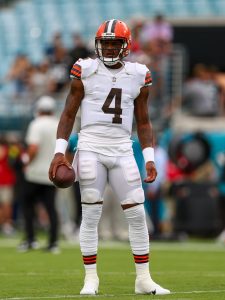 Watson signed a $39MM-per-year deal with the Texans in August 2020. Although that contract seems like it was authorized a decade ago, its extension years were set to begin in 2022. Watson played one season on what was a top-five QB contract over its first two years. Amid the early parts of a scandal that saw criminal and civil cases come from more than two dozen women accusing Watson of sexual misconduct and/or sexual assault during massage therapy sessions, the Texans then made him a 17-game healthy scratch. Despite Watson's turmoil, quarterbacks of this caliber squarely in their primes are almost never available. Teams acted accordingly, and the Browns one-upped the field.
It is unclear what the NFC South franchises were offering, money-wise, during the March sweepstakes. But the Browns' decision to authorize the five-year, $230MM fully guaranteed deal to a player in Watson's position has made Jimmy and Dee Haslam personas non grata among NFL ownership while producing endless criticism of the franchise. Four years remained on Watson's Texans-constructed deal. His third NFL contract is the most player-friendly pact in league history. Even after Russell Wilson's $49MM-per-year Broncos deal came to pass, Watson's deal still tops the league in fully guaranteed money by more than $100MM.
Cleveland will not have its starter available until Week 13. Watson's suspension, after an NFL appeal and settlement with the NFLPA that avoided a court battle, was longer than the one the Browns envisioned upon acquiring him but not as lengthy as the league initially sought. This will leave a roster that has some strong position groups vulnerable during the Watson contract's most conducive year to winning.
The league-minimum salary the Browns arranged — to the NFL and the other teams' dismay, leading to the $5MM fine — to minimize Watson's financial punishment created a $9.4MM 2022 cap number. Loading up a playoff-caliber roster around that, regardless of the rust the former first-round pick might show, made sense. But Watson's first full season will come when his cap hit spikes to never-before-seen territory. Watson's cap numbers from 2023-26: $54.99MM. The NFL has never seen even a $45MM cap hit. No Super Bowl champion has carried a quarterback cap figure north of $25MM. Building around Watson's salaries will be a challenge for Browns GM Andrew Berry, whom Jimmy Haslam said concocted the idea for the fully guaranteed deal.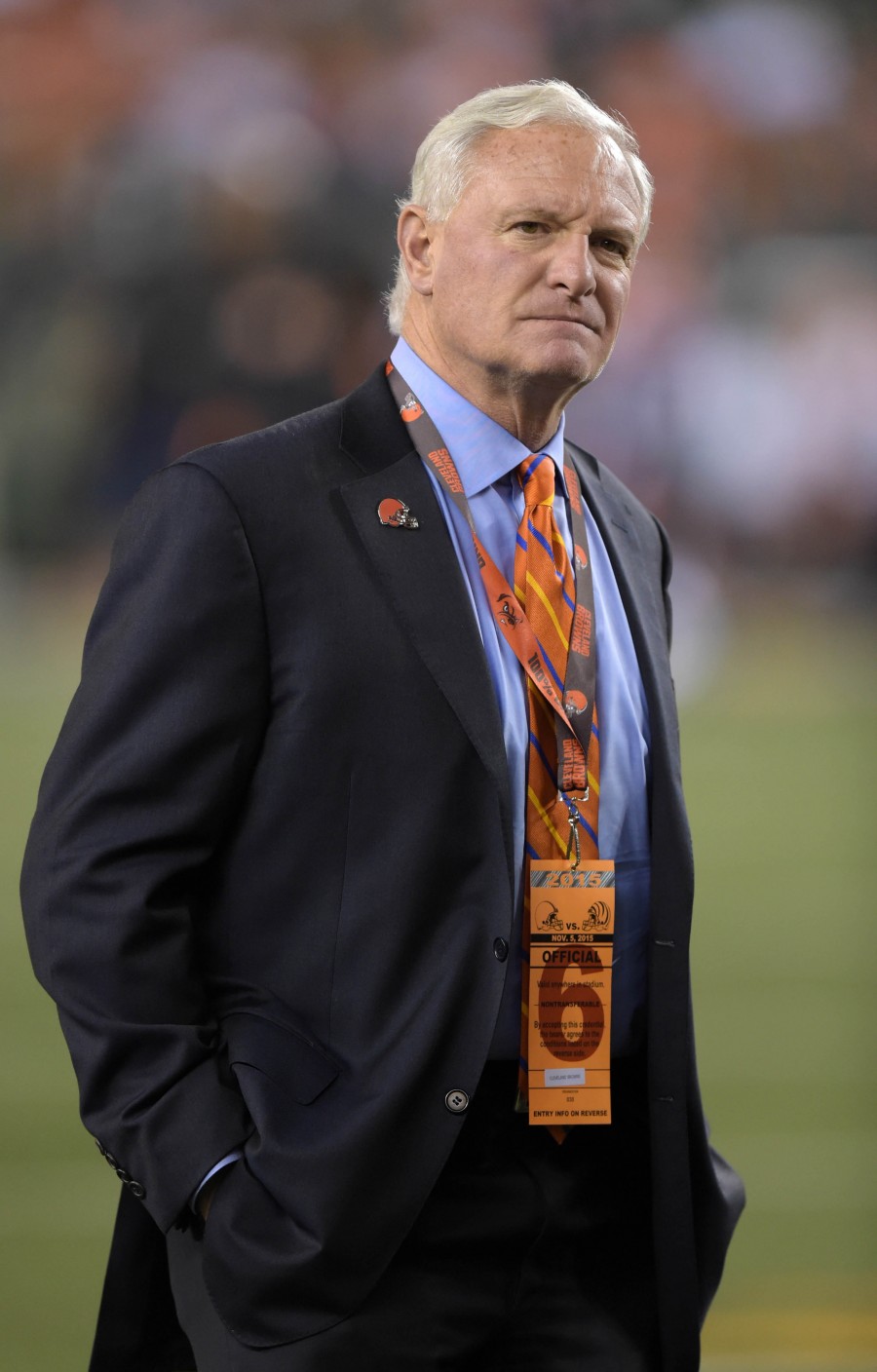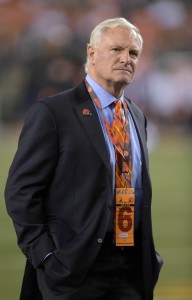 The ire coming at the Browns from most of the NFL universe aside, Watson is probably still a top-10 quarterback or close to it. His three full seasons produced 13th-, seventh- and 12th-place QBR rankings. The Browns, who passed on the Clemson star two regimes ago by trading out of the No. 12 slot to send him to Houston, will upgrade from Baker Mayfield. Watson, 27 next week, led the NFL in passing yards two years ago and lifted flawed Texans teams to back-to-back playoff brackets.
But the dual-threat talent will have missed 28 games since his last Texans appearance. And the vitriol directed at the quarterback and the team — largely for the lack of remorse Watson has shown, cresting with a defiant press conference that contradicted the language that appeared in his official post-settlement statement — may last a while. While two grand juries did not bring forth charges, NFL disciplinary officer Sue Robinson ruled Watson committed nonviolent sexual assault and engaged in predatory behavior. He settled suits with 23 women. The Browns are banking on the waves of negative PR eventually washing away. But Watson being rewarded with a lavish outlier contract and residing as the Browns' new cornerstone player will likely tie this organization to the scandal for the foreseeable future.
The emergences of Joe Burrow and Justin Herbert and Wilson's AFC arrival will also increase the degree of difficulty for the Watson-era Browns. Considering the extensions Wilson and Kyler Murray signed, it would shock if Burrow or Herbert landed fully guaranteed deals. That will make Bengals and Chargers' paths to building contenders around those eventual extensions a bit easier. The Browns trading their 2023 and '24 first-round picks creates more hurdles and continues an interesting pattern with Watson-led teams. The Texans were without first-rounders in 2018 (via the first Watson trade) and from 2020-21 (the Laremy Tunsil deal) during their star QB's stay. As the Browns aim to construct a championship team around a record-setting QB contract, this will be one of the more interesting roster-building experiments in NFL history.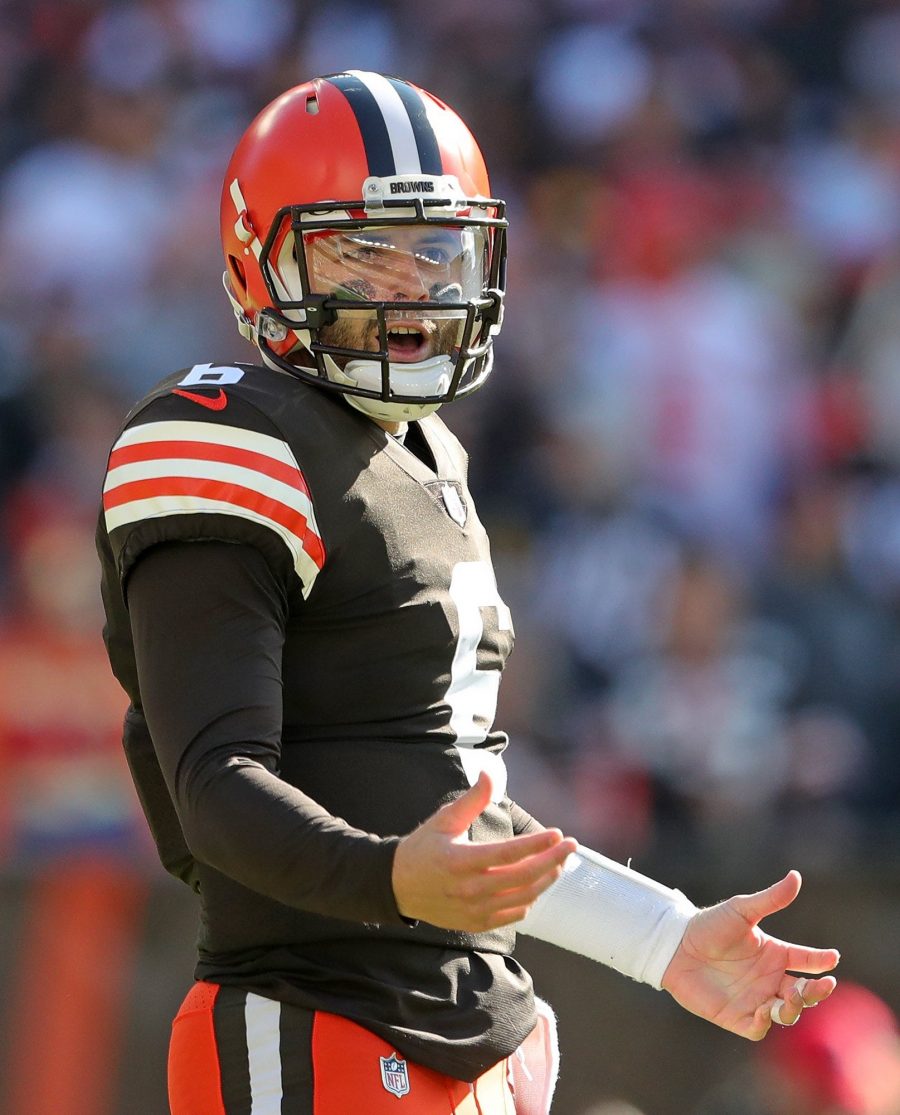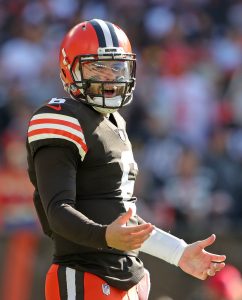 Mayfield's on-field work in Cleveland produced wild inconsistency, leading to the franchise's desperate play for Watson. The Browns' radical trade/extension sequence ended Mayfield's four-year Cleveland tenure, though the former playoff starter needed to wait almost three months for the cord cut. Panthers GM Scott Fitterer said his team's Mayfield offer was better during the draft, but the Browns were not ready to pay as much of the quarterback's contract as they ended up paying. Cleveland took on $10.5MM in dead money to collect a conditional 2024 Day 3 pick.
Mayfield's highs did generate considerable optimism. His second-place Offensive Rookie of the Year finish delivered promise ahead of 2019, but that led to the decision to promote Freddie Kitchens, who oversaw the Heisman winner's ensuing nosedive. Stefanski restored Mayfield, who thrived behind a top-tier offensive line and one of the 21st century's best backfield duos. The Browns snapped an 18-year playoff drought and had the eventual AFC champion Chiefs on the ropes. But the perpetually clunky Mayfield-Odell Beckham Jr. fit led to a 2021 fissure. Mayfield playing through his shoulder injury ended up throwing him off the extension track and sealed his fate with the Browns.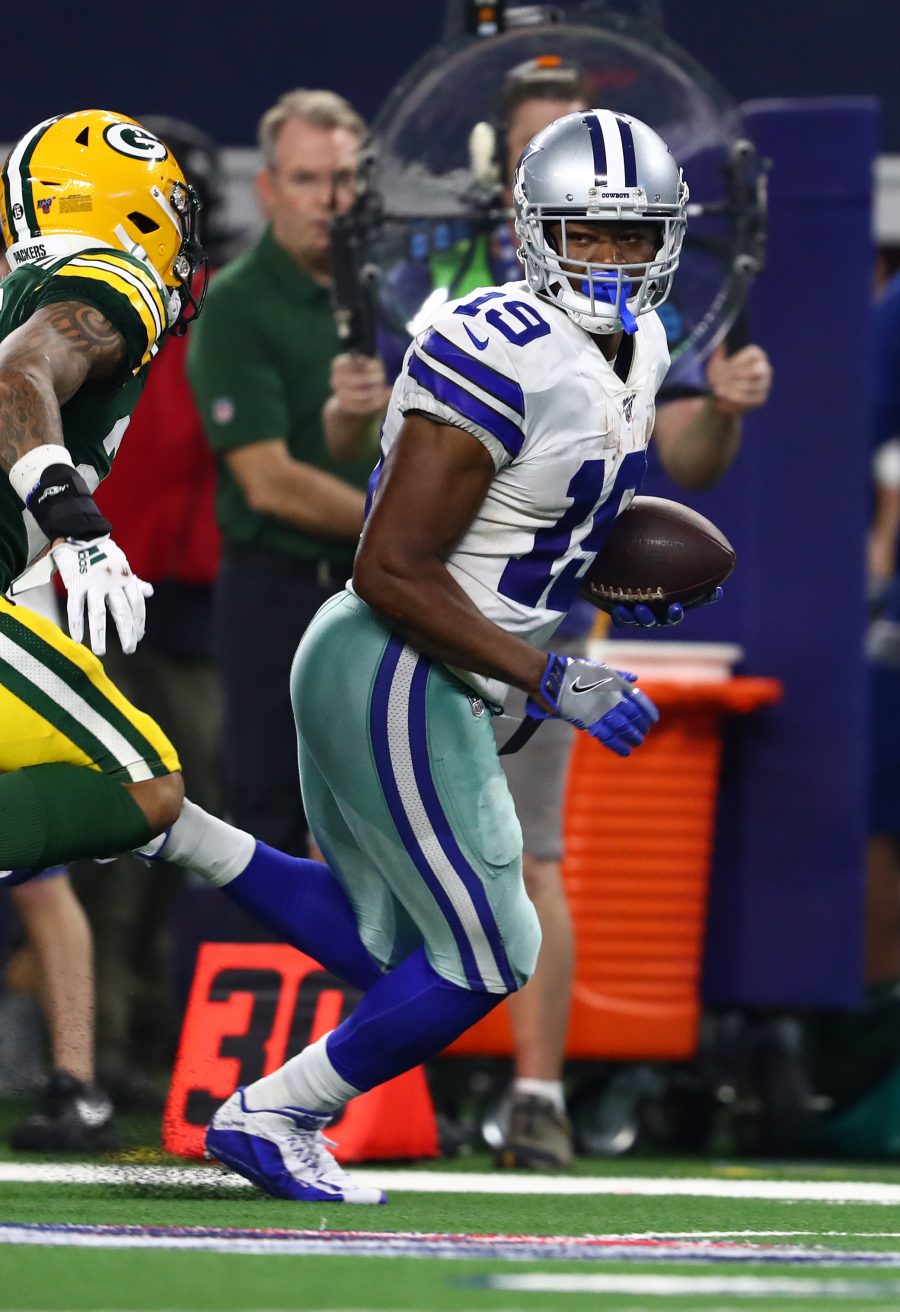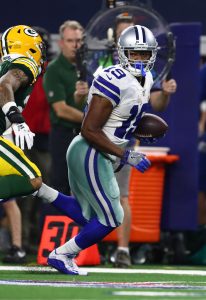 Still, the juxtaposition of the "adult in the room" comment regarding Mayfield and the Watson acquisition displayed an alarming lack of self-awareness, and the Browns' instability under the Haslams (six GMs, six full-time HCs since the owners' 2012 arrival, 52-108-1 record) does not instill much confidence in their decision-making. Berry and Stefanski have thus far proven to be good hires. Berry not forcing the issue with a 2021 Mayfield extension proved to be the right call. Both will be thrust into a new spotlight, with Stefanski going from 2020 Coach of the Year to a leader that will be forced to keep answering Watson-related questions and make his offense work with Jacoby Brissett for 11 games.
The Browns did well to acquire Cooper for two Day 3 picks. Trading for Cooper just before the receiver dam broke, the timing here worked out nicely for the Browns. Cooper's $20MM-per-year contract looks much friendlier than it did in early March. He is signed through 2024; the 2023 and '24 salaries are nonguaranteed. The former top-five pick's contract ranked as the receiver market's third-richest at the time of the trade. It now sits in a tie for 12th.
Cooper's deal will take the place of Beckham's atop the Browns' skill-position payroll. Although Cleveland's OBJ swap bombed, the team will try again with a player carrying a longer sample size of production — albeit with a lower ceiling than Beckham brought in 2019. Cooper, 28, is a four-time Pro Bowler and one of the NFL's best route runners. He turned around a fading 2018 Cowboys season, rebounding from the slump that plagued his final Raiders months. Not having Watson for much of this season does run the risk of wasting a prime Cooper year, with 2023 being Year 9 for the ex-Alabama star. But the Browns' Brissett-run offense will depend on Cooper, with question marks at every other pass-catching spot.
Free agency additions: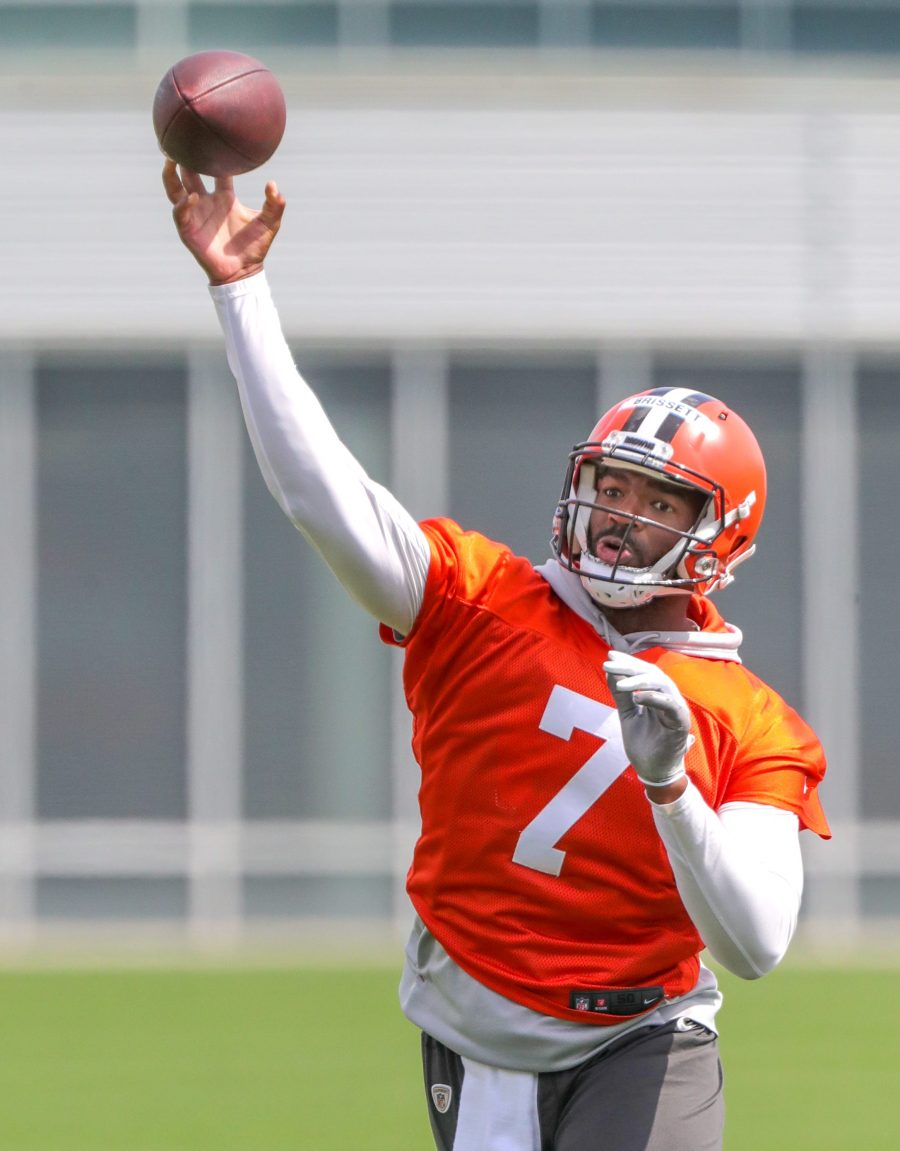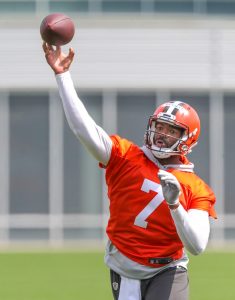 This is oddly the most time Brissett has had to prepare for a QB1 season. The Colts acquired him from the Patriots in September 2017, as Andrew Luck's mysterious shoulder injury led to a full-season absence. Brissett started 15 games that year. In 2019, Brissett became the Colts' belated answer after Luck's shocking late-summer retirement. With the Browns knowing Watson would be suspended, Stefanski has had months to prepare his fill-in starter.
The Browns chose Brissett, 29, over their incumbent backup (Keenum) who had been with Stefanski for three seasons. They also passed on parting with a draft pick for Jimmy Garoppolo. Selecting this path probably deserved more attention, but the Watson drama understandably overshadowed the Brissett decision. If Trey Lance starts the season off well and Brissett does not, would the Browns circle back to Garoppolo before the Nov. 1 deadline?
Playing a careful style, Brissett fared better in 2019 than he did with a less talented Colts squad two years prior. He threw 18 touchdown passes and six interceptions during a 7-9 Indianapolis season. Last year, however, Brissett averaged an eye-opening 5.7 yards per attempt as the Dolphins' offense — save for Jaylen Waddle, who still showed the dangers of PPR scoring during much of his time with Brissett — sputtered. That said, Pro Football Focus graded Miami's O-line as the NFL's worst last season. While a hole now exists at center, the Browns have one of the best. Their Nick Chubb–Kareem Hunt (feat. D'Ernest Johnson) ground game will also provide Brissett with far more help than Miami's 30th-ranked rushing attack did last season.
The Brissett-Dobbs depth chart could sink the Browns' season, with the Watson ban forcing him to miss midseason tilts against the Chargers, Patriots, Bengals, Ravens, Dolphins, Bills and Buccaneers. Dobbs has attempted 17 passes in five seasons. But Brissett has 37 career starts, creating possibly a higher floor than what a downtrodden Mayfield offered in 2021.
Pocic is the next man up after the Tretter release and Nick Harris season-ending knee injury; the ex-Seahawk has made 24 starts since 2020. PFF liked Pocic's 2021 work better than his 2020 performance, slotting him 15th among centers. He has some acclaimed blockers alongside him. Grant's Achilles tear represents a bad break for the electric return man. The former Dolphins and Bears standout, a 2021 Pro Bowler, could have aided Brissett and Co. in field position.
Re-signings:
Clowney, 29, said Watson's decision to waive his no-trade clause for Cleveland played a big role in convincing him to return. He had prepared to sign with the Falcons if Watson had chosen them. Although Clowney and Watson will not share the field much this season, the carrot of a full season from the ex-Texans quarterback in 2023 could convince Clowney to come back again. The former No. 1 overall pick is now in Year 9; he has yet to land a long-term veteran deal.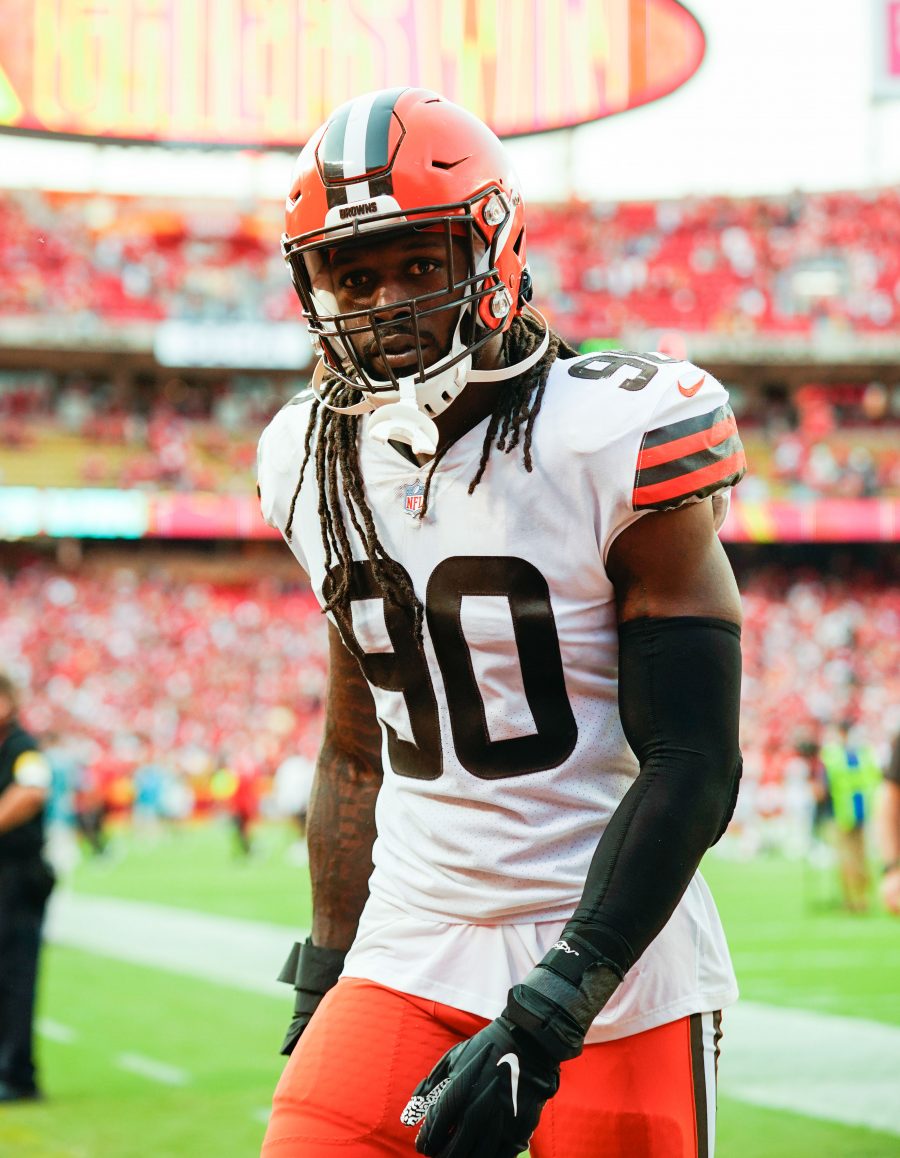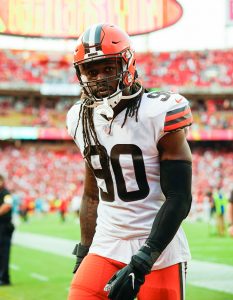 The ex-South Carolina super-prospect went from his rookie salaries to the fifth-year option to being a tag-and-trade player to one-year pacts with the Titans and Browns. Clowney's health history has prevented the kind of lucrative multiyear guarantees that have gone to players of his ilk, but he is not exactly lacking in funds. This season will bump him north of $80MM in career earnings. Clowney, who combined for three sacks in Seattle and Tennessee, ripped off nine opposite Myles Garrett last season. With a suspect defensive tackle depth chart, the Browns need the versatile defender to repeat that performance.
PFF graded Walker as a top-20 off-ball linebacker last season, and the Browns will keep this year-to-year partnership going. The former Shaquille Leonard Colts sidekick will team with Jeremiah Owusu-Koramoah to form one of the NFL's better three-down linebacking tandems. With the exception of its defensive tackle spots, the Browns' defense is sound on all three levels.
Harrison coming back brings experience, at least, and Browns DC Joe Woods plans to deploy another healthy dose of three-safety looks. Though, Harrison was charged with allowing six touchdown passes last season. The former Jaguars starter does have 40 starts under his belt.
Hubbard supplies solid depth up front. He has enjoyed an interesting Browns career. Signed to be the team's right tackle in 2018, Hubbard could not stick at that spot but continued to stay on the same page with the Berry regime, which reworked the John Dorsey-era signing's deal in 2020. Despite a September triceps injury that knocked Hubbard out for the season, the ex-Steelers starter is back. With starter Jack Conklin finishing up a recovery from one of the toughest injuries to surmount — a patellar tendon tear — and uncertain to start the season on time, players like Hubbard, Haeg and rookie-contract backup James Hudson come into focus.
Notable losses:
Rashard Higgins, WR
Austin Hooper, TE (released)
Malik Jackson, DT
Andy Janovich, FB (released)
Blake Hance, OL (waived)
Jarvis Landry, WR (released)
Malik McDowell, DT (nontendered as ERFA)
Takk McKinley, DE
Nick Mullens, QB
Malcolm Smith, LB
M.J. Stewart, S
Ryan Switzer, WR (retired)
J.C. Tretter, C (released, then retired)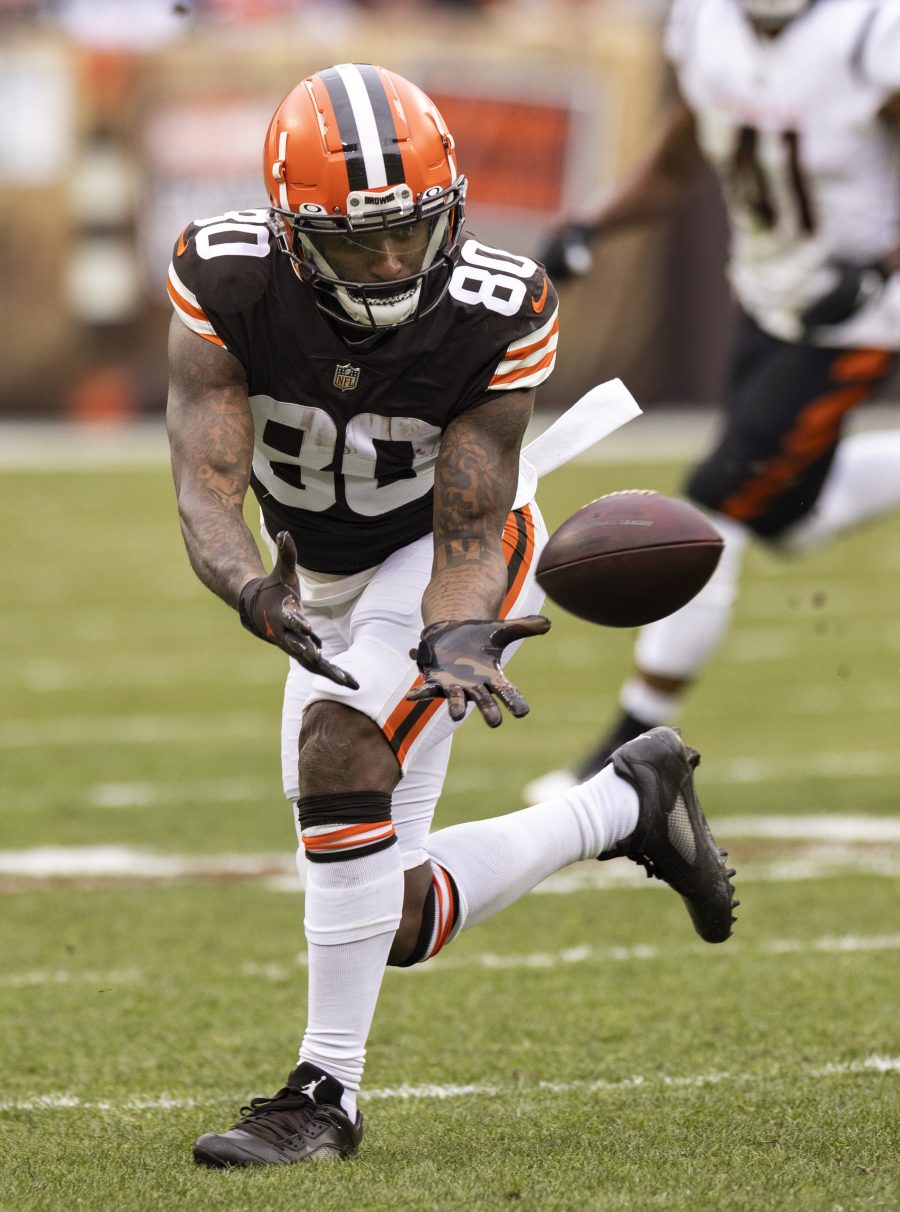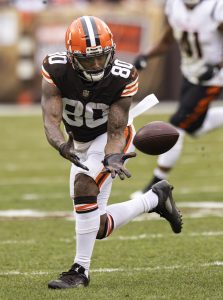 More consistent than Beckham, Landry became Mayfield's go-to target during the team's playoff run. His short-range space creation would seemingly have meshed with Brissett's style, and while the Browns were connected to bringing Landry back for a fifth season even after cutting him, the sides parted ways. Landry was better in Miami than he was in Cleveland, but the ex-Dolphins slot unveiled more dimensions to his game with the Browns and added two more Pro Bowls to his resume.
Landry's Saints signing stands to help Jameis Winston reacclimate after his ACL tear; Cleveland has pivoted to younger pass catchers.
Signed during Berry's stay under former front office boss Sashi Brown, Tretter more than delivered on that 2017 commitment. The Packers draftee became one of the NFL's top centers with the Browns, never missing a game due to injury in five seasons. The ironman blocker contributed to Chubb's rise and formed perhaps the NFL's best interior O-line troika in between Joel Bitonio and Wyatt Teller. Tretter, 31, became the NFLPA president during his Browns tenure. He said that job played a part in his earlier-than-expected retirement. The Browns have some big shoes to fill here.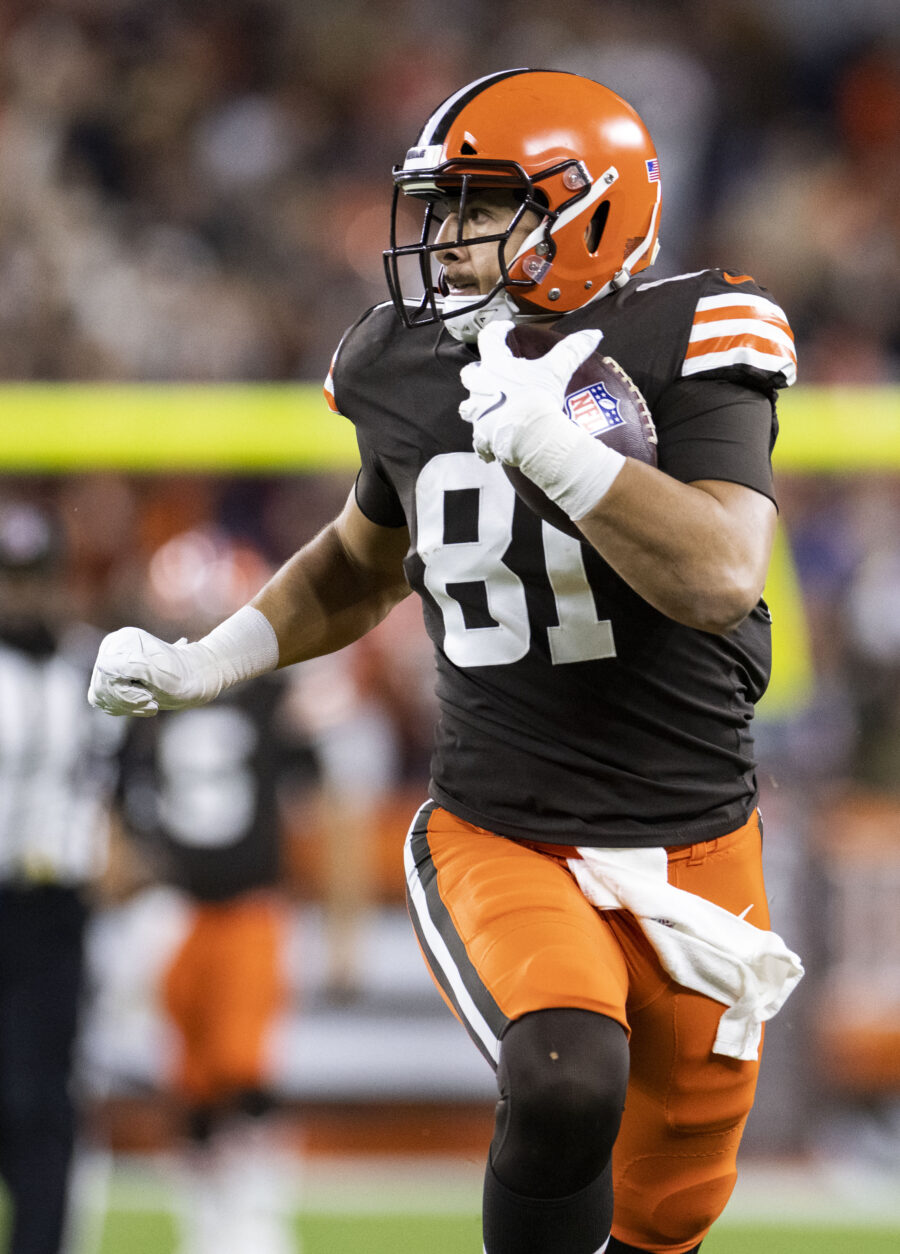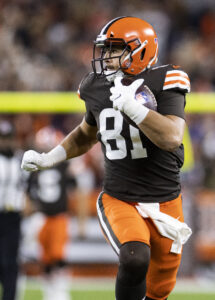 The Browns' D-tackle Maliks did not catch on anywhere else. Jackson, a starter on the Broncos' dominant 2015 Super Bowl defense and part of the Jaguars' "Sacksonville" D-line armada, only registered a half-sack as a Brown. The Browns ditched McDowell after one season. The former Seahawks third-round pick was arrested in January, being accused of exposing himself in public, resisting arrest with violence, and battery on a law enforcement officer. PFF rated neither Jackson nor McDowell inside the top 90 at D-tackle last season. Their exits do cloud the position, with ex-Jackson Jacksonville teammate Taven Bryan in line to start despite underperforming as a Jags first-rounder. Third-year cog Jordan Elliott (four career starts) will move from rotation player to first-stringer.
Hooper's designation as a post-June 1 cut created $9.5MM in cap space. The team currently leads the league — by a substantial margin — with $38MM-plus in cap space. The Browns gave Hooper a then-tight end record $10.5MM-per-year deal in 2020, but the ex-Falcon never lived up to it. Despite a rumor connecting the parties, the Browns are not believed to have shown interest in using some of that cap room on Ndamukong Suh. Given what Watson's contract will do to the Browns' payroll in 2023, it makes sense for the team to roll over as much cap space from 2022 as possible.
Draft:
Partners on two Watson trades and the Brock Osweiler NBA-style salary dump, the Browns and Texans linked up on another swap that provided more Day 2 capital for Cleveland. Moving down 24 spots to give Houston John Metchie draft real estate, Cleveland nabbed a new slot cornerback and a few rookies that could be asked to contribute immediately. After four years of Mayfield's rookie deal allowed the Browns to add veterans, the Watson-era payroll will require Berry and Co. to hit on Day 2 draft picks.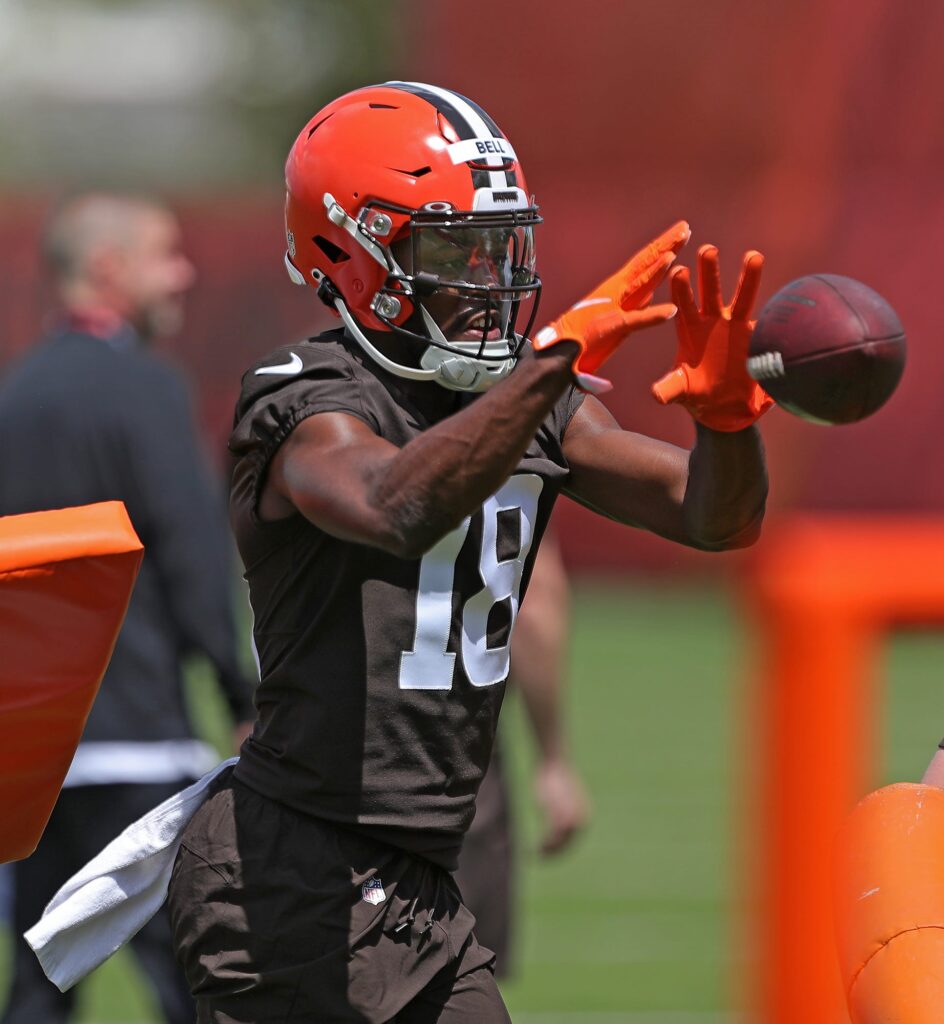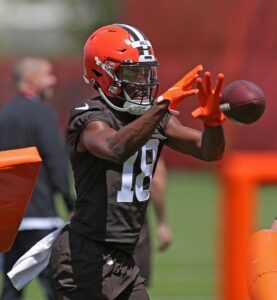 A slot cornerback option, Emerson — whose arrival sent Troy Hill back to Los Angeles — will fill in behind the Browns' experienced Denzel Ward–Greg Newsome–Greedy Williams trio. Wright will be expected to work in behind Garrett and Clowney. Winfrey and Bell may have clearer avenues to starting gigs, due to the uncertainty at their respective positions.
A Rondale Moore teammate at Purdue, Bell was the steadier presence — due to Moore's injury trouble and early West Lafayette exit — and dropped a 1,286-yard season and earned an All-American nod in his Boilermakers finale. The 205-pound target may have a bigger role than some first- or second-round receiver draftees, being set to play alongside Cooper and Donovan Peoples-Jones. Bell overcame an offseason foot stress fracture to secure this standing.
The Browns used a different primary kicker in each of the past eight seasons. The team was interested in standout Bengals rookie Evan McPherson last year and made sure to land its kicker on Day 3 this time around. York is the highest-drafted kicker since the Buccaneers' Roberto Aguayo second-round selection six years ago. This will be a weather transition for York, a Dallas-area native who spent three years in Baton Rouge.
Extensions and restructures: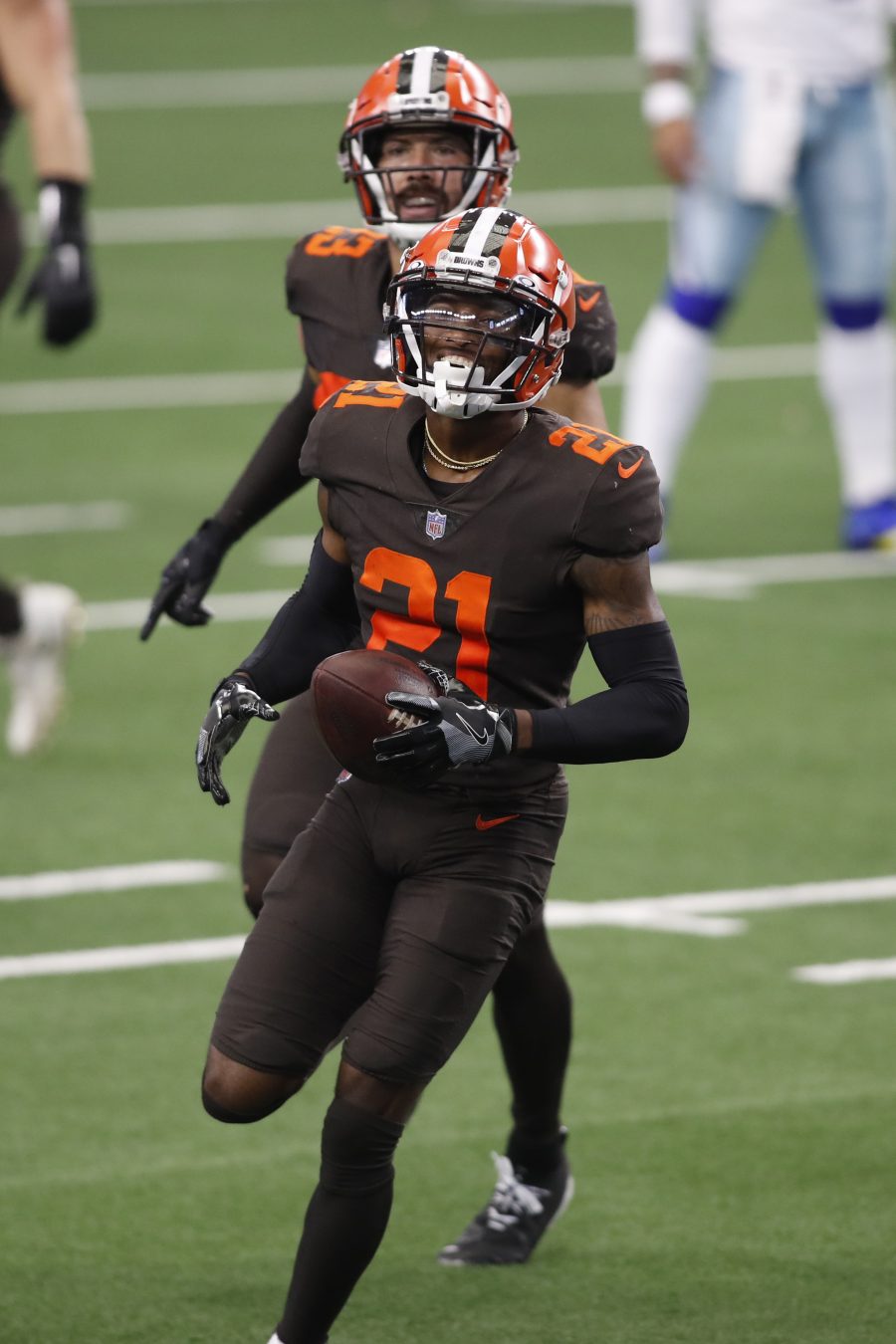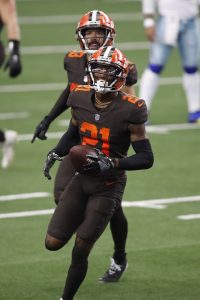 Extension agreements rounded out Cleveland's busy offseason. The other of Dorsey's 2018 top-five picks, Ward, is now signed through 2027. That proved to be the easier call. Njoku's resume would not suggest he was in line to become one of the league's highest-paid tight ends, but neither did Hooper's at the time. Circumstances benefited another Browns tight end.
After injuries and COVID-19 limited Ward during the first three years of his career, the Cleveland-area native put together a strong season to vault him into position for a record-setting deal. After Marlon Humphrey, Tre'Davious White and Jalen Ramsey broke the ice formation atop the cornerback market, Ward and Jaire Alexander joined Ramsey in the $20MM-per-year club. While Alexander agreed to the Packers' style of no guarantees beyond Year 1, the Browns gave Ward a market-topping $44.5MM fully guaranteed.
The Ohio State alum setting career-best marks in terms of yards per target (5.6) and yards per completion (8.8) led PFF to tab him a top-15 corner. Ward, 25, may not quite be on Ramsey's level, but he is the best homegrown Browns corner in ages. He and Garrett are locked in to anchor Cleveland's 2020s defenses.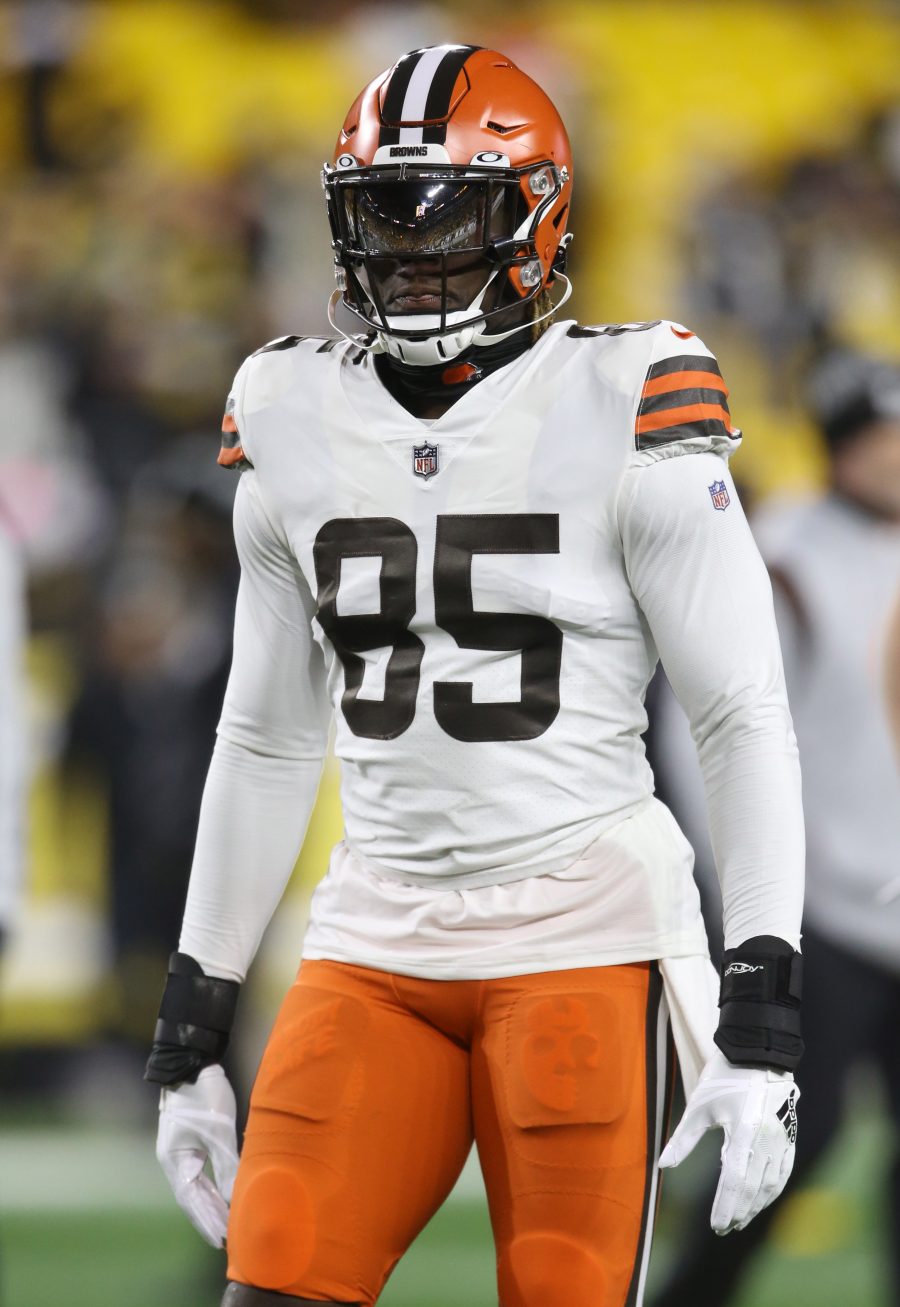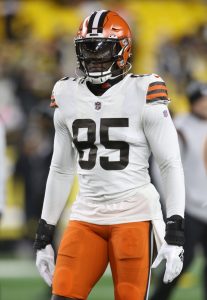 The Browns' $13.7MM-per-year Njoku contract is a bet on the former first-rounder's potential with Watson. Still, Njoku's five-year sample makes it odd he bounded into position to be franchise-tagged and secure such a payout. Njoku has one 500-plus-yard season; it came back in 2018. The ex-Miami Hurricane requested a trade after the Hooper signing, then backed off and declared he sought a long-term northeast Ohio future. The Browns greenlit that and added two void years to the extension for cap purposes.
Njoku's $17MM fully guaranteed would have given the Browns an easier time bailing on a contract for a still-unproven player, but the void years increase the dead-cap hit further down the line. Cleveland is committed to the 26-year-old pass catcher through at least 2023, with a 2024 release costing north of $13MM in dead money. The Cowboys' negotiations with their tagged tight end (Dalton Schultz) were probably impacted by a player with inferior stats scoring a deal nearly $3MM north of the tag price and becoming the league's fifth-highest-paid tight end.
Other:
In the time since Hunt signed his two-year, $13MM extension (September 2020), the running back market changed. Days after Hunt's deal, the Vikings and Saints gave their top backs (Dalvin Cook, Alvin Kamara) big-ticket extensions. The Packers followed suit with Aaron Jones in March 2021. The Browns then gave Chubb a deal worth double Hunt's salary. Players who lack Hunt's talent and accolades have also surpassed him in the months since, pushing the 2017 rushing champion's deal to 15th among running backs. Going into his age-28 season, time is running out for Hunt to cash in.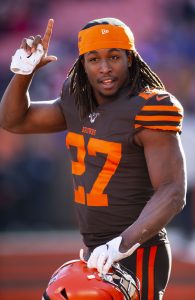 Hunt was coming off an abbreviated season when he reupped with his hometown team; his 2018 assault on a woman at a Cleveland hotel undoubtedly affected his price. The Browns' Chubb-Hunt backfield drives their offense, and its importance figures to increase with Brissett. The Browns lacking much pass-catching certainty is another reason they have surely prioritized keeping Hunt, the team's receiving back. Even with D'Ernest Johnson back in the fold, this all points to Hunt playing out his contract. Hunt's presence also keeps Chubb's mileage manageable. While that will keep annoying fantasy GMs, Chubb remaining a top-tier back in 2023 is suddenly a key Browns matter considering their Watson-adjusted timeline.
To secure a worthwhile deal as a 2023 free agent, Hunt will need to stay healthy this year. He did not do so in 2021, missing nine games. Next year's free agency class also could create a buyer's market at running back — not that it ever veers heavily toward sellers anymore. Ahead of Week 1, Saquon Barkley, Josh Jacobs, David Montgomery, Damien Harris and Miles Sanders join Hunt in entering contract years. So many younger, starter-caliber options included here will undoubtedly impact Hunt's quest to be paid a deal commensurate with his abilities.
Adofo-Mensah was with the Browns for just two years, and one of the interviewees he beat out for the Vikings' top front office job joined Berry. Raiche's vault up the front office ladder represents a major story within the NFL executive ranks. The young exec was a CFL assistant GM in her 20s and has only been in the NFL since 2019. Teams may view Raiche as needing more experience before making her a GM finalist, but this Cleveland position profiles as a potential launching pad for the NFL to have its first female GM in nearly 40 years. The ex-Berry Eagles coworker and Cook — a seventh-year Browns staffer who interviewed for Minnesota and Chicago's GM gigs — will be tasked with helping Berry build a roster around Watson's unique contract. How that goes will probably determine how quickly Raiche and/or Cook can land a GM position elsewhere.
Top 10 cap charges for 2022:
In a tough AFC, the Browns missing their top quarterback for 11 games could make this a lost season. Cleveland's nucleus received too much hype in 2019, not enough in 2020 and entered 2021 spearheading a squad viewed as a surefire AFC contender — only to take a major step back. The Garrett-, Ward-, Chubb- and Bitonio-led crew's big-picture relevance possibly being on hold until 2023 would add to the list of oddities surrounding this franchise.
The Browns, who created a contract that also keeps Watson's guarantees intact despite the suspension, have made an unprecedented commitment to a player embroiled in one of the biggest scandals in modern NFL history. The volume of accusations against Watson and his comments since being acquired make the former national championship-winning QB an atypical franchise centerpiece. How this polarizing partnership unfolds on and off the field will define the Haslams' ownership tenure and the Berry-Stefanski regime. For better or worse, Watson is the Browns' future.
Follow @PFRumors