While last season marked the Broncos' sixth straight sub-.500 campaign, it was easily the most memorable letdown for the franchise during its post-Super Bowl 50 swoon. Denver's attempt to pair blockbuster trade acquisition Russell Wilson and first-time head coach Nathaniel Hackett backfired spectacularly, with the latter joining Urban Meyer (2021) and Pete McCulley (49ers, 1978) as the only NFL head coaches to be fired before their first season ended. Hackett's managerial struggles were noticeable early, and they played a role in Wilson slogging through a disastrous 11th season. As a result, the franchise is resetting once again.
The Broncos will attempt to pick up the pieces, putting Sean Payton behind the wheel. Despite the team's descent to the NFL's basement offensively, most of the starters from a top-10 DVOA defense remain in place. So do the wide receivers the Broncos have retained as they cycled through quarterbacks and play-callers over the past few years. Expectations are lower for the 2023 Broncos, given Wilson's concerning 2022, but this looks like bounce-back candidate.
Trades:
Denver's fourth coaching search since Super Bowl 50 ended with the franchise reeling in the biggest fish in its history. While Mike Shanahan put together a Hall of Fame-caliber résumé during his 14-year Denver HC tenure, Payton certainly brought a higher profile as a candidate. The 15-year Saints coach — responsible for nine of the franchise's 10 postseason wins — brings a Super Bowl ring and a reputation as one of the game's premier offensive minds. The Broncos have now hired back-to-back offensive coaches; Payton will double as a restorer-in-chief given the circumstances here.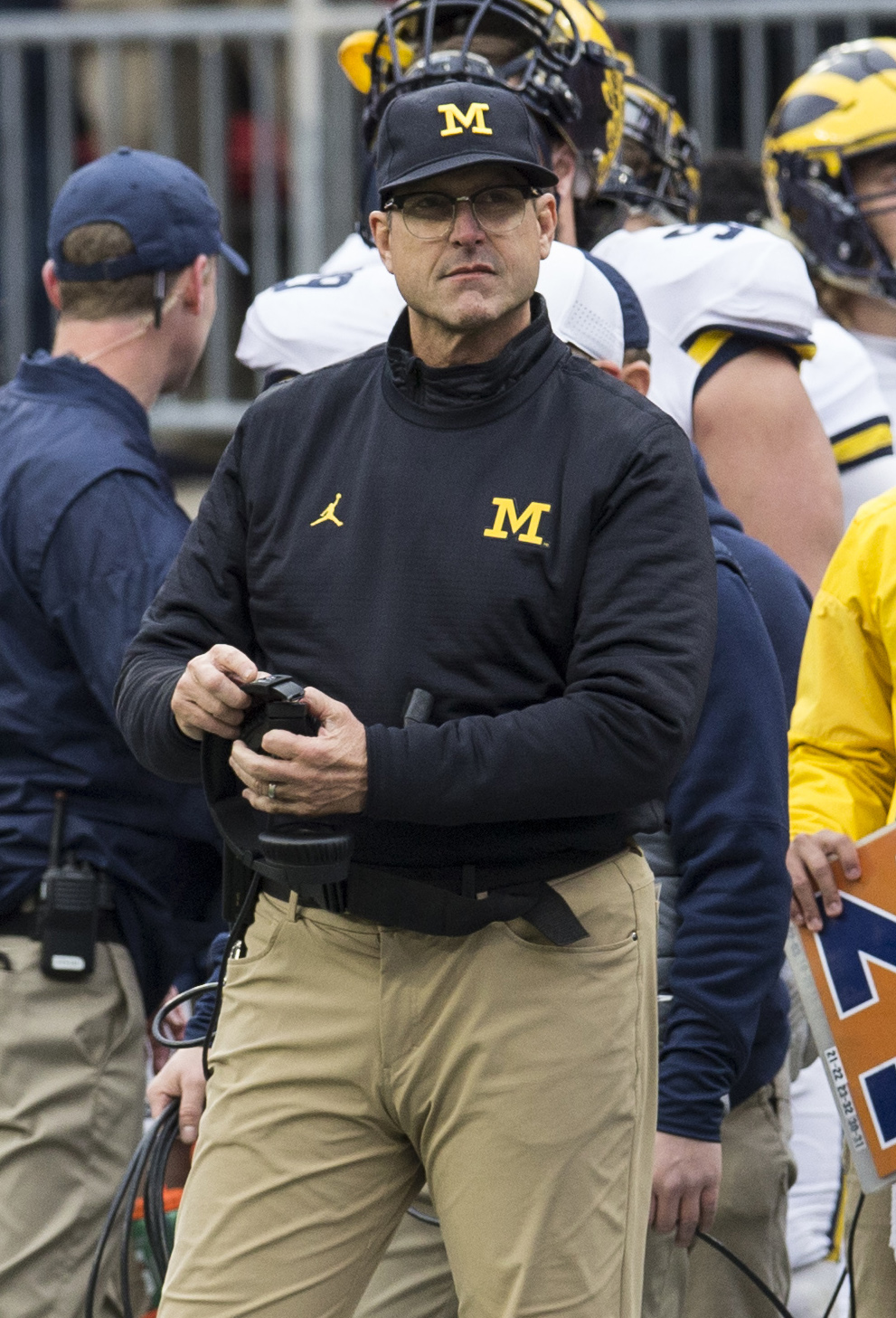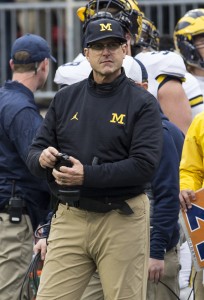 Although the Broncos appeared ready to offer DeMeco Ryans their HC gig, Payton hovered on the radar from the start of the franchise's search. The Rob Walton-led ownership group, which bought the team after the Hackett hire, conducted a search that had stalled by late January. Ryans preferred Houston, while Dan Quinn — a Broncos finalist in 2022 — bowed out. Interviewing for an NFL job for a second straight offseason, Jim Harbaugh stayed at Michigan. Harbaugh loomed as a 1-B option behind Payton, but as the latter interviewed for the Texans, Cardinals and Panthers' positions, Broncos CEO Greg Penner flew to Ann Arbor for a second Harbaugh meeting. Just as Denver's HC search teetered on collapse, this ownership group's first such effort produced a well-received ending.
Payton, 59, held the leverage of spending a second year at FOX. Connected to interest in the Chargers and Cowboys' jobs last year, the recent TV analyst could have waited for one of those to open up in 2024. (Then again, he seemed prepared to coach Tom Brady in 2022, leading to the Dolphins tampering punishment.) The Broncos needed to convince Payton to make his move in 2023, and doing so likely means a top-market coaching salary. Seeing as there is no coaching salary cap, the NFL's wealthiest owner was presumably unconcerned about Payton's financial price tag. But the Broncos also needed to part with major draft compensation for Payton, completing the biggest HC trade since the Buccaneers sent the Raiders two first-round picks and two seconds for Jon Gruden in 2002.
The Broncos' decision to deal Bradley Chubb to the Dolphins at last year's deadline proved crucial for Payton ammunition, as Denver sent the Miami-obtained pick to New Orleans as the centerpiece of the swap for the accomplished HC's rights. The teams also exchanged 2024 Day 2 picks. From March 2022 to January 2023, the Broncos traded three first-round picks to secure a Wilson-Payton foundation. After untested candidates in Hackett and Vance Joseph sandwiched acclaimed defensive boss Vic Fangio, who was given three primary QB1s in three years, the Broncos probably needed to swing big.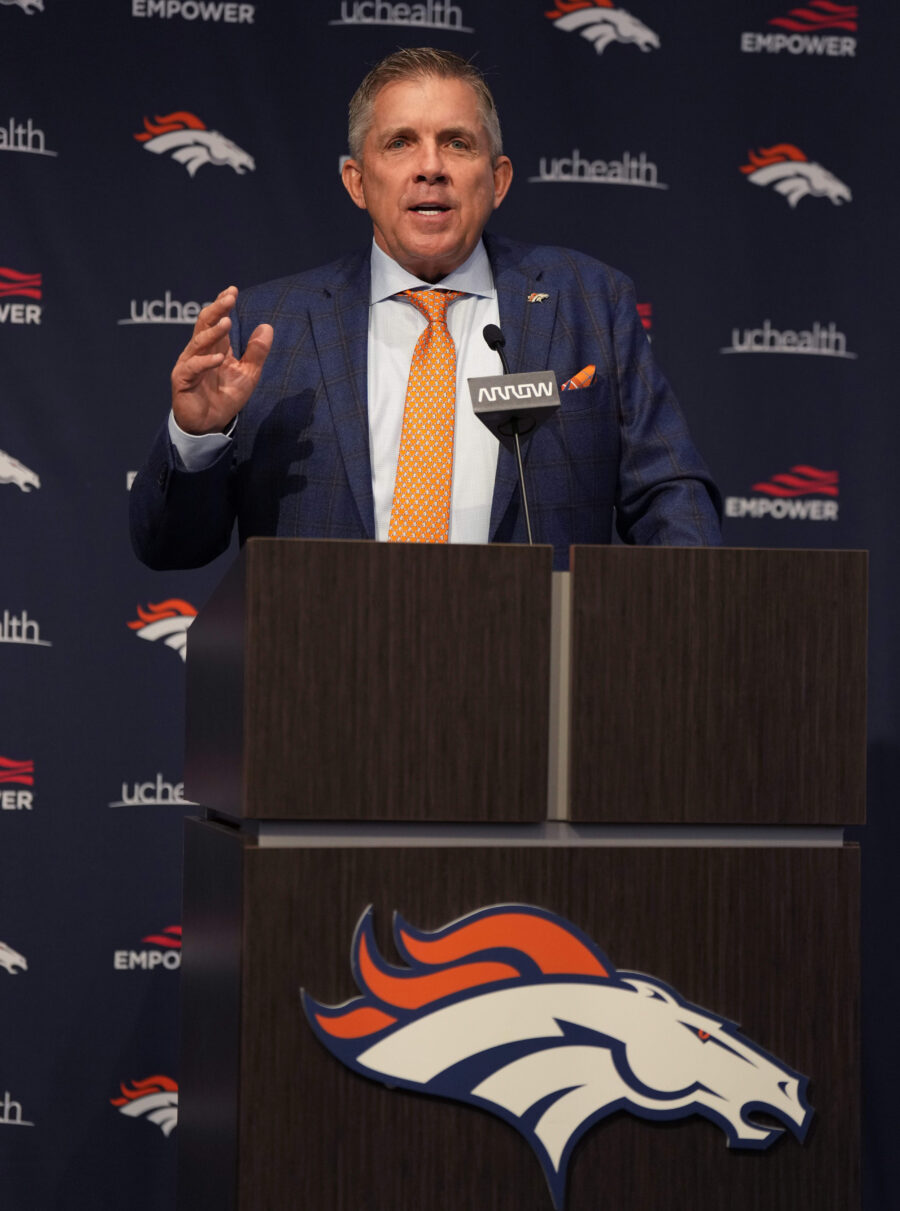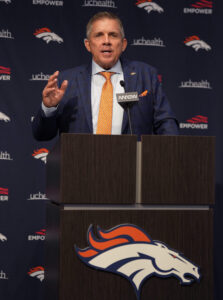 Drew Brees morphed from inconsistent Charger to the league's all-time passing kingpin under Payton, who elevated the Saints to the NFC championship game in his first season (2006), piloted them to a Super Bowl XLIV win and was a historically controversial pass interference non-call from coaching in Super Bowl LIII. Payton harnessed Brees' talents, but the ex-San Diego draftee's deadly accuracy drove the Saints' offense for 15 years. Payton will be in charge of restoring Wilson, who once named the Saints as an acceptable 2021 trade destination before reportedly attempting to bring the coach to Seattle last year.
Under Hackett, Wilson was given significant input in the design of Denver's offense. Wilson's attempt to operate as a Brees-like pocket passer crash-landed, leading to relentless criticism of the perennial Pro Bowl QB. If Wilson is unable to rebound at 34 under Payton, his future in Denver — and perhaps his Hall of Fame status, which once seemed a safe bet after two Super Bowl starts and six original-ballot Pro Bowl nods — could potentially be in doubt. Even if Wilson may still have a good chance of reaching Canton regardless of his Denver tenure, a semblance of doubt creeping in creates a fascinating high-stakes backdrop for the Broncos' 2023 season.
Wilson's effort to shake off a career-worst QBR (36.7 — 27th) and completion percentage (60.5) figures will go a long way toward solidifying his future and the post-2023 Colorado future of GM George Paton. Hired during the Broncos' period without a true owner, Paton has hit on some decisions — most notably the Patrick Surtain II pick during what looks like a fruitful 2021 draft for the team — but has now lost power after the Hackett and Wilson calls. While the Broncos' Payton-Paton partnership (which should produce some good sentence challenges while it lasts) is a go for 2023, it is not hard to foresee the new HC bringing in one of his former Saints allies if Wilson has truly seen his prime conclude.
Free agency additions:
Injuries up front tossed another piece of debris onto the Broncos' path last season, and the team has made an annual ritual of changing right tackles. In the early hours of the legal tampering period, the Broncos paid up to solve this decade-long problem. McGlinchey, 28, is slated to become Denver's 11th Week 1 right tackle starter in 11 years. After the Broncos skimped at the position in 2022, via low-cost deals for Billy Turner and Tom Compton, Payton greenlit a top-five right tackle contract that reminded of the deal he OK'd for Ryan Ramczyk in New Orleans. Four years after the Broncos' 2019 Ja'Wuan James investment bombed, they will bet on another ex-first-rounder at this position.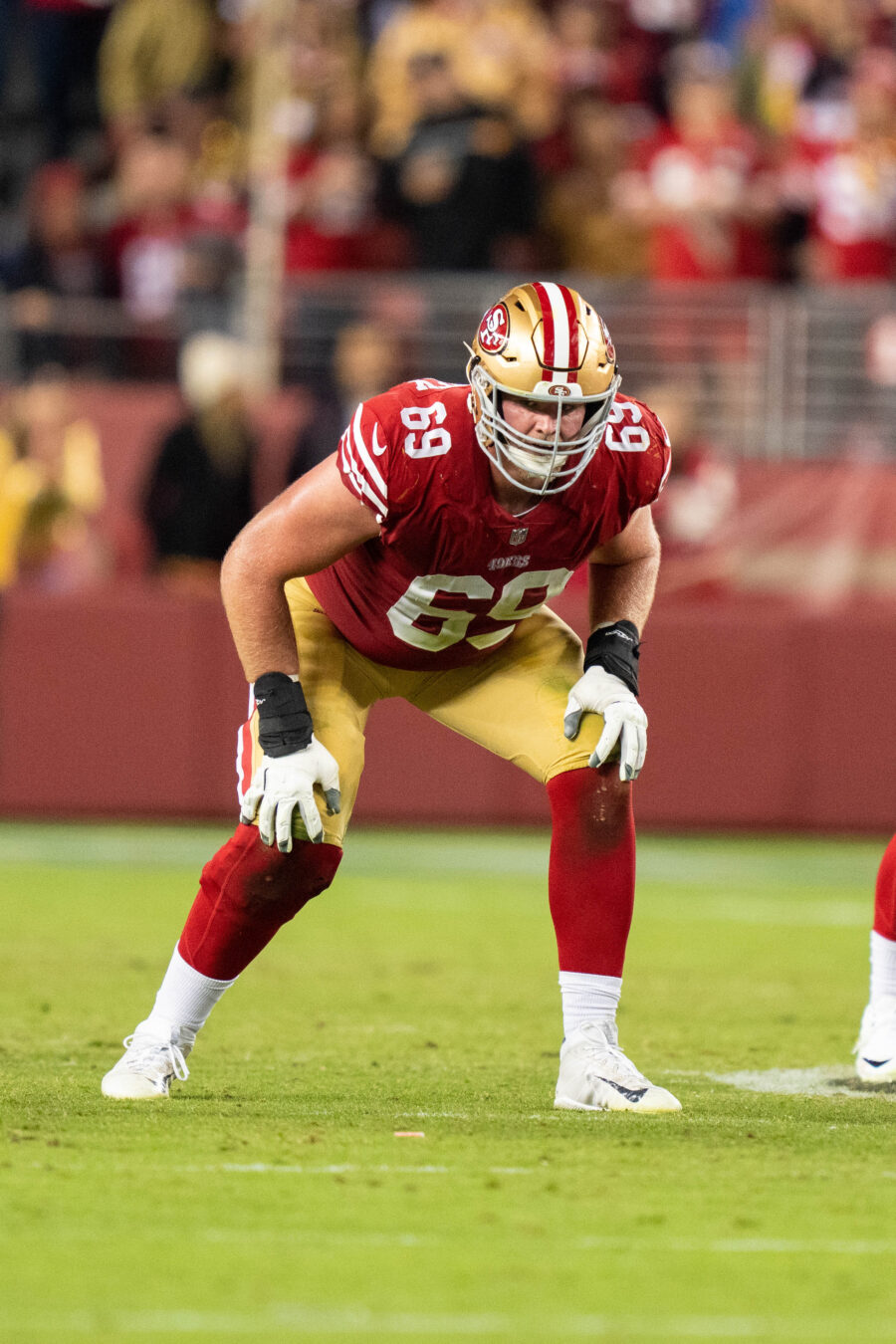 The 49ers used McGlinchey as a five-year right tackle starter. While not viewed as an elite pass protector, McGlinchey aided Kyle Shanahan's offense in the run game. He wrapped his rookie-contract San Francisco run by ranking fifth in ESPN's run block win rate among all tackles. After Turner missed half of last season and Compton was healthy for all of one game, the Broncos saw their O-line depth issues — compounded by Garett Bolles' Week 5 leg fracture — lead to Wilson taking a league-high 55 sacks. To help prevent a recurrence, the Broncos gave McGlinchey a contract that includes a practical guarantee of $52.5MM (via his 2025 base salary locking in by March 2024). This helped push the Bears to drop out of the pursuit.
Dating back to the Jahri Evans–Carl Nicks tandem, Payton has placed a premium on interior protection. This carried through to the Saints' Andrus Peat–Erik McCoy–Cesar Ruiz trio. The Broncos have not seen Lloyd Cushenberry become an above-average center, but the team is well stocked at guard after prying Powers from the Ravens. Powers, 26, brings an interesting profile; he was battling for a starting job as recently as last year. Powers won Baltimore's left guard job and parlayed that into a $13MM-per-year contract. ESPN's pass block win rate metric ranked Powers in the top 10 at guard last year. Set to replace four-year starter Dalton Risner, Powers will pair with 2021 third-rounder Quinn Meinerz — a top-10 guard in 2022, per Pro Football Focus — to form a promising tandem.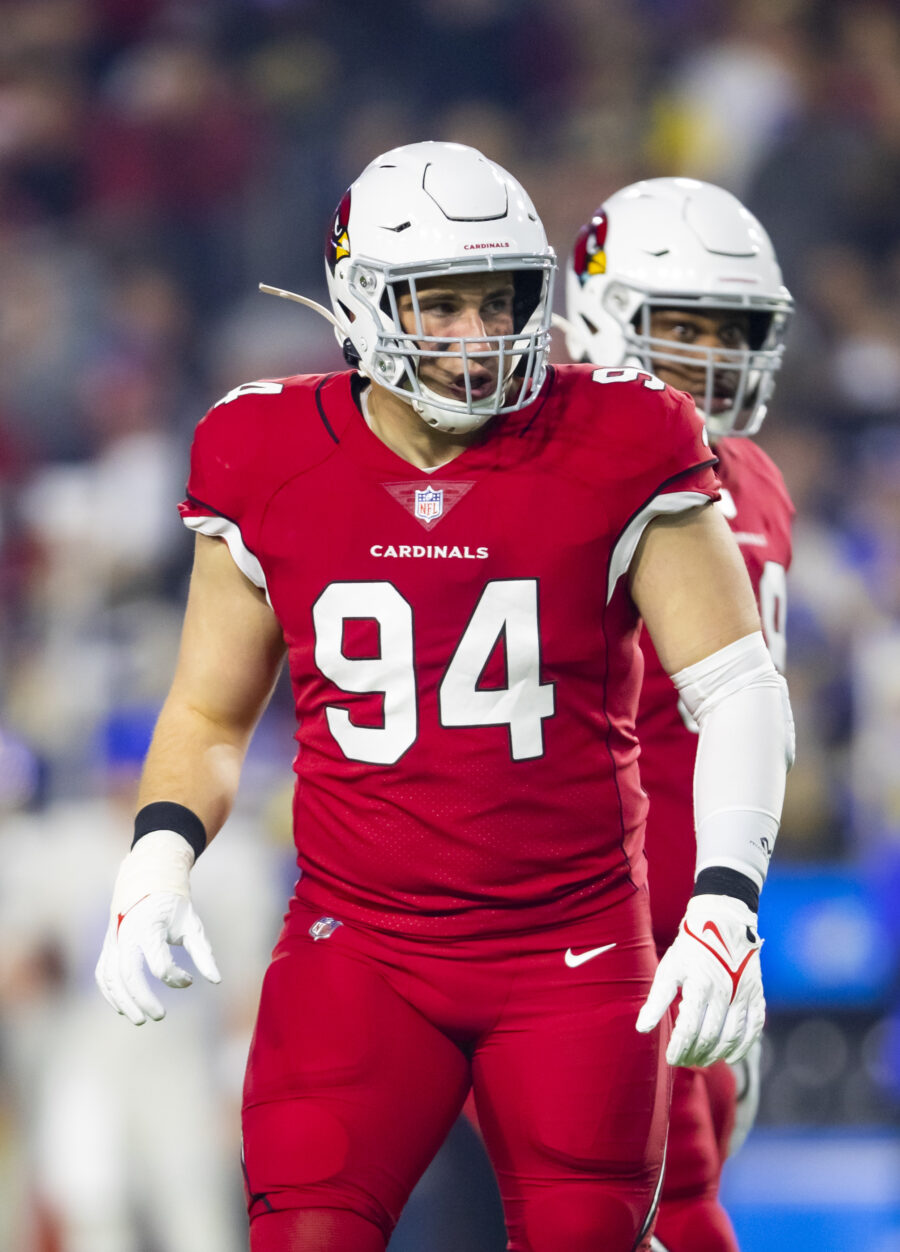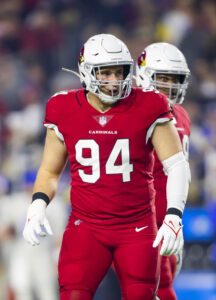 Although the Payton-Paton power structure wanted to retain Dre'Mont Jones, one of new DC Vance Joseph's Cardinals charges will step in to replace him at a slightly lower rate. A 3-4 defensive end alongside J.J. Watt in Arizona, Allen led all D-linemen with eight pass deflections last season. Allen, who finished last season with career-high marks in sacks (5.5) and quarterback hits (20), spent each of his four Cardinals seasons in Joseph's system. The 26-year-old D-lineman will team with 2022 free agency pickup D.J. Jones in Joseph's 3-4 scheme. In McGlinchey, Allen and Powers, the Broncos signed three of PFR's top 19 free agents.
In landing Perine during the tampering period, the Broncos took an unexpected route at running back. Despite the likes of Devin Singletary, Damien Harris and Kareem Hunt remaining on the board, the Broncos brought in Joe Mixon's longtime backup. Perine performed well in relief of Mixon over the past two years, and even with the ex-Mixon Oklahoma sidekick (and owner of a still-standing Division I-FBS single-game rushing record) heading into his age-28 season, he has taken just 401 handoffs over a six-year career. As teams shy away from late-20s running backs, the Broncos will bet on one that should have some notable mileage left.
The Perine addition may be impeding the Broncos re: Dalvin Cook, though the team is tentatively expecting starter Javonte Williams — who tore his ACL and LCL in Week 4 — to return by its regular-season opener. Payton's Pierre Thomas–Reggie Bush/Alvin Kamara–Mark Ingram backfields point to Perine seeing extensive run. Perine last totaled more than 100 carries in a season in 2017.
At this point last year, the Broncos looked set to deploy a deep edge-rushing corps. But the team's $14MM-per-year Randy Gregory investment took on some water after his early-season knee injury. After trading Malik Reed, the Broncos later dealt Chubb to the Dolphins. With Gregory coming off another injury-limited season and converted inside linebacker Baron Browning set to miss training camp time due to a summer knee surgery, Clark will be asked to step in.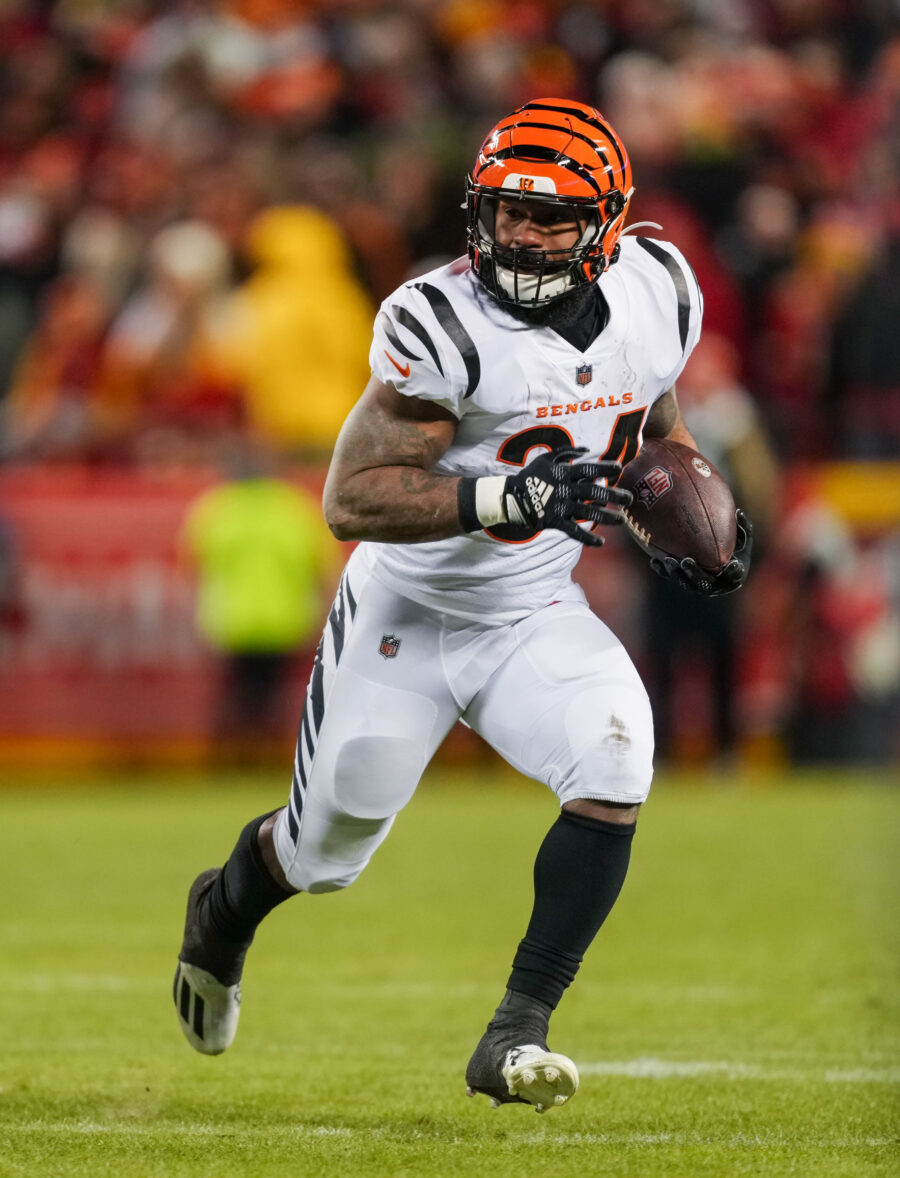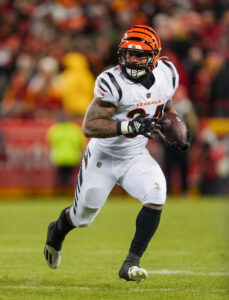 Given a monster extension after a Seahawks tag-and-trade transaction, Clark did not live up to the five-year, $104MM pact. The former second-rounder did not exceed eight sacks in a season in Kansas City, but he made a habit of playoff production. Highlighted by a five-sack 2019 postseason, Clark ended his Chiefs run third — behind Willie McGinest and Bruce Smith — in all-time playoff sacks (13.5). Clark, 30, working as a complementary presence will be a step back after he was asked to be the Chiefs' top defensive end. Assuming Gregory is healthy, the Broncos do not figure to demand as much from the veteran edge player.
Stidham went from possible Tom Brady successor to afterthought in New England, but a 365-yard, three-touchdown pass showing — against Ryans' No. 1-ranked 49ers defense — with the Raiders put the former fourth-round pick back on the map. Payton has spoken highly of Stidham, though his game ledger (131 career attempts) does not separate him much from 2022 backup Brett Rypien (130, with a higher completion percentage). The guarantee the Broncos authorized points to Stidham being viewed as a legitimate backup and potentially, in the event Wilson starts this season as badly as he began the 2022 slate, an emergency option in case Payton starts charting a non-Wilson course for the mid-2020s.
Re-signings:
A Montana State product who began his pro career in the CFL, Singleton initially signed a low-end Broncos deal (one year, $1.1MM) after the Eagles nontendered him as an RFA last year. Singleton made the most of his Denver opportunity, helping Ejiro Evero's unit stay afloat as the offense's ineptitude raged. Moving into the starting lineup alongside Josey Jewell, Singleton posted two 20-tackle games. At 29, Singleton enjoyed a limited window to cash in. Considering where the linebacker market went after Tremaine Edmunds and Bobby Okereke inked eight-figure-per-year deals, Singleton did well to collect the $9MM guaranteed. He fared better than bigger-name ILBs like Germaine Pratt, David Long, Leighton Vander Esch and ex-Eagle teammate T.J. Edwards in that regard.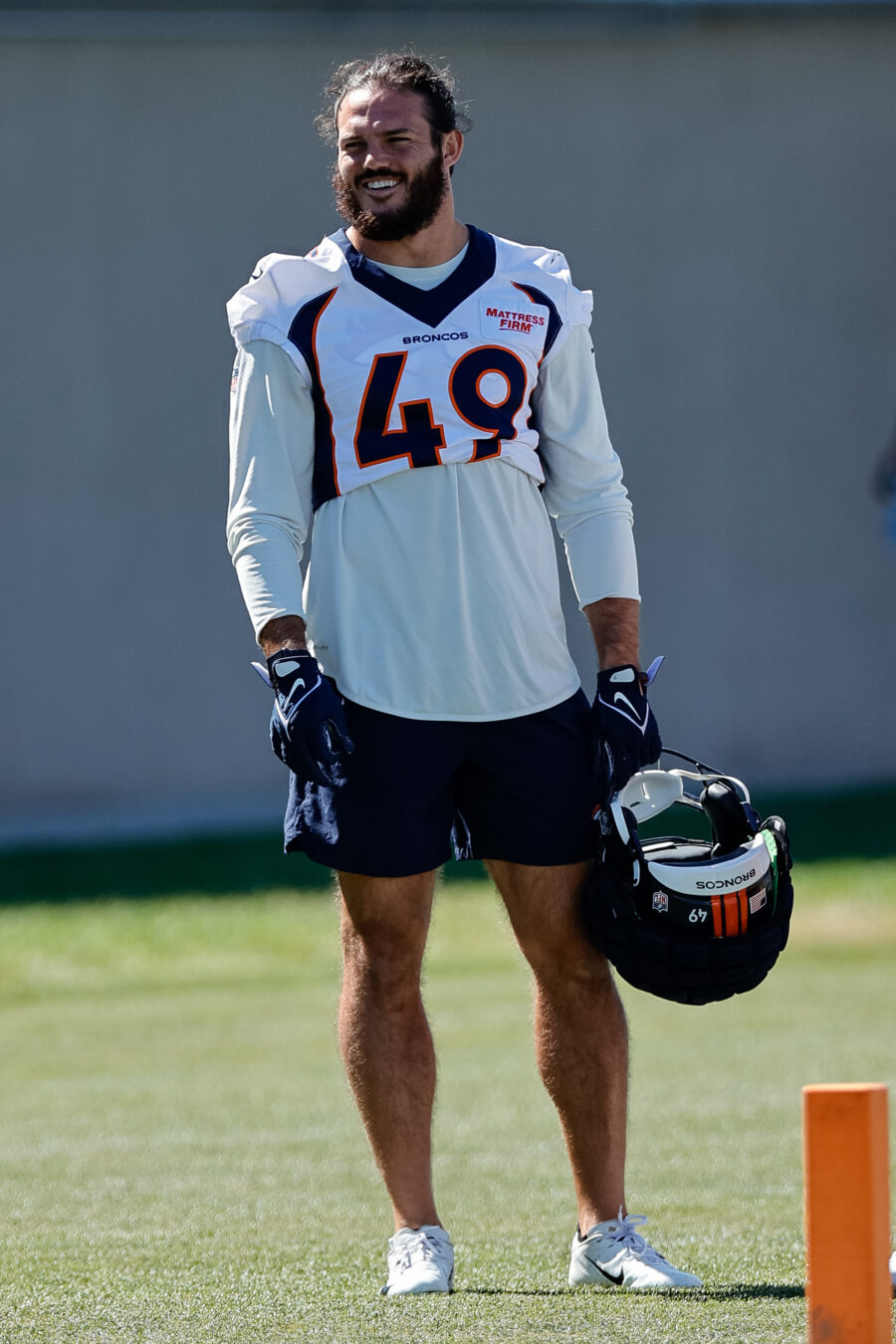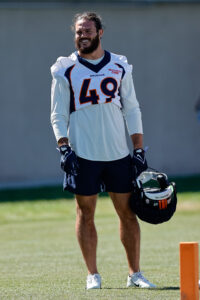 McGlinchey will be expected to be the Broncos' right tackle for the foreseeable future, but the team lost three of its 2022 cogs — Billy Turner, Calvin Anderson, Tom Compton — and needed depth. The Broncos have not viewed Fleming — initially added during the 2021 offseason, when Ja'Wuan James suffered an offsite ACL tear — as a preferred starter. But the injuries to Bolles and Turner keyed a 15-start season from the journeyman. Quietly a top-30 tackle, in the view of PFF, Fleming profiles as Denver's swing tackle ahead of his age-31 slate.
Only the Bills (Micah Hyde–Jordan Poyer) boast a longer-running safety tandem than the Broncos' Jackson-Justin Simmons pairing. After Jackson signed an $11MM-AAV deal to leave Houston for Denver in 2019, he moved from cornerback to safety on a full-time basis and has started 61 games. This is Jackson's fourth Broncos contract, but its low guarantee signals a legitimate competition between he and third-year safety Caden Sterns.
The top backup over the past two seasons, Sterns is coming off hip surgery but is believed to be a true threat to unseat Jackson, 35. Having made one of this era's more successful corner-to-safety transitions, Jackson started 17 games last season and tallied a career-high 94 tackles.
Notable losses:
The team is making changes at kicker and punter. Weeks after bringing Dixon back into the fold, the Broncos jettisoned their kicker of the past nine years. Performance-wise, McManus checked in below the likes of Jason Elam and Matt Prater. McManus made just 77.8% of his field goal tries last season — the second-lowest mark of his career — though he did convert eight 50-plus-yard attempts. The Broncos, who have employed just three primary kickers since 1993, used the money from the McManus cut to sign Clark. Elliott Fry, who has kicked in three career games (for three teams), is now the only kicker on Denver's roster. He will need to fend off a to-be-determined challenger in training camp. The Broncos initially traded Dixon, a 2016 seventh-round pick, to the Giants in 2018. The 30-year-old punter spent last season with the Rams.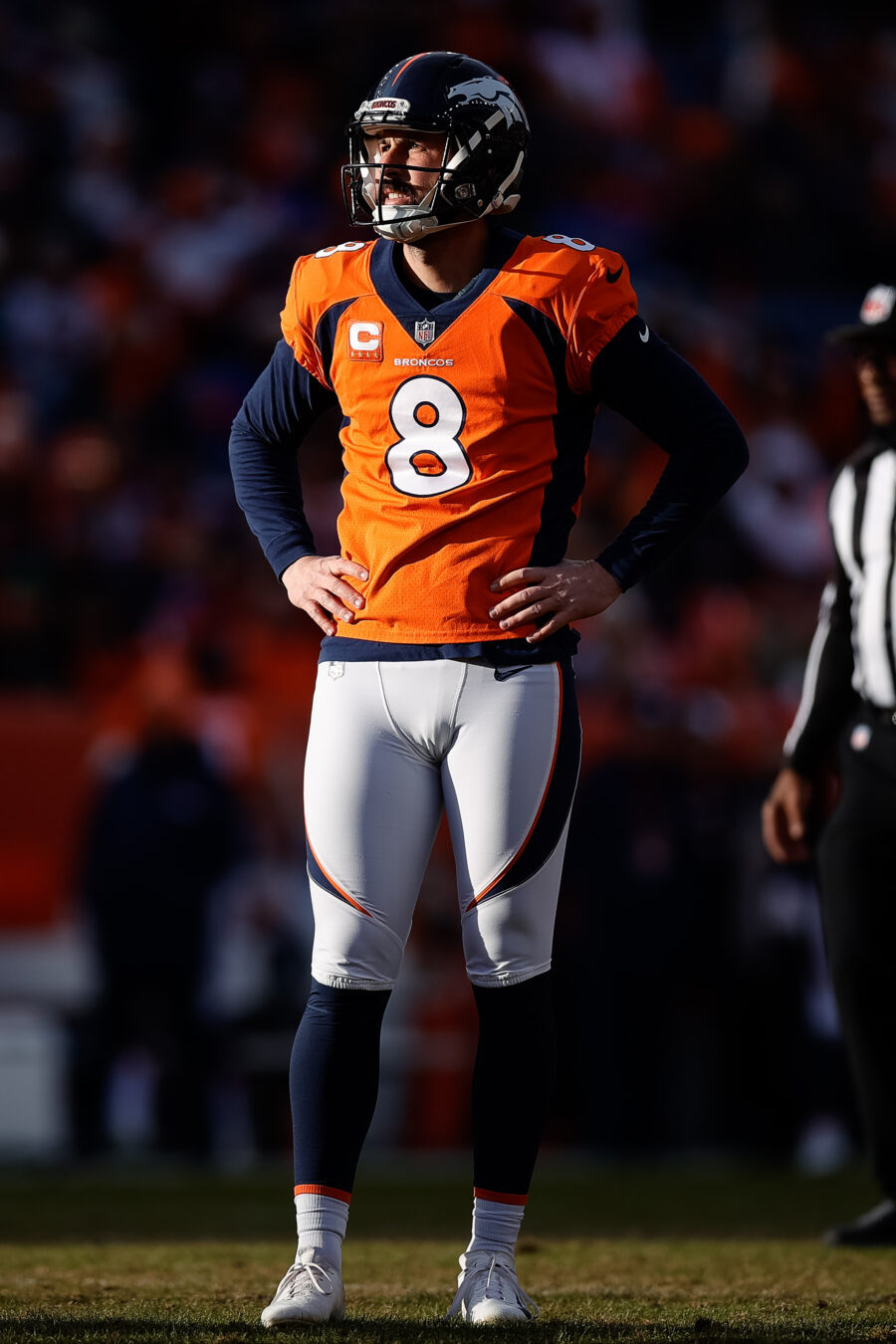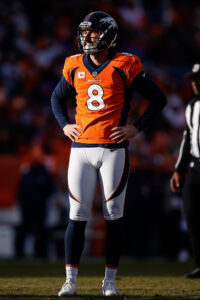 Jones, 26, loomed on the Broncos' extension radar since they traded potential franchise tag candidate Bradley Chubb. While the Broncos expressed steady interest in keeping Jones, the former third-round pick was less than enthusiastic about staying. The Ohio State alum changed his tune a bit during the run-up to free agency, but with the Broncos deciding the tag was too steep in this case, he took ex-teammate Shelby Harris' spot with the Seahawks. Jones totaled between 5.5 and 6.5 sacks and notched either 10 or 11 QB hits in each of the past three seasons. Despite modest production, Jones did not need to settle for a midlevel deal. The Seahawks gave him a three-year, $51.53MM accord. That contract, however, contains less guaranteed ($23MM) than Zach Allen's.
A return to the deep waters of a guard market reminds of recent Broncos misses here. Neither Denver's Ronald Leary move (2017) nor the Glasgow signing (2020) worked out. Glasgow signed a four-year, $44MM deal during John Elway's final offseason running the show, but after a midseason 2021 injury, Glasgow lost his starting job to Meinerz and was forced into a 2022 pay cut. The Broncos saved more than $26MM combined with the releases of Glasgow, Darby and Edmonds. Darby signed a three-year, $30MM contract in 2021, but injuries continued to plague the ex-Eagles Super Bowl starter. Most recently, a torn ACL sidelined Darby. The 29-year-old corner remains unsigned.
The departures of both Jones and Williams open the door for 2022 draftees Matt Henningsen and Eyioma Uwazurike on the D-line. Denver also returns veteran nose tackle Mike Purcell. But Williams, who signed with the Panthers, spent the past three seasons with the team and served as a regular starter. Quietly, the former UDFA started 34 games as a Bronco.
Draft: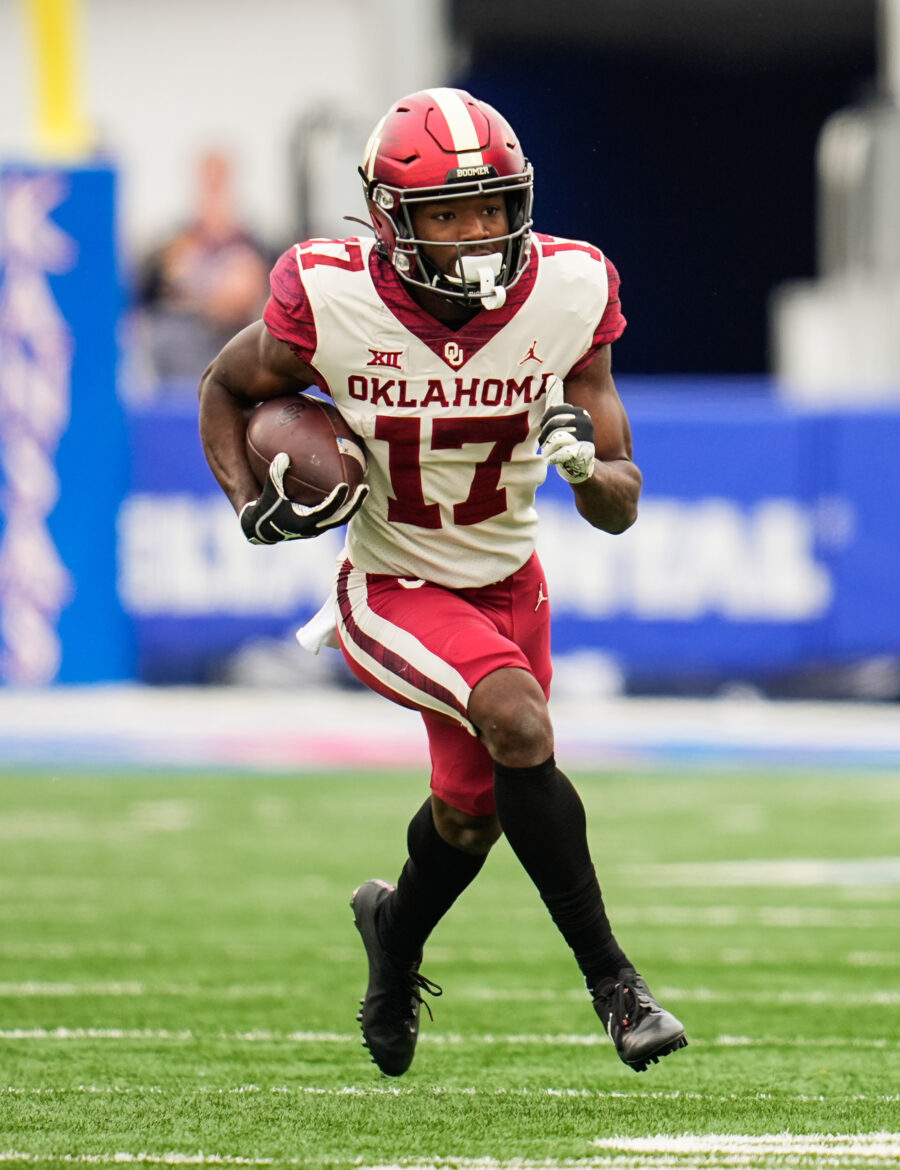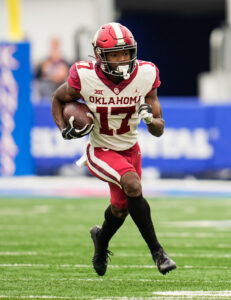 Perhaps bored without a pick until the third round, the Broncos traded into the late second to nab Mims. Wide receiver could have been considered the team's deepest position, pre-draft, especially after Marquez Callaway followed Payton to Denver. But the team has not seen deep threat KJ Hamler progress as it had hoped. The former second-round pick has struggled with consistency and injuries, and he is rehabbing a torn pec sustained in the offseason.
Mims' Sooners yards-per-catch figures jump out, with the 5-foot-10 playmaker topping 20 per grab in 2021 and '22. Last season, Mims totaled 1,083 receiving yards despite Lincoln Riley's offseason departure for USC. Mims figures to push for immediate time as a receiver and in the return game. Hamler anticipates being ready to go for training camp, but his roster spot no longer seems secure. It is hard to see roles for both he and Hamler; the Broncos can save nearly $2MM by waiving the latter. The Broncos have since added some injury insurance to Hamler's contract.
The latest Seahawks trade did not involve a pick from the Wilson swap. That said, the Broncos paid up to climb 25 spots for Moss. Denver sent Seattle No. 108 and a 2024 third-rounder. The team does hold an extra 2024 third from the Payton trade, but this was one of Day 2's more interesting transactions. Moss utilized the NCAA-granted fifth year of eligibility stemming from the pandemic. The three-time All-Big Ten honoree finished with 11 career INTs and three defensive touchdowns; ESPN's Scouts Inc. rated him as the No. 62 overall prospect. The 6-foot cover man profiles as a key backup behind Patrick Surtain II and projected CB2 Damarri Mathis.
Other:
Evero interviewed for the Broncos' HC job (along with meetings about the other four 2023 vacancies) after a breakthrough year. Evero had spent five seasons on Sean McVay's staff and only advanced to DBs coach by Year 5, but he is a close friend of Hackett's. Broncos ownership attempted to see if Payton and Evero could coexist, but seeing as the team dumped Hackett after 15 games, it made sense his right-hand man — who had declined an offer to finish out last season as interim HC — passed on staying. After helming a quality unit despite injury trouble and the Chubb trade depleting it, Evero is now the Panthers' DC.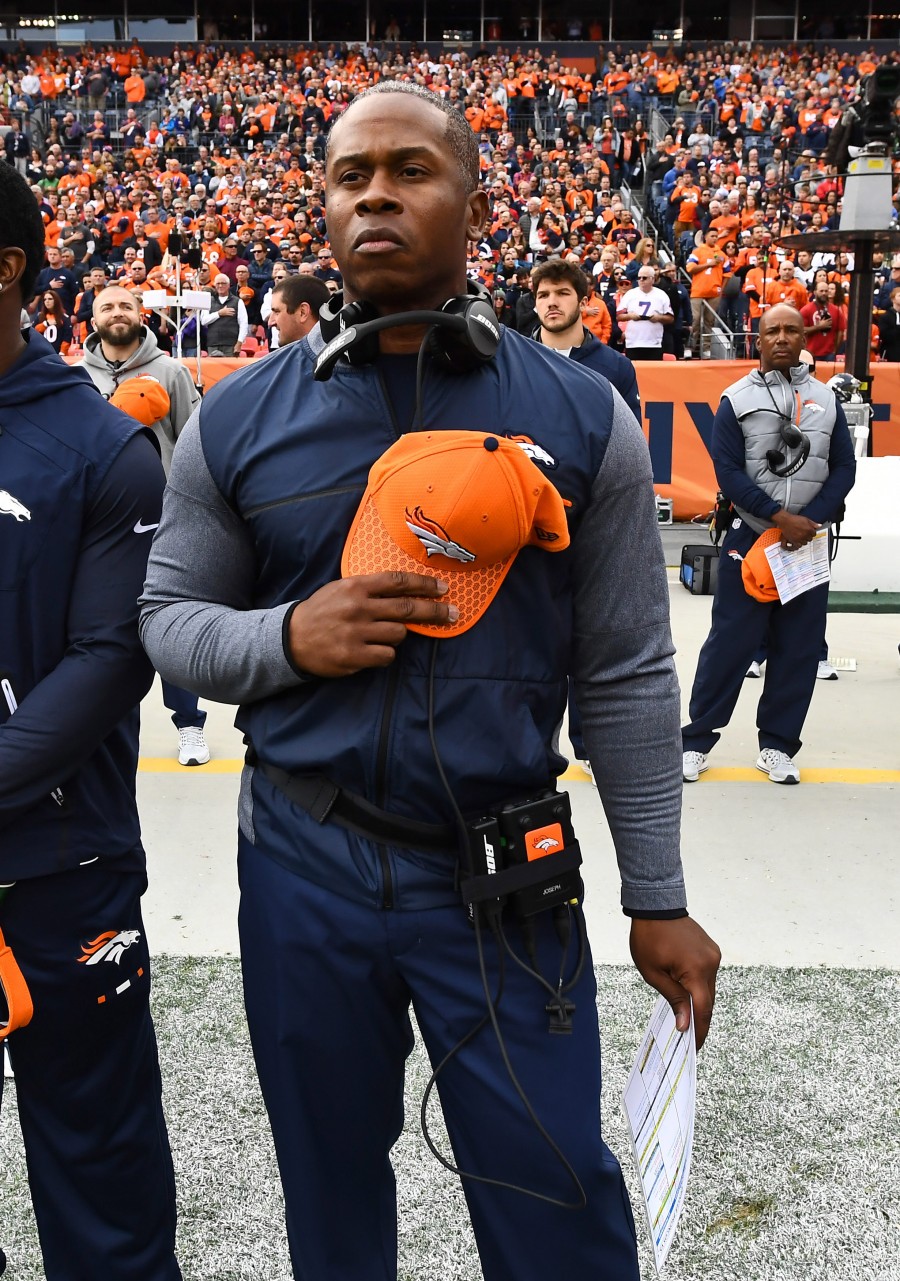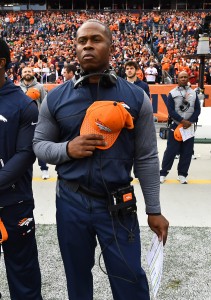 A more interesting plot point emerged after Evero declined and Vic Fangio — whom Paton fired after the 2021 season — determined the rumored Payton partnership occurring in Denver would be a poor fit due to the timing. Fangio passing led to his Broncos HC predecessor coming back.
An ex-Colorado Buffalo, Joseph agreed to return to the team that fired him after the 2018 season. Joseph went 11-21 as Denver's HC, but his defenses mostly held up. And the veteran defensive coach produced sound Cardinals defensive work in 2020 and '21 (10th and sixth in DVOA, respectively). Justin Simmons and Josey Jewell remain on defense from Joseph's HC stay, and although the Eagles showed interest, the 50-year-old coach will try his hand in Denver again.
Lombardi, 52, will stay in the AFC West, catching on with his old boss weeks after the Chargers fired him as OC. Criticized for not maximizing Justin Herbert, Lombardi was working with an injured version of the star passer last season. This will be Lombardi's third chance as an OC, though the ex-Lions and Bolts play-caller will step out of the spotlight a bit. As he did throughout his Saints tenure (excluding the 2012 Bountygate year), Payton will call plays. Lombardi spent 12 years on Payton's Saints staff. After the Broncos hired an unseasoned OC in 2022 (ex-Packers tight ends coach Justin Outten), Lombardi will bring four years' experience in this position and a strong rapport with Payton.
Perhaps a more notable move came when Webb's playing career abruptly ended. The Bills had attempted to hire Webb as their QBs coach last year, but he opted for a Giants playing offer. After serving as a Daniel Jones mentor, the 2017 third-round pick will step up in responsibility. Replacing ex-OC Klint Kubiak, the 28-year-old Webb will be a key part of the Broncos' Russell Wilson revival effort. This promises to be one of the more interesting forays into coaching in recent NFL history.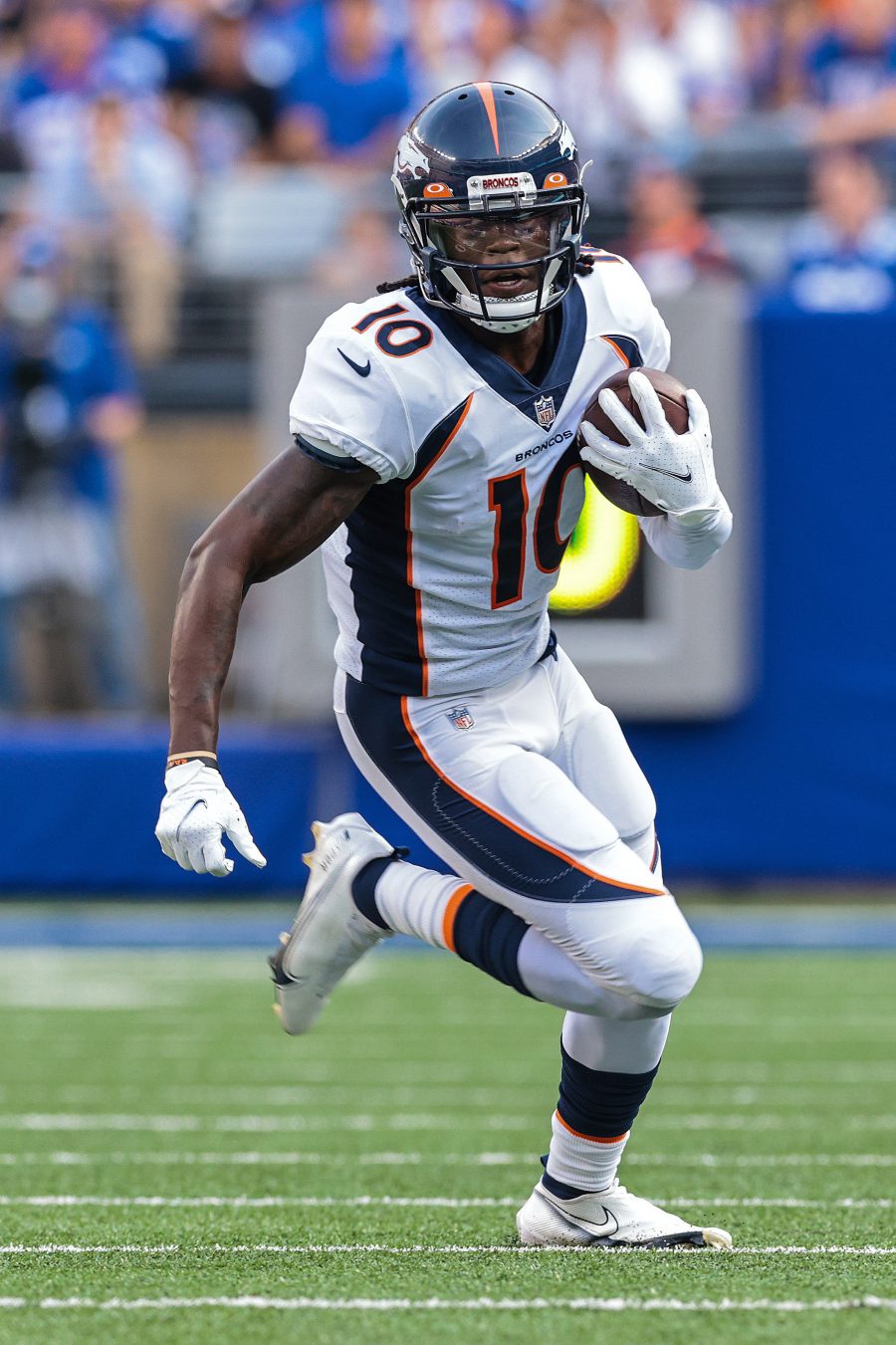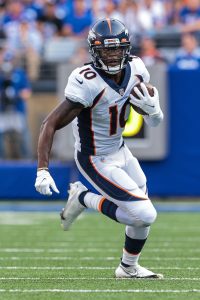 Rumors about Jeudy and Sutton's availability swirled for weeks — before Payton and Paton shot them down. Jeudy, 24, closed last season strong and finished with a career-high 972 receiving yards. It is still difficult to pin down Jeudy's trajectory, since the Broncos have cycled through quarterbacks and coaches throughout his career. The Broncos sought a first-rounder for the Alabama product, who came up in trade rumors before the 2022 deadline as well. They aimed at a second-rounder for Sutton and discussed the 6-foot-4 target with the Ravens, who pivoted to Odell Beckham Jr. Sutton's four-year, $60MM contract runs through 2025; Jeudy now has a guaranteed 2024 salary.
The volume of rumors engulfing Denver's top two receivers suggests the team will still entertain offers ahead of the season. One of the preeminent deadline sellers in recent years, the Broncos have made two major in-season wideout trades since 2018 — in unloading Demaryius Thomas (2018) and Emmanuel Sanders ('19). Mims' progress might dictate Denver's interest level in making another. As it stands, both Jeudy, 24, and Sutton, 27, are in line to anchor the team's pass-catching contingent again.
Sutton joined Tim Patrick in signing what turned out to be team-friendly deals — thanks to the 2022 receiver market boom — during the 2021 season. A one-time 1,000-yard receiver, Sutton has played with an unexpectedly shaky Wilson, Teddy Bridgewater, Drew Lock, an aging Joe Flacco and Case Keenum in his final full season as a starter. Payton brings the Broncos' best chance to unlock their receivers' potential. The return of Patrick, a possession target who missed all of 2022 with an ACL tear, will help Wilson's rebound effort as well. After years of delays, this sets up as a seminal year on the Broncos' receiver timeline.
Top 10 cap charges for 2023:
Slotted in four primetime games over last season's first six weeks, the Broncos saw their dysfunction morph from leaguewide curiosity into a running joke. Last year's catastrophe drained more from the primes of Simmons, Bolles and, most importantly, Wilson. This is quietly not a young team. Bolles, Simmons and Patrick will turn 30 this year. Seven other starters are beyond their rookie contracts. Wilson (35 in November) should have some quality football left, but his woeful Denver debut — regardless of the circumstances- and injury-heightened uphill battle he waged — should probably cause even the staunchest of the ex-Seahawks star's supporters to temper expectations.
It would cost the Broncos $35MM in dead money to designate Wilson a post-June 1 cut in 2024. Teams have eaten more dead cap to move QBs (Matt Ryan, Carson Wentz) in recent years. Payton and Wilson jelling will bury that talking point, but the slimmer QB resembling his 2022 form will make the topic difficult to evade. Wilson's 2023 will define the Broncos' future, as the $49MM-per-year extension producing a poor second season will thrust the Seattle-Denver trade into at least the second tier of NFL transaction infamy.
But a stronger case exists the Broncos can recover. Improved health, Payton's track record, a beefed-up offensive line — perhaps the Broncos' most talented front since Peyton Manning's record-setting 2013 — and a solid defense may well stabilize this operation and put it back on the road most expected it to travel in 2022. While the AFC's strength likely lowers the Broncos' 2023 ceiling, the high variance here presents the team's recovery mission as one of the NFL's most interesting storylines.
Follow @PFRumors