When the draft wraps up in any given year, a rash of pink slips are handed out to scouts around the league, who suddenly find themselves without work after helping make the draft a reality. But in addition to the usual scouting spring cleaning, the Raiders plan to make dramatic changes to the upper levels of their personnel department, according to Alex Marvez of the Sporting News.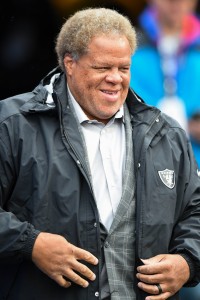 Per Marvez, Oakland is expected to add at least one new personnel executive to the front office, and Matt Miller of Bleacher Report tweets that Ed Marynowitz and Brian Heimerdinger are potential candidates for the job. Marvez also hears that player personnel director Joey Clinkscales could be on his way out. Clinkscales, who previously worked as Vice President of College Scouting for the Jets and who has been a GM candidate twice in his career, has been with the Raiders since 2012, but Marvez suggests that he might be headed to the Browns' front office.
Clinkscales joined the Raiders in 2012, and his longstanding relationship with Raiders GM Reggie McKenzie may have made the team a good fit for both men. But head coach Jon Gruden, who rejoined the silver-and-black this offseason, apparently wants to shake things up a bit throughout the department, which is not an uncommon development when a new head coach or GM comes on board.
Gruden now has final say on roster decisions, usurping a bit of McKenzie's power, but McKenzie and Gruden both say that they are working well together. McKenzie said, "I got a feel for coach Gruden. We like the same type of players."
A Raiders spokesman decline comment as to whether major changes are forthcoming.
Photo courtesy of USA Today Sports Images.