In his prime, few players were more fearsome than safety Ed Reed. On this date in 2006, the Ravens rewarded Reed with a six-year, $40MM contract, making him the highest-paid player at his position in league history.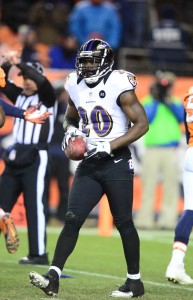 The previous league-leading deal for safeties belonged to Adam Archuleta, who inked a six-year, $30MM deal with the Redskins in March of '06. Reed blew past him on a rocket ship, and for good reason.
Reed became a starter as a rookie in 2002 and quickly cemented himself as a key cog in Baltimore's defense. He notched 21 interceptions in his first three seasons and led the league with nine picks in 2004. Although he was held back by an ankle injury in 2005, the Ravens saw a Reed as a multiple-time Pro Bowler who was ready to get back to his old form.
"It was his time," GM Ozzie Newsome said. "He has earned the contract."
Indeed, the Ravens were right. Reed came back in a big way in '06 as he started in every game and tallied five picks, plus two in the postseason. He earned Pro Bowl nods in every season from 2006 through 2012 and picked up four First-Team All-Pro nods in that span.
Reed earned his first ring in the Super Bowl following the 2012 season and notched his ninth career postseason interception in the big game. Although he was still productive, Reed and the Ravens went their separate ways in the offseason. Reed signed a three-year, $15MM deal with the Texans, but that deal was terminated midway through the '13 campaign. He reunited with Rex Ryan by signing with the Jets, but he was unable to turn back the clock. After sitting out the 2014 season, Reed signed a one-day contract with Baltimore so that he could retire a Raven.
Reed's final season on the field was forgettable, but the extension he signed with the Ravens in 2006 proved to be a win-win for both sides. Reed cashed in and gained financial security in a violent sport, and the Ravens got elite level production out of him for the majority of the deal.