The NFL has fined former Panthers owner Jerry Richardson after a lengthy investigation into his comments and workplace behavior, the league announced. Richardson has been fined $2.75MM that will go towards supporting "organizations addressing race and gender-based issues and fund league-wide workplace training."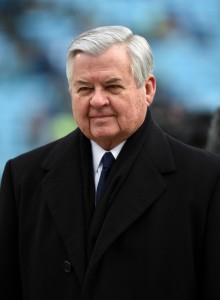 After Richardson's behavior came to light last year, he quickly put the team up for sale. The Panthers went on the block in December 2017 and Steelers minority owner David Tepper was approved as the team's new owner in May 2018. The franchise was sold for $2.2 billion, setting a new NFL record.
"I appreciate [investigator] Mary Jo White's careful and thorough examination of these issues, and her thoughtful recommendations to the Panthers and the entire NFL," said commissioner Roger Goodell. "Her recommendations will help ensure that our workplaces are open, inclusive and respectful."
According to the league, the investigation covered the publicly reported allegations as well as those that have not been written about in the press. The investigation found that the bad conduct was limited to Richardson and confirmed that the Panthers did not report the claims, or settlements stemming from the claims, to the league office before the bombshell report in December.
To combat similar problems in the future, White recommends measures including the "specific prohibition of using Non-Disclosure Agreements to limit reporting of potential violations or cooperation in League investigations under the Personal Conduct Policy." White also recommended that the Panthers be required to report on the club's ongoing work to address claims of racial discrimination, sexual harassment, and related workplace issues. Goodell, according to the press release, has adopted that recommendation.
The sale of the team to Tepper is expected to be finalized within the next two weeks.
Photo courtesy of USA Today Sports Images.