With one year to go on his contract, the Rams say they're looking to lock up Marcus Peters for the long haul. However, things have been quiet on that front and it's fair to wonder whether he'll be re-upped at all.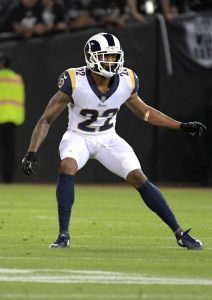 Peters, 26, is entering the fifth year of his rookie contract. After that, the Rams have the option of keeping him off of the free market with the franchise tag, but that would be an expensive proposition. This offseason, the one-year tender for cornerbacks was set at $16.022MM. Next year, that number is expected to climb north of $17MM.
Peters' 2018 campaign was a tale of two players. He struggled in the first half of the year, but things started to click in the latter portion of the season. He was particularly impressive in the Super Bowl and, along with punter Johnny Hekker, he was one of only a few Rams players to turn in a quality performance.vIn terms of pure talent, Peters is among the very best at his position. However, his up-and-down 2018 season and history of clashing with coaches in Kansas City may be giving the Rams pause.
It's also worth noting that the Rams have been reluctant to pay big bucks for defensive backs in the past. In recent years, they've allowed corners Trumaine Johnson and Janoris Jenkins and safeties Rodney McLeod, T.J. McDonald, and Lamarcus Joyner to walk. And, in the recent case of Johnson, that proved to be a wise move – if given the opportunity by a genie, the Jets probably turn back time and tear up the veteran's five-year, $72.5MM deal (they might also ask the genie to fire then-GM Mike Maccagnan before the thick of the 2018 offseason, but we digress.)
So, what will the Rams do with Peters? If they choose, they can stand pat and allow Peters to play out his 2019 season at a reasonable rate of $9.069MM. Alternatively, if they want to extend Peters now, they may have to back up a Brinks truck for him.
In May, the Dolphins made Xavien Howard the highest-paid cornerback in NFL history with a five-year, $76.5MM extension, giving him an average annual value of $15.3MM. The deal also includes $27MM in full guarantees, slotting him behind only Josh Norman, Johnson, Stephon Gilmore, Denzel Ward, and Jenkins. When considering that two of those corners once formed the backbone of the Rams' secondary, it's hard to see the team making a similar commitment to Peters before he can consistently prove his worth over the course of a full season.
For what it's worth, head coach Sean McVay says the Rams "absolutely" want to sign Peters to an extension. We'll see if the Rams put their money where their mouth is in the coming weeks, when Peters' reps will likely seek a deal in the neighborhood of Howard's.
Photo courtesy of USA Today Sports Images.