The Eagles' surprising second-round selection, Jalen Hurts, is making his professional debut today. After being inactive last week, Hurts is active for today's bout against the Rams and will serve as the backup to QB Carson Wentz. Fellow signal-caller Nate Sudfeld, meanwhile, finds himself on the inactive list.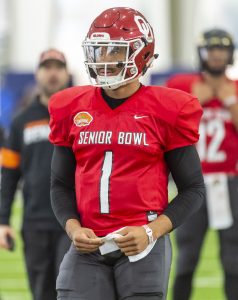 As Eliot Shorr-Parks of 94 WIP observes, the fact that Hurts was activated the week after Wentz turned in a poor performance and is facing even more public scrutiny than usual is interesting (Twitter link). However, it will likely take at least a few weeks of disappointing play from Wentz to generate any sort of quarterback controversy. Head coach Doug Pederson said after this year's draft that the club would use Hurts in the same way that the Saints have used Taysom Hill — as a gadget player who can provide a jolt to the offense — so look for Hurts to get his feet wet in that role before anything more dramatic happens.
After their lackluster offensive showing in their Week 1 loss to Washington, the Eagles could certainly use a jolt. But Pederson also said that he sees Hurts as a quarterback first, so it will be interesting to see if he remains Wentz's QB2 moving forward. It wasn't too ago that Sudfeld was seen as a potential starting signal-caller, but he missed all of the 2019 season with a wrist injury, and his stock has fallen considerably. Philadelphia re-signed Sudfeld this offseason, but the club hopes that Hurts will become, if nothing else, a capable backup.
Hurts was a good player for Alabama from 2016-18, but he was otherworldly after transferring to Oklahoma last season. He threw for nearly 4,000 yards and had 32 TD passes against just eight interceptions. He also rushed for 1,298 yards and 20 TDs, so he clearly has enough talent to make a difference in special packages.
Photo courtesy of USA Today Sports Images.