On this date in 2013, Victor Cruz likely performed one of the most enthusiastic salsa dances of his career. Heading into a contract year worth $2.879MM, the Giants receiver inked a five-year extension worth up to $43MM.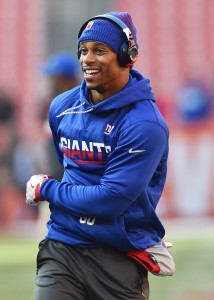 It was a substantial payout for Cruz, but one that reflected his value to the club as well as the league's increased appreciation of the slot receiver position. Lining up mostly on the inside, Cruz broke out in 2011 with 82 catches, 1,536 yards, and nine touchdowns. His 2012 encore wasn't quite as efficient (he posted an 86/1092/10 stat line), but he was still recognized as a vital part of the Giants' passing attack and earned his first career Pro Bowl nod.
Not wanting to risk losing Cruz to free agency after his one-year restricted free agent tender – particularly after watching him carve up the 49ers in the NFC Championship Game – the Giants moved to lock down Cruz for the long term. Cruz could have gambled by staying on track for free agency after the 2013 season, but the added security of the deal, including nearly $16MM in guarantees, provided him with financial security.
In hindsight, it was the smart play for the former undrafted free agent. Initially slowed by a heel bruise, came two yards shy of the 1,000-yard mark in 2013, despite missing two games. Unfortunately, in 2014, the course of his career changed dramatically. A torn patellar tendon ended his campaign after just six games and a calf injury in the following season put him under the knife before he could take the field.
By the time Cruz returned to action in 2016, the Giants' offense was fully focused on Odell Beckham Jr., who routinely toasted opposing defensive backs and gobbled up targets, catches, yards, and touchdowns. At this point, Cruz's trademark speed was no longer there, and neither was his former Rabbi, Tom Coughlin. Cruz took a pay cut to stay in the fold, but registered just 39 catches for 586 yards. The two sides were expected to hammer out a similar arrangement for his 2017 season, but they released him instead.
Cruz moved on to the Bears, but a knee injury in the final preseason game torpedoed his comeback attempt. Later, he tried to lobby the Giants to sign him via the local press, but his request went unanswered. Finally, in August of 2018, Cruz announced his retirement and entry into the world of broadcasting with ESPN.
Although Cruz's time on top was brief, he left the game with a tremendous highlight reel, multiple productive seasons, a Super Bowl ring, and an iconic touchdown celebration that will forever be remembered by Giants fans.
Photo courtesy of USA Today Sports Images.