With Carson Wentz now a member of the Colts, the next quarterback domino to fall could be Sam Darnold. The former second overall pick's status is up in the air, and it wouldn't be surprising if he's starting for the Jets next season or if he's shipped out for whatever trade compensation New York can get. In a recent piece, Rich Cimini of ESPN.com runs through all the plausible scenarios for Darnold.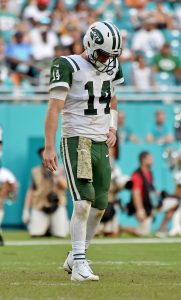 Trade him and draft a quarterback, keep him and take the best player available at number two, or keep him and trade down with a team looking for a passer. Cimini writes that "there are some who believe" the Jets could get more for Darnold than the Eagles got for Wentz. Philly, of course, got a third-round pick and a second-rounder that can turn into a first-rounder if Wentz plays 75 percent of the snaps for Indy this season. We heard just yesterday that potential compensation for Darnold would be a second-rounder, but apparently others in league circles think it would take more.
One league source highlighted to Cimini that Darnold is under team control relatively cheaply for the next two years as a reason why. If the Jets do decide to throw in the towel on Darnold and start over, Cimini writes that his "hunch" is that it would be for BYU's Zach Wilson with the second pick.
Interestingly, Cimini says that a source from one team that had inquired with the Jets about trading for the former USC star "came away with the impression Darnold won't be dealt." We heard a couple weeks ago that multiple teams had called about Darnold, and it doesn't sound like those calls were too productive.
Many have treated it like a foregone conclusion that Darnold will be dumped this offseason, but that sentiment is probably misguided. If he is dealt, one hypothetical trade that Cimini floats is between the Jets and Washington, with the teams swapping first-round picks (19 & 23), and Washington sending their second-rounder this year and their third-rounder next year.
If they stand pat at number two and don't trade Darnold or trade down, Cimini currently projects them to take LSU receiver Ja'Marr Chase as the best player available. We should hear a lot more about Darnold in the coming weeks and months, so stay tuned.
Photo courtesy of USA Today Sports Images.