The Browns are nearing an extension with linebacker Jamie Collins and should have an agreement in place by the weekend, tweets Jason La Canfora of CBSSports.com.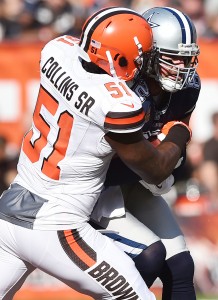 [RELATED: Top 3 Offseason Needs — Cleveland Browns]
Cleveland, of course, acquired Collins from the Patriots in the fall, sacrificing a conditional third- or fourth-round pick (depending on the circumstances) to do so. New England presumably traded Collins, in part, due to his contractual demands, as he was due to hit unrestricted free agency this March. Collins reportedly turned down an $11MM per/year extension offer from the Patriots, and was intent on topping fellow linebacker Luke Kuechly's $12.36MM yearly average.
While those figures may have presented a problem for New England, the Browns are in prime position to meet Collins' requests, as they're projected to head into the offseason with a league-high $110MM in cap space. As such, Cleveland has more than enough financial wiggle room to extend Collins, re-sign fellow pending free agent Terrelle Pryor, and explore the open market for upgrades. Of course, by extending Collins, the Browns have afforded themselves the opportunity to use the franchise tag on Pryor if extension talks fail.
Ranking seventh on PFR's 2017 Free Agents Power Rankings, Collins had expressed an interest in re-signing with Cleveland before hitting free agency this spring. "(Losing is a deterrent) but at the same time, money comes into play around that time," Collins said last month. "If the money is right then I could stay here. Obviously I'm not going to turn it down."
Collins, 27, started eight games for the Browns after being shipped to Cleveland, posting 48 tackles, two sacks, and a forced fumble during that time. All told, Collins graded as just the 44th-best edge defender in the league, per Pro Football Focus, a far lower rating that he'd attained in years past. Reports indicated that Collins had begun "freelancing" in New England's defense, but clearly the Browns were impressed enough by his half-season stint to retain him for the long haul.
Photo courtesy of USA Today Sports Images.