The 49ers have been a mess since Jim Harbaugh left for Michigan following the 2014 campaign, but the club is perhaps finally getting back on track. With a new general manager and head coach in place, San Francisco spent the offseason rebuilding from the ground up.
Notable signings:
With a new regime lead by head coach/offensive mastermind Kyle Shanahan in place, the 49ers nearly revamped the entirety of their offensive skill positions during the free agent period. That effort started with the signings of quarterbacks Brian Hoyer and Matt Barkley, who will likely serve as San Francisco's No. 1 and No. 2 options under center in 2017. The 49ers figure to target a signal-caller upgrade in the coming year, either through an early draft choice or a pursuit of a free agent quarterback such as Kirk Cousins, but a Hoyer/Barkley tandem is a serviceable duo for a rebuilding club, especially given the limited price tag. Hoyer, of course, has worked with Shanahan before, passing for more than 3,000 yards, 12 touchdowns, and 13 interceptions under the then-Browns play-caller in 2014. While the 31-year-old performed much better in 2016 (no interceptions on 200 pass attempts), Hoyer finished 26th in air yards per attempt among quarterbacks with at least five starts, meaning his success was mostly based around short throws.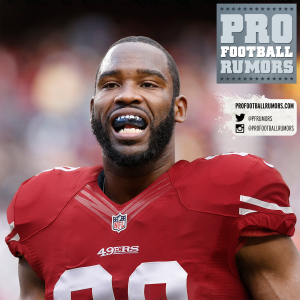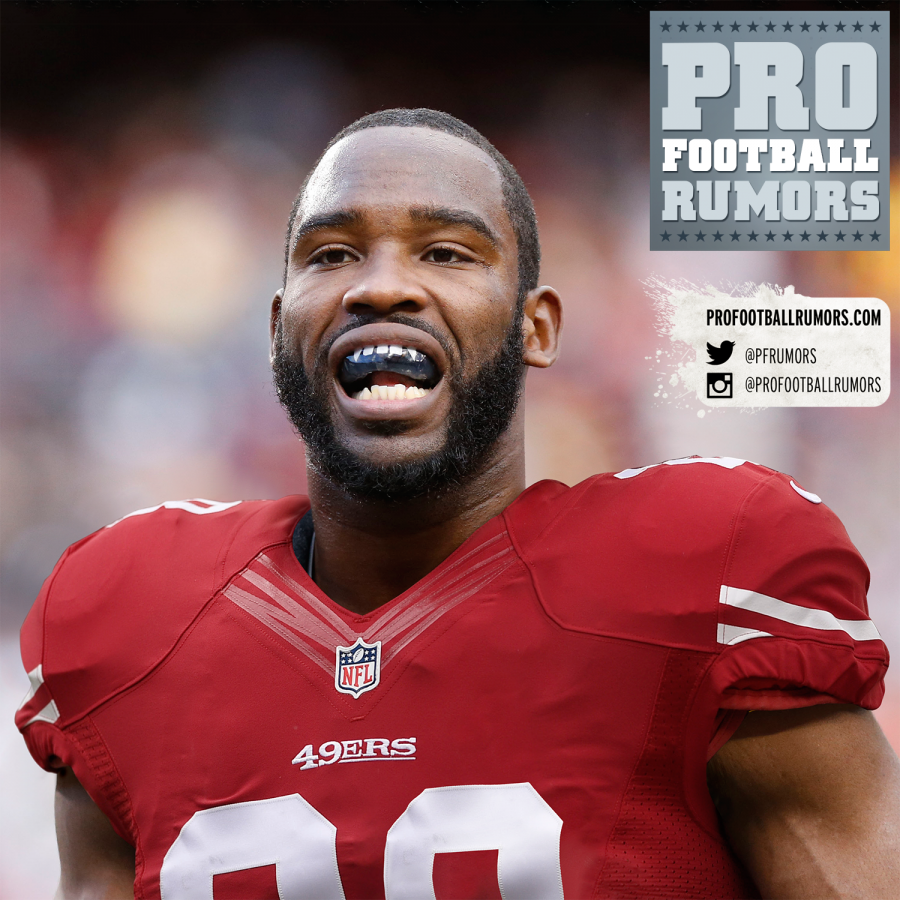 Hoyer will be tossing the ball to a wide receiver crew that's almost entirely new, and is now led by Pierre Garcon. Like Hoyer, Garcon has played for Shanahan in the past, as he lead the NFL in receptions with the Redskins in 2013 while Shanahan was the club's offensive coordinator. While Garcon may not be a clear-cut No. 1 wideout any more at the age of 31, he'll serve in that capacity for the 49ers, especially given that he's familiar with the team's new offensive scheme. It won't be a surprise if he improves upon his 114 targets from a season ago, and the club will value his leadership and toughness. San Francisco didn't stop after adding Garcon, however, as the club also signed Marquise Goodwin, Aldrick Robinson, and Louis Murphy while re-upping Jeremy Kerley. Goodwin is the most intriguing of the bunch, as he's a former Olympian who ran a 4.27-second 40-yard dash at the 2013 combine. Ideally, that would make Goodwin a near-perfect option to play the Taylor Gabriel/deep threat role in Shanahan's offense.
San Francisco's backfield also saw a makeover headlined by the additions of running back Tim Hightower and fullback Kyle Juszczyk. Hightower is 31 years old, but he doesn't have the wear-and-tear of a normal running back of that age given that he didn't play in the NFL from 2012-14 (all told, he's only rushed 752 times during his pro career). While he should be able to help in the passing game, Hightower could have trouble running behind the 49ers' sub-par offensive line — according to the 2017 Football Outsiders Almanac, Hightower broke a tackle on only 7.8% of his touches, second-worst in the league. Juszczyk, meanwhile, signed one of the more above-market deals in recent memory, as he blew away all fullback precedents with a $5.25MM annual salary that is more than double the next fullback. The deal is a complete overpay, but Shanahan knows how to deploy fullbacks (see: Patrick DiMarco in 2016), and San Francisco had cap space to burn.
The 49ers used that ample cap space to ink a number of veterans to low-cost contracts (whether that be minimum salary benefit deals or just pacts with little-to-no guaranteed money). Never was that more apparent that along the offensive line, where San Francisco signed Tim Barnes, Brandon Fusco, Andrew Gardner, and Garry Gilliam, the latter of whom was poached from the division-rival Seahawks in restricted free agency. None of those players is a superstar, and they may not all even make the Niners' 53-man roster. But they'll give the club some semblance of respectability up front — Fusco, notably, is now on track to start at right guard while Barnes could conceivably see time at center in place of Daniel Kilgore. Barnes, Fusco, and Gilliam combined to start 43 games in 2016.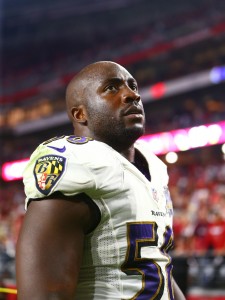 Taking chances on cheap players was also a tactic for San Francisco on the defensive side of the ball (cornerback K'Waun Williams, defensive linemen Chris Jones and Leger Douzable), but the club also brought in a number of defenders who should definitely stick on the roster. The 49ers' defensive line was specifically addressed, as the team signed defensive tackles Earl Mitchell and Sen'Derrick Marks plus edge rusher Elvis Dumervil. Mitchell should anchor the interior of San Francisco's defensive front, playing the nose tackle role alongside three-technique DeForest Buckner, while Marks can offer a bit of pass rush on an interior rotation. Dumervil, though, is potentially the most interesting addition, as the 33-year-old came on in 2016 after returning from a foot injury — in the last five weeks of the season, Dumervil managed 22 total pressures (sixth among edge defenders), per Pro Football Focus.
Notable losses:
Nick Bellore, LB
Carl Bradford, LB: Waived
Tramaine Brock, CB: Released
Ahmad Brooks, LB: Released
Chris Davis, CB
Mike Davis, RB: Waived
Phil Dawson, K
Glenn Dorsey, DL
Shaun Draughn, RB
Jim Dray, TE
Bruce Ellington, WR: Waived
Blaine Gabbert, QB
Gerald Hodges, LB
Tony Jerod-Eddie, DL
Thad Lewis, QB
Quinton Patton, WR
Mike Purcell, DT: Waived
Torrey Smith, WR: Released
Rod Streater, WR
Andrew Tiller, OL
Michael Wilhoite, LB
A multitude of new offensive players in San Francisco meant the club needed to cut ties with a number of incumbents, and that list starts with quarterbacks Colin Kaepernick and Blaine Gabbert. We're not going rehash Kaepernick's entire history of social activism and his decision to kneel for the national anthem in 2016, as there's no indication either ultimately led to him leaving the 49ers. Kaepernick made the decision to opt out of his contract after it was clear general manager John Lynch & Co. would release him if he didn't do so, a call that was mostly performance- and salary-based. Once San Francisco made the decision to pursue Brian Hoyer, it simply didn't make sense to retain Kaepernick and his nearly $15MM cap charge. Gabbert, too, wasn't asked to return after completing only 57% of his passes in five starts.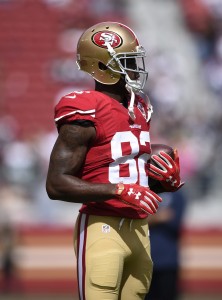 The turnover continued at the skill positions, where running back Shaun Draughn and wide receivers Torrey Smith, Quinton Patton, Bruce Ellington, and Rod Streater are now gone. Patton led that group in offensive snaps (701), but he only managed 37 receptions and a 58.7% catch rate. Smith performed even worse (just 20 catches), and was subsequently released following two disastrous years in the Bay Area. Signed to a five-year, $40MM deal prior to the 2015 campaign, Smith never found a place in the 49ers' offense, averaging only 26 receptions per season while scoring just seven total touchdowns (he scored 11 times in 2014, his final campaign in Baltimore). Draughn, meanwhile, has always been a reliable receiving back, but that's a role that will taken by Tim Hightower and/or Matt Breida in 2017.
On the defensive side of the ball, the 49ers cut bait with a cadre of linebackers: Ahmad Brooks, Gerald Hodges, Michael Wilhoite, and Nick Bellore were all either released or allowed to leave via free agency. Brooks was cut over the weekend in a move that made sense for multiple reasons, namely Brooks' age (33) and the fact that he hasn't ranked as a top-20 edge option per PFF since 2012. A case could be made that San Francisco should have made more of an effort to retain either Hodges or Bellore, as both landed only minimum salary contracts this offseason. Hodges is only 26 years old and was excellent on 583 defensive snaps last season, while Bellore is a standout special teams player.
Changes also came to the 49ers' secondary, where the club parted ways with cornerback Tramaine Brock following domestic violence allegations. Brock eventually saw his charges dropped, but San Francisco — which was reportedly interested in extending Brock before the claims surfaced — had already released him. While the Niners may have acted too quickly, it's difficult to judge their decision to cut Brock given the current climate regarding domestic violence. Safety Antoine Bethea is also gone (and, like Brock, is now playing for another NFC West team), but his release was performance-based, as PFF graded him as a the league's No. 74 safety among 90 qualifiers.
Trades:
While the 49ers' trade for center Jeremy Zuttah now looks confusing given that the club has already released him (paving the way for Zuttah to re-sign with Baltimore), the deal had merits at the time it was agreed to. San Francisco was hoping to improve upon Daniel Kilgore, whom PFF ranked as the league's No. 27 center a season ago, by acquiring Zuttah, whom PFF listed at No. 17. It's a small separation, to be sure, but the Niners didn't give up much, as they only dropped down 12 spots in the sixth round to pick up Zuttah. Sure, the deal didn't work out, but it barely cost San Francisco anything and represented a worthwhile risk.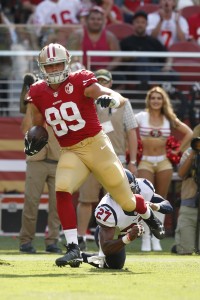 The Niners were on the other end of a small draft drop in the Vance McDonald trade, as they sent the veteran tight end and a fifth-round pick to the Steelers for a fourth-round choice. Pittsburgh, of course, projects to perform well next season, so its fourth-rounder will likely come near the end of the round, while San Francisco's fifth-round selection should be at the top of the round. As such, the 49ers may only move up ~10 places in exchange for giving up McDonald, but that's probably acceptable for the clubs' new front office, which has been trying to trade McDonald for some time. San Francisco will take on dead money for McDonald in each of the next two years: $1.4MM in 2017 and $4.2MM in 2018.
Through the McDonald trade, San Francisco will recoup the 2018 fourth-round pick it lost as part of the Kapri Bibbs draft-day swap. The Bibbs deal was a strange one from the beginning, as the 49ers gave up a relatively high draft choice next year in exchange for a running back who boasts all of 29 career carries. Perhaps general manager John Lynch & Co. saw an opportunity to add a special teams contributor on the cheap, as Bibbs played on 43.8% of Denver's special teams snaps in 2016. But given the presence of Tim Hightower, Joe Williams, Matt Breida, and Raheem Mostert, Bibbs isn't even likely to make the final San Francisco roster.
That's not the case for former first-round pick Laken Tomlinson, whom the 49ers picked up from the Lions on Thursday. While Tomlinson has started 24 games over his first two years in the NFL, he's also performed like one of the league's worst guards. He wasn't going to earn a roster spot with Detroit, so Lions general manager Bob Quinn did well to get any sort of compensation for him. But that doesn't mean the deal doesn't have merit for San Francisco, as well, as taking chances on players with pedigree is always a tenable strategy for rebuilding clubs.
Draft picks:
It's still unclear whether the 49ers actually had other suitors other than the Bears for the No. 2 pick and quarterback Mitch Trubisky, as various reports offered conflicting information. Either way, San Francisco clearly made Chicago believe the second overall selection was in high demand, and the 49ers ultimately collected 154 cents on the dollar (with their 2018 pick acquisition discounted 10% because it's a future selection) and still came away with one of the draft's best defensive players in Stanford's Solomon Thomas. Thomas, who is expected to start immediately in the 49ers' new 4-3 scheme, led all draft-eligible defenders in Pro Football Focus' run defense grading, and also registered a quarterback pressure on one-out-of-ten pass rushing snaps, third in the class.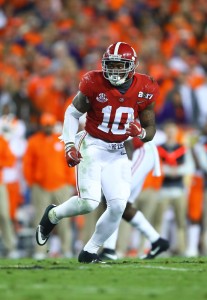 San Francisco would've selected linebacker Reuben Foster third overall had Myles Garrett and Thomas already been off the board, but the team eventually got the Alabama defender after trading back into the first round at No. 31. First-year general manager John Lynch may have avoided a critical mistake with Foster, as drafting a player that eventually fell to the end of Day 1 at No. 3 overall would have been a clear error. But that doesn't mean the 49ers didn't land an excellent player, and one who's expected to start now that he's medically cleared and fellow 'backer Malcolm Smith is lost for the season. Lance Zierlein of NFL.com says Foster has an "alpha mentality" and compares him to the Seahawks' Bobby Wagner.
Other 49ers draftees have a chance to make an early-season impact, as well. Fifth-rounder George Kittle, specifically, looks like the club's starting tight end after the trade of veteran Vance McDonald. Trent Taylor will be an immediate option in the return game, and could see snaps in the slot if Jeremy Kerley falters. Running back Joe Williams is currently behind undrafted rookie Matt Breida and journeyman Raheem Mostert, but the Utah Ute was especially explosive at the combine. Quarterback C.J. Beathard, meanwhile, was considered an overdraft in the third round, but he might be able to beat out Matt Barkley for San Francisco's backup signal-caller job.
Other:
The 49ers are now on their fourth head coach in as many seasons, and this time around first-time head coach Kyle Shanahan will be joined by another first-timer in general manager John Lynch. San Francisco shocked the NFL world by hiring Lynch, a former player and broadcaster, but the club should be given credit for thinking outside of the box. If the early returns are any indication, Lynch is cut out to be an NFL GM, especially with talent evaluators such as former Broncos staffer Adam Peters by his side.
Shanahan, meanwhile, is widely respected around the league for his offensive calls and innovation (his efforts at the end of Super Bowl LI not withstanding), and he should be able to get the most out of what is currently an underwhelming set of offensive skill position players. His staff is certainly short on experience, however, as none of the San Francisco coaches have ever been a head coach or even a coordinator before. The 49ers won't hire an offensive coordinator, and Shanahan will lean on a quarterbacks coach in Rich Scangarello who most recently worked at Wagner College, a liberal arts university in New York.
Top 10 cap charges for 2017:
Could the 49ers be an extremely under-the-radar playoff sleeper in 2017? That's probably too much to ask just yet, but the club has added enough baseline talent that two wins shouldn't be the expectation again. While the rebuild in San Francisco could be a slow process (at least until the team finds it long-term quarterback), the 49ers should take a step forward next season.
Information from Over the Cap and Roster Resource was used in the creation of this post. Photos courtesy of USA Today Sports Images.
Follow @PFRumors