The Joe Schoen regime's first offseason did not feature splash moves, with cap issues limiting the GM last year. After a surprise voyage to the NFC's divisional round, the Giants became far more active this year in making moves that will shape their long-term future. For the most part, the team's core players are now locked down. Though, more headlines came the team's way because of the pillar that exited the offseason without an extension.
Re-signings:
Faced with one of the more fascinating decisions in the franchise tag era, the Giants made no secret of their stance adjustment on Jones. Schoen passed on the Dave Gettleman-era draftee's $22.4MM fifth-year option in 2022. Picking that up would have brought an easier route for the Giants, but the former No. 6 overall pick was coming off an injury-limited season and had not justified such an investment at that point. With Jones becoming the first quarterback to re-sign with a team that had declined his fifth-year option, he exerted the leverage the March franchise tag deadline gave him. At the end of that journey: a payday that would have been unimaginable a year ago.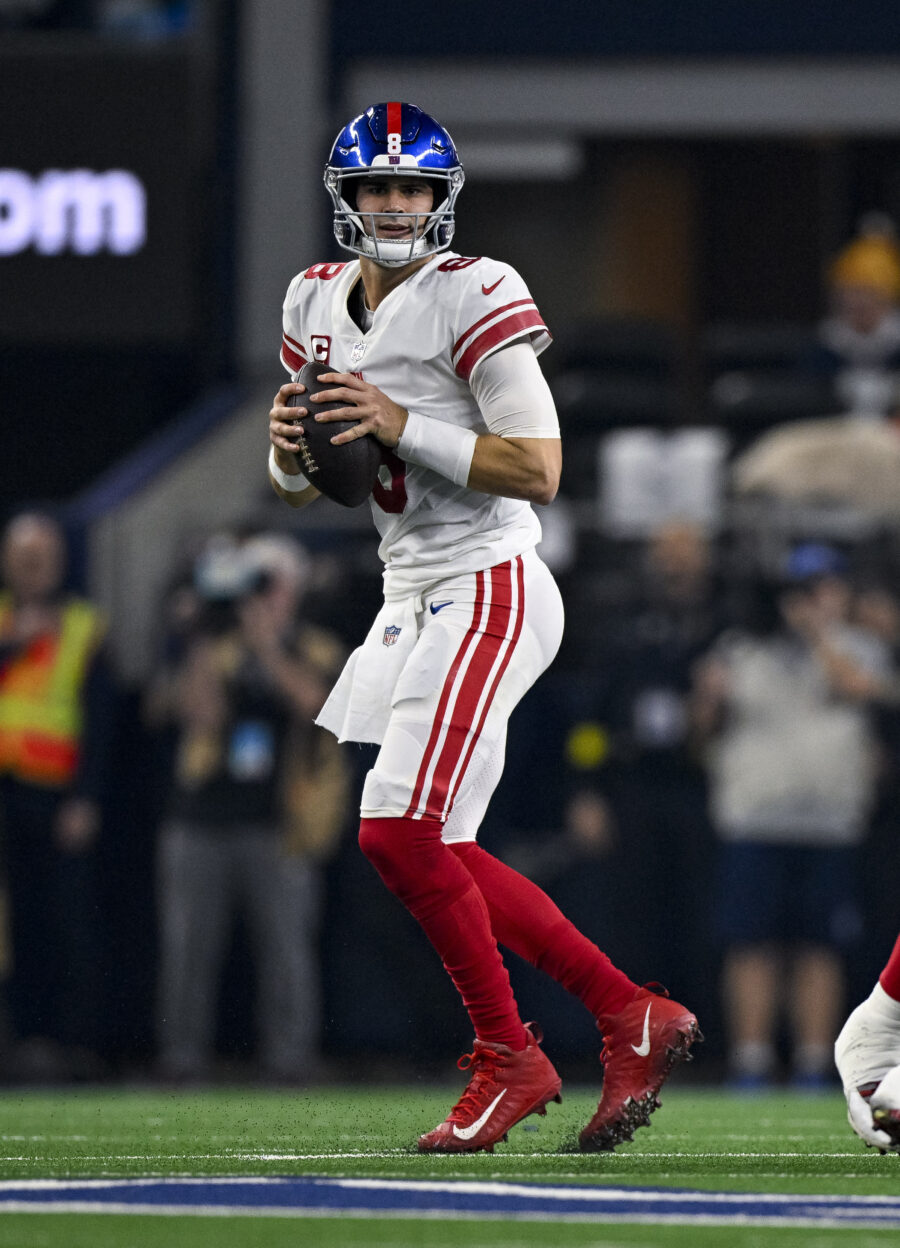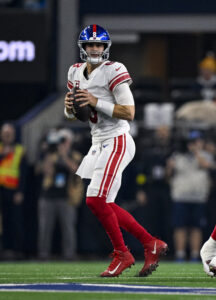 By not picking up Jones' option and letting Barkley play out his, the Giants entered March with both unsigned. They ended up navigating this scenario in the same way the 2020 Titans did, re-signing the quarterback and tagging the running back. But the Ryan Tannehill–Derrick Henry situation did not produce half the headlines the Giants' Jones-Barkley proceedings did.
In the fall, the team first identified Barkley as an extension candidate, beginning bye-week negotiations and offering an extension worth more than $12MM per year. No Jones negotiations took place at that point, with the new Big Blue regime wanting to see more. After Jones piloted a Giants offense stripped of non-Barkley skill-position talent to the franchise's first playoff win since Super Bowl XLVI, Schoen and Co. changed course. Jones became the priority and was set to receive an expensive franchise tag ($32.4MM). Barkley's superior talent notwithstanding, the two-time Pro Bowl running back's positional value dropped him in the team's queue. This set up a high-stakes stretch leading up to the March 7 deadline to tag players.
Rumored to be aiming for a deal south of $40MM per year, the Giants saw their quarterback change agents and come in with a $47MM-AAV ask once talks heated up in the winter. After a lack of progress in the days leading up to the deadline, the Giants talked Jones down to $40MM per year. Beating the deadline buzzer on this extension allowed them to tag Barkley, completing step one of a seminal offseason itinerary. While that set off another high-profile negotiation that would play out in the coming months, Jones successfully negotiated the same contract parameters Matthew Stafford and Dak Prescott received and did so coming off a season in which he threw only 15 touchdown passes.
The Eli Manning heir apparent transforming his value to this degree made for one of the most interesting contractual sagas in recent memory. Jones, 26, had shown promise as a rookie under Pat Shurmur. His 24 TD passes — in a 12-start season — still rank fifth for a rookie. But Joe Judge's tenure, which largely placed Jason Garrett at the controls on offense, ended up setting Jones back. The Duke product combined for 21 TD passes in 25 starts from 2020-21, and his midseason neck injury in the latter season led to one of the worst stretches in Giants history. Although the team's 9-7-1 response to that benefited Jones more than anyone, the Giants are making a reasonable bet on a player they were seemingly ready to discard at this time last year.
Factoring in rushing impact, QBR viewed Jones as having made tremendous strides under Brian Daboll. Despite increasing receiver limitations and a basement-level tight end situation, Jones ranked sixth in that metric. His 708 rushing yards boosted a team in need of viable non-Barkley help moving the chains, and it will be interesting to see how Jones performs in Daboll's offense with an improved pass-catching corps.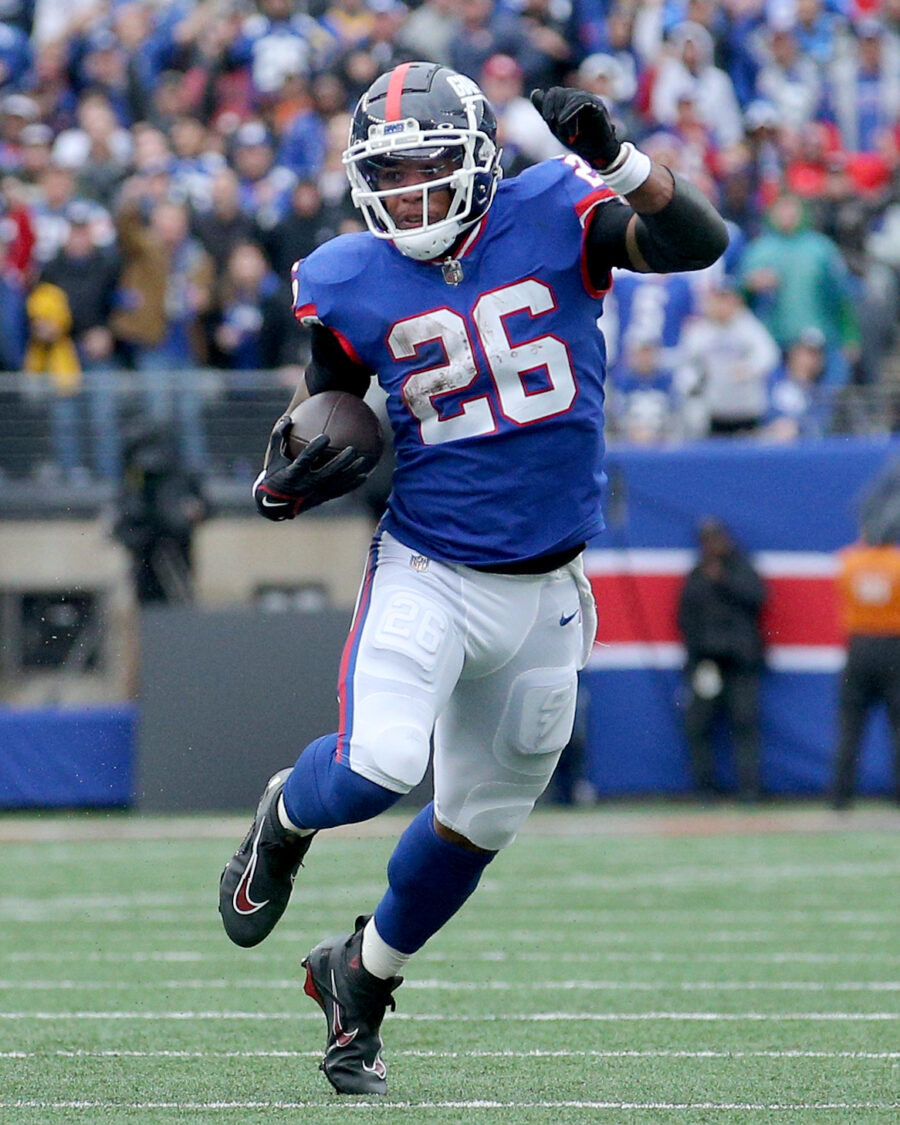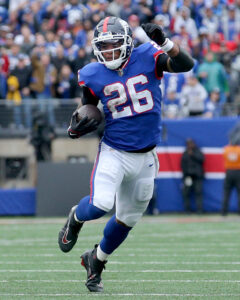 This contract also gives the Giants a reasonable out after two years. They would be on the hook for barely $9MM in dead money if they designated Jones a post-June 1 cut in 2025. And the subsequent deals for Jalen Hurts, Lamar Jackson and Justin Herbert did bump the Jones contract down to 11th at the position. Still, Jones is a bit on this deal is a different than having him on rookie money. While it would have been interesting to see if another team would have been willing to give him $40MM per year on the open market, the Giants did not wish to chance that.
Barkley's tag became one of many events in a crushing offseason for the running back position. The throughline from Mike Shanahan's brigade of post-Terrell Davis 1,000-yard backs to the gridlock atop the market following Christian McCaffrey's 2020 agreement has led to an overdue spotlight shining on this position's place in the modern game. At the end of 2023's carnage, the RB position is at maybe its most unstable point in history.
The Giants not coming to an agreement with Barkley certainly puts this relationship at risk of falling apart after 2023. But the team will have a chance to use the most talented back in its near-100-year history for at least one more season. The Giants will have a chance to tag Barkley again, at barely $12MM, in 2024. Will the 26-year-old RB remain in the picture by that point?
After shaking off a three-year stretch of injuries, Barkley provided great value on a $7.22MM fifth-year option salary by powering the Giants to the playoffs. While the Giants have not been able to utilize Barkley's pass-game talents on the level his rookie year brought, he gained a career-high 1,312 rushing yards and was by far the most talented Giants skill player. Barkley stayed healthy throughout the season, but after the fall talks did not come close to producing a deal, the Giants ended up pulling their second offer — worth roughly $13MM per year — after tagging him. Four months later, Barkley will play the season for the $10.1MM tag salary (feat. a small incentive package with lofty benchmarks).
Barkley blasted the Giants for leaks that made him look greedy, when the fall and winter offers included low guarantees. Once the team finally moved up to the $22MM guarantee level that represented the cost of two franchise tags, the backfield staple was annoyed that increase came with an AAV decrease south of $12MM. Despite the parties being close to a deal, the Giants making the late move to reduce the AAV led to Barkley passing. Barkley's No. 2 overall draft slot and fifth-year option money moved his career earnings past $38MM, which would have given him interesting leverage to use a Le'Veon Bell-like absence as evidence — on a Giants team still bereft of dependable skill players elsewhere — of RB value while preserving his body for what could be a last-chance free agency run in 2024. Barkley's bluff on this front did not translate to even a training camp holdout, illustrating the power the tag gave the Giants.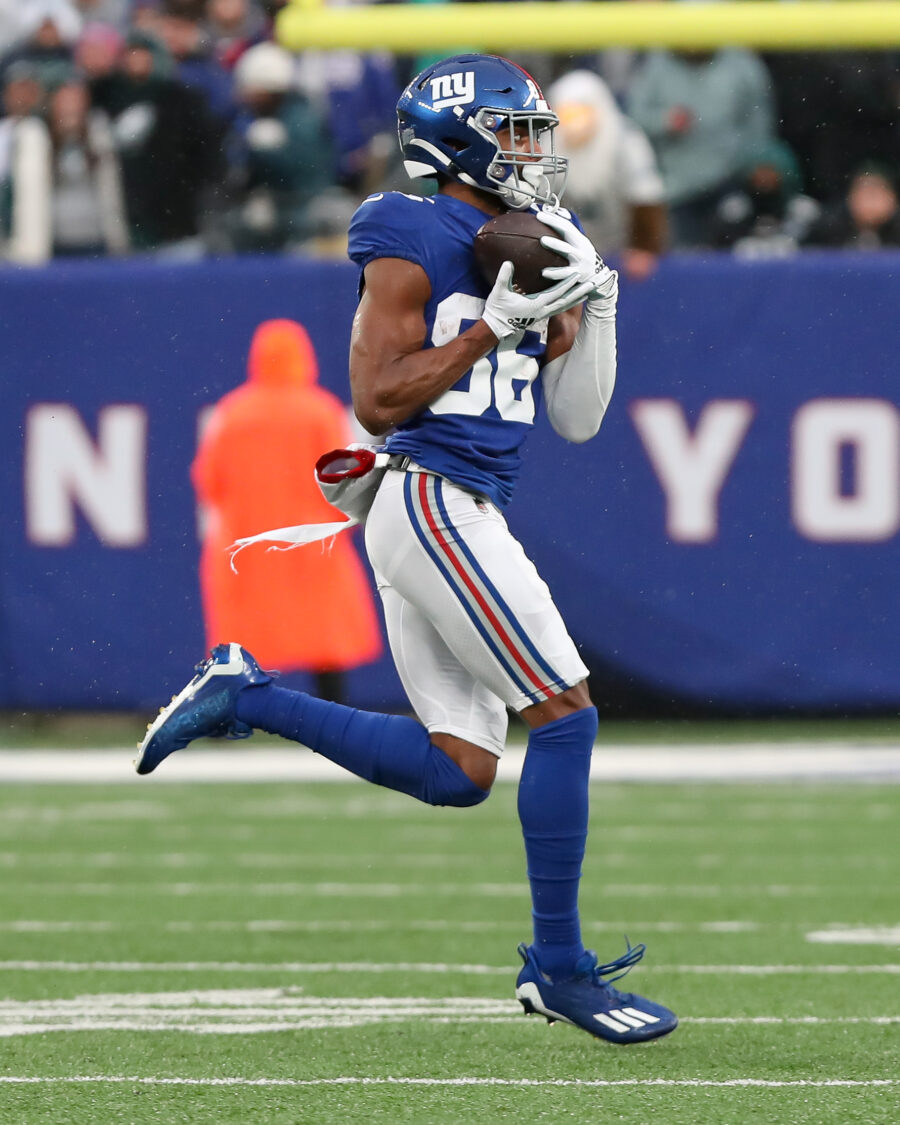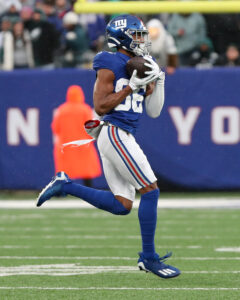 With the Giants free to use Barkley as they please, this tag season could tank his stock — through either an injury or a third 350-plus-touch year — and leave him in a tough spot on what looks like another crowded free agent market. That is, if the Giants let Barkley reach free agency in 2024. With Miles Sanders receiving $13MM guaranteed from the Panthers, Barkley will bet on himself this year in hopes a reasonable guarantee figure will await him on the market in 2024.
Shepard is the Giants' longest-tenured player, but his injury history and having re-signed for no guaranteed money makes the Slayton transaction more pertinent for the 2023 Giants. Although Jones and Barkley zoomed into this regime's good graces after down 2021 offerings, Slayton's turnaround with the organization may have been more surprising.
The Giants buried Slayton on their depth chart going into his contract year and then slashed his pay, stripping away the proven performance escalator money he earned, before the season. But the slew of issues to affect the team's receiver cadre — Shepard and Wan'Dale Robinson's ACL tears, Kadarius Toney's repeat injuries and then a give-up trade, and Kenny Golladay cementing himself as a historic free agency bust — led to Slayton climbing back into a starting role and leading the team in receiving (724 yards). The Giants are deeper at wide receiver this year, but with Robinson not a lock to begin the season on time, Slayton (three 700-yard years) could still find himself opening the season as Jones' top wideout.
Trades:
In betting Jones will grow with better pass catchers, the Giants are wagering Waller will shake off the injury trouble that plagued him in Las Vegas. Waller, who will turn 31 in September, missed 14 games over the past two years. The Pro Bowl tight end's injuries eventually caused the Raiders to cut bait. For a Giants team that has not employed a difference-making tight end in maybe 16 years (Jeremy Shockey?), this is a bet worth making. The pick obtained for Toney is a reasonable price to pay for a dynamic player like Waller.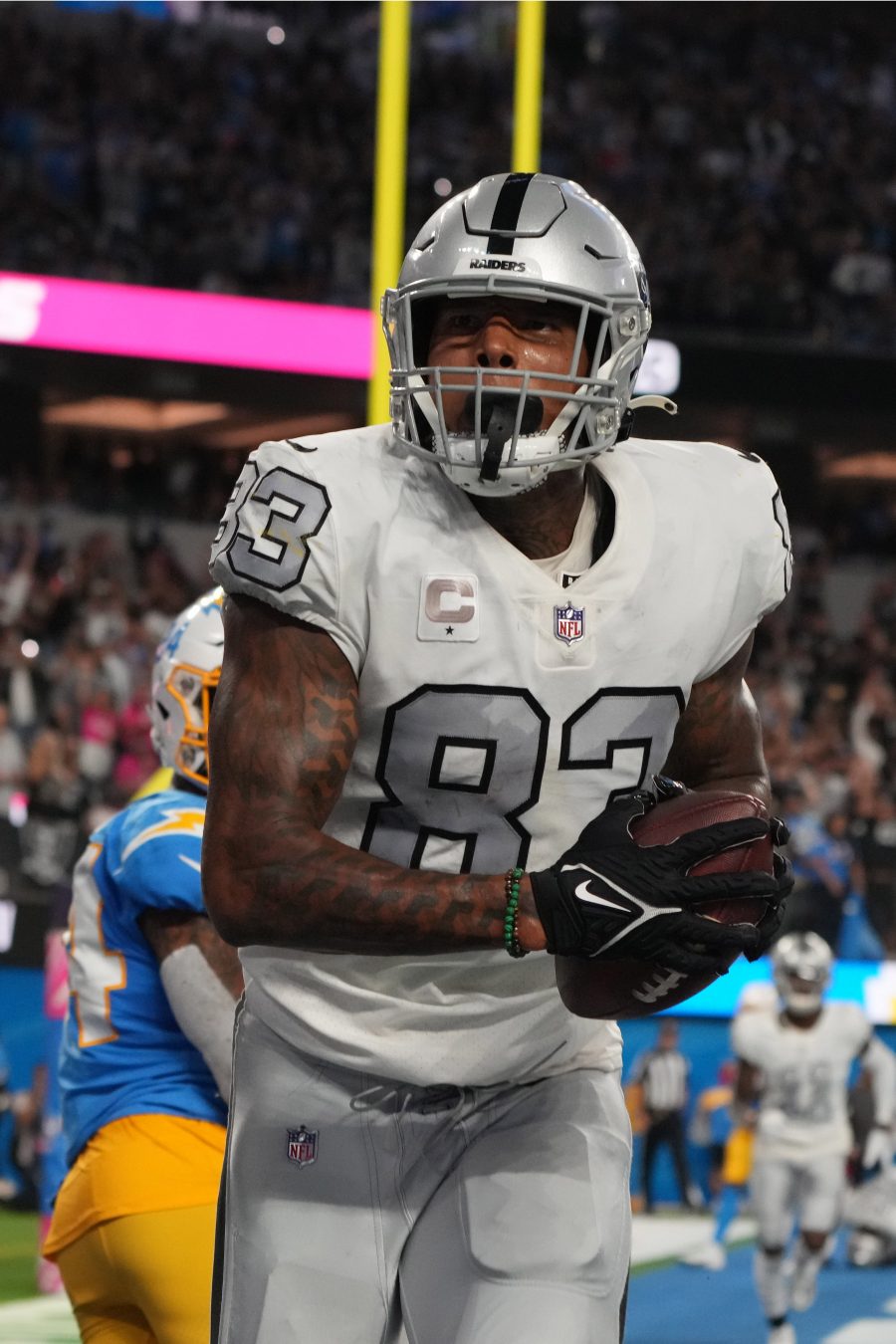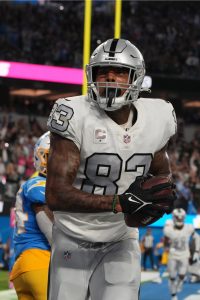 Unlike Shockey, Waller has delivered a 1,000-yard season. In fact, the ex-Ravens wide receiver is one of just eight tight ends with two 1,100-yard years. Waller saved the Raiders when their Antonio Brown trade preceded a spectacular combustion, going from Jon Gruden-era flier to cornerstone piece in Derek Carr's final stretch with the franchise. In his most recent healthy season, Waller ripped off 107-catch, 1,196-yard, nine-TD performance.
Of course, that came three years ago. Since, Waller has dealt with ankle, IT band and hamstring problems. Waller missing eight games due to a hamstring issue — weeks after the Raiders made him the NFL's highest-paid tight end, at $17MM per year — last year frustrated some in the organization. But he has a clear opportunity in New York. The Raiders had transitioned to a Davante Adams-centered aerial attack. While the Giants took a quantity-based approach at receiver, no No. 1-type wideout — at least, no known commodity — exists on this depth chart. Waller will enter the year as the most likely passing-game centerpiece.
Waller's 2022 extension did not feature lofty guarantees, which gave the Raiders an easy out. The Giants will only be tagged with $2.5MM in dead money if they designate Waller a post-June 1 cut in 2024. This is a relatively low-risk proposition for Big Blue. Waller did show flashes after coming back from his hamstring issue in December; when healthy, he presents the capability to give the Giants a weapon that would accelerate Jones' development.
Extensions and restructures:
In an offseason that has placed Barkley in a late-'90s George Costanza-like position, when the Susan Ross Foundation continued to unveil other financial plans regarding her estate, Thomas and Lawrence have joined Jones in receiving windfalls. How the Giants proceeded this year doubles as a decent encapsulation for positional value in the NFL. Beyond the reality of the Giants taking care of higher-value players and letting their running back stay on the tag, two more Gettleman-years breakthrough players are under contract for at least five more seasons. Thomas' deal, in particular, could age very well for the team.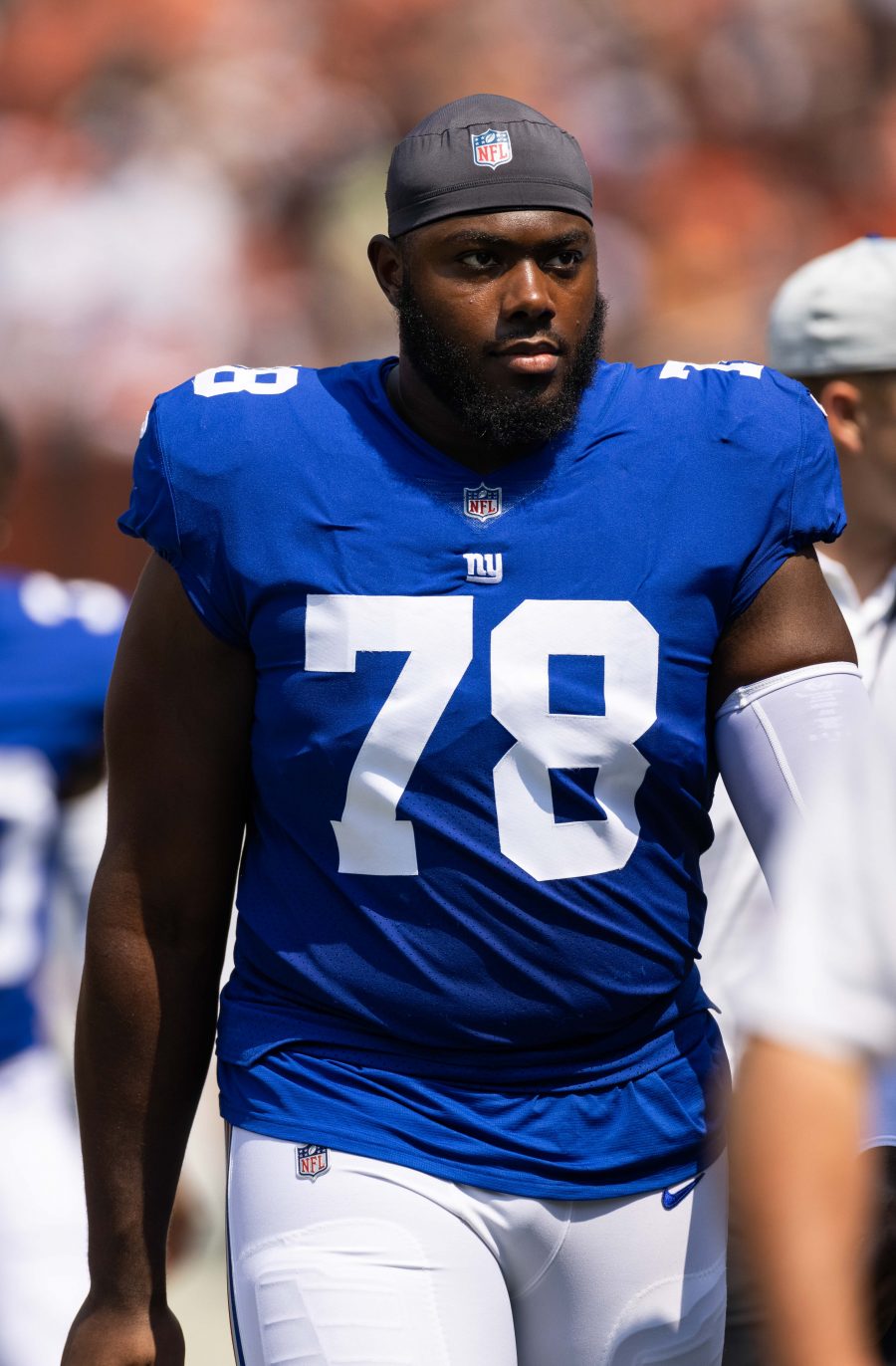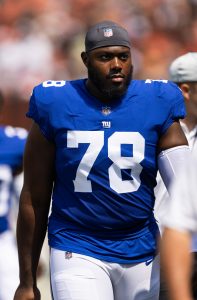 Zack Martin's Cowboys holdout shows the risk of standout players agreeing to lengthy contracts, but Thomas has given the Giants seven years of control. It took a tackle-record guarantee for the former No. 4 overall pick to do so, but the Giants now have their left tackle signed through his age-30 season. Considering the growth Thomas has shown since a rocky rookie year, this might be a significant value play for the team as the salary cap makes a climb toward $300MM over the course of this contract.
Thomas, 24, finished last season as a second-team All-Pro. Pro Football Focus slotted the Georgia alum third among tackles; both PFF and ESPN's win rate metric charted him as an elite pass blocker. After the Giants whiffed on big-ticket moves to staff this all-important position — the Ereck Flowers top-10 pick, the Nate Solder record-setting contract — in Manning's twilight years, they have a potential anchor for Jones.
Of the 318 players chosen in Round 1 in the fifth-year option era (2011-present), Thomas is just the 28th to sign an extension before his fourth season. Teams do not make a habit of extending non-QBs with two years left on their rookie deals. The Giants had this on their radar, however. Showing early faith in Thomas illustrates their confidence in the prior regime's investment. With the Giants not having another O-lineman signed to an upper-echelon contract, an early window for a Thomas play was open.
Lawrence signed a more traditional extension, doing so as a clear-cut second tier formed at defensive tackle this offseason. Lawrence joined Daron Payne, Jeffery Simmons and Quinnen Williams in signing extensions worth between $22.5-$24MM AAV this year. Payne's re-up started off that formation, and the Giants matched the Commanders' terms two months later. The non-Aaron Donald market at the position is set, though Chris Jones is seeking a payday much closer to the Rams all-time great than this new tier that now exists, and the Giants will enter a season as the only team paying two DTs — Lawrence and Leonard Williams — more than $20MM per year.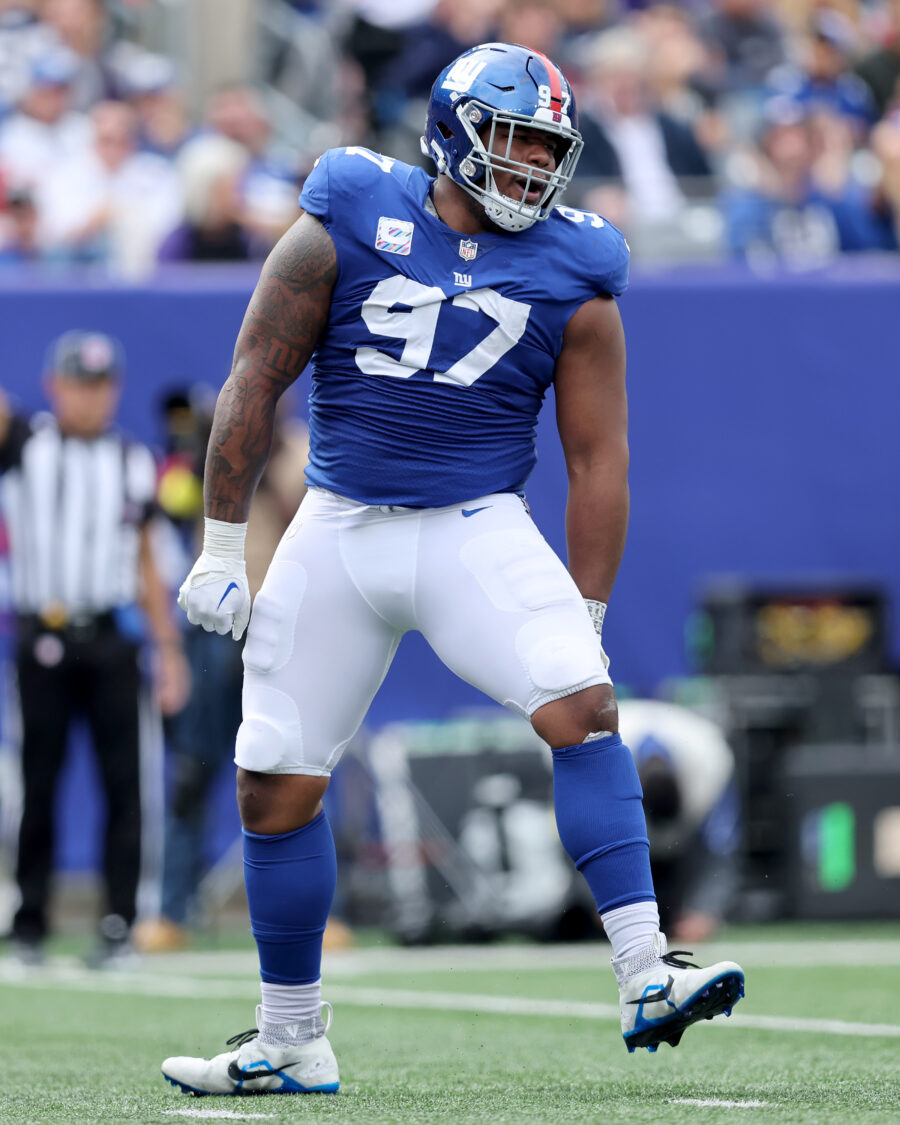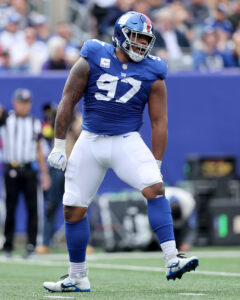 The last piece remaining in either New York or Cleveland from the 2019 Odell Beckham Jr. trade, Lawrence has grown into one of the league's top inside D-linemen. Both PFF and ESPN's pass rush win rate metric rated Lawrence as a top-five D-tackle last season. The Clemson product controlled the line of scrimmage against Garrett Bradbury in the Giants' wild-card win in Minnesota, finalizing his case for a top-non-Donald-level re-up. Lawrence, 25, moved from 11 QB hits in 2021 to a staggering 28 — with 7.5 sacks — last season. Leonard Williams' $21MM-AAV contract expires at season's end, making Lawrence the Giants' cornerstone D-lineman.
Gettleman's tenure did not go well, and the Golladay move will reside in free agency infamy. But the criticized GM's top investments comprise the Giants' long-term core. It will be on the likes of Kayvon Thibodeaux, Evan Neal and Deonte Banks to join them, but this offseason showed Schoen was plenty willing to reward players he did not have a hand in acquiring.
Free agency additions: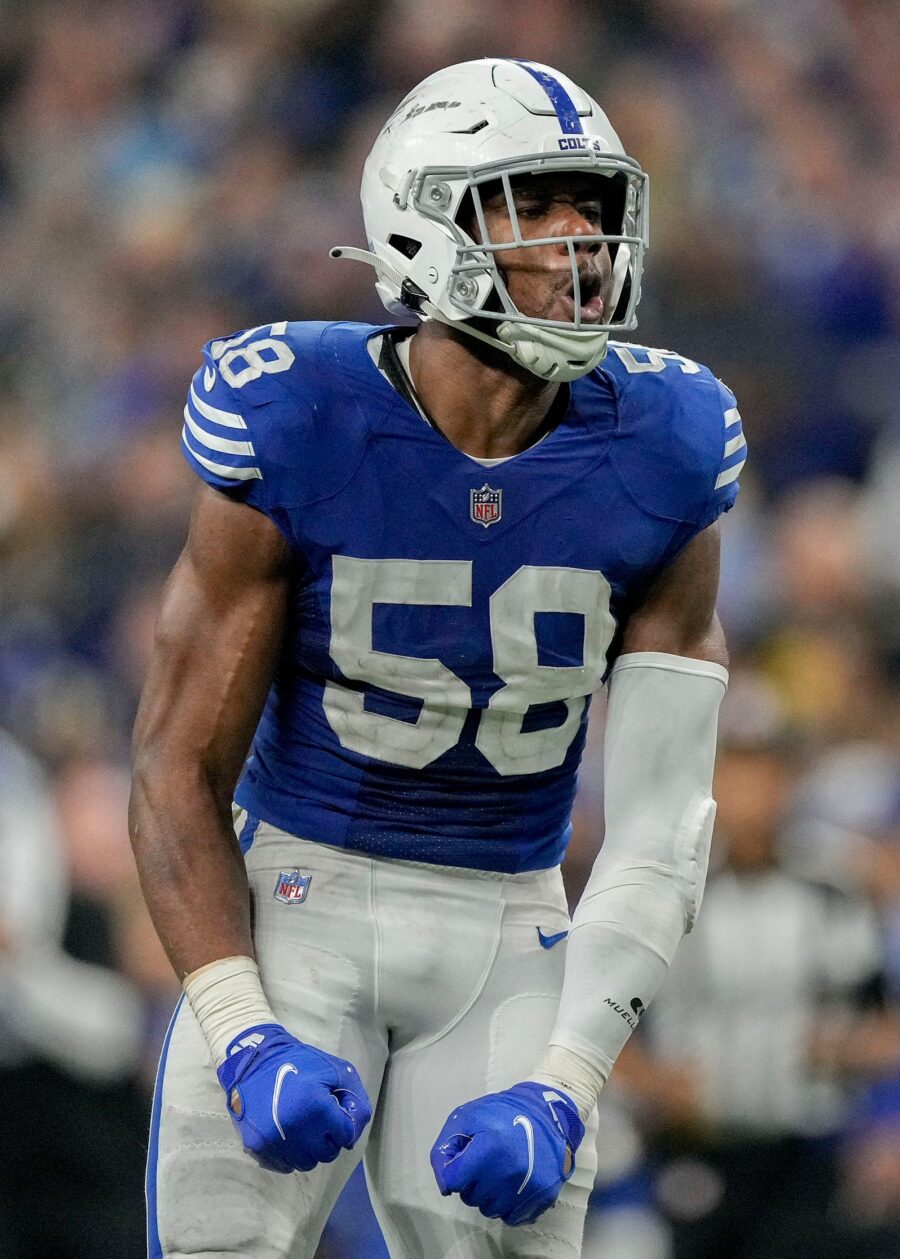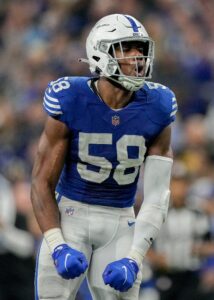 Similar to the running back market, a low ceiling set in for most of the off-ball linebackers aiming to cash in. But the Bears and Giants made exceptions. Despite Schoen, Daboll and ILBs coach John Egorugwu having a history with Tremaine Edmunds in Buffalo, Chicago landed the top ILB on this year's market. The Bears also signed ex-Eagle T.J. Edwards, a rumored Giants target. But the Giants handed out the second-most lucrative deal. No other ILB free agent collected more than $10.2MM guaranteed, making New York's Okereke deal stand out. But the Giants had battled steady issues at inside linebacker for a bit.
It seemed Blake Martinez had solved the Giants' ILB issue, but a 2021 ACL tear led to the Giants moving on in 2022 (and led Martinez into a flourishing career selling Pokemon cards). Tae Crowder's rise from Mr. Irrelevant to Giants starter ended abruptly, via a midseason cut. Okereke, who moved out of Shaquille Leonard's shadow after the latter's 2022 injury trouble, is now the team's ace at this position.
Unleashed after the Colts did not re-sign Anthony Walker in 2021, Okereke combined for 283 tackles over the past two seasons — ninth-most in that span — and forced two fumbles last year. Considering Martinez received $10MM per year in 2020, this might represent a bit of value for the Giants, even though the crowded ILB market settled in below this point.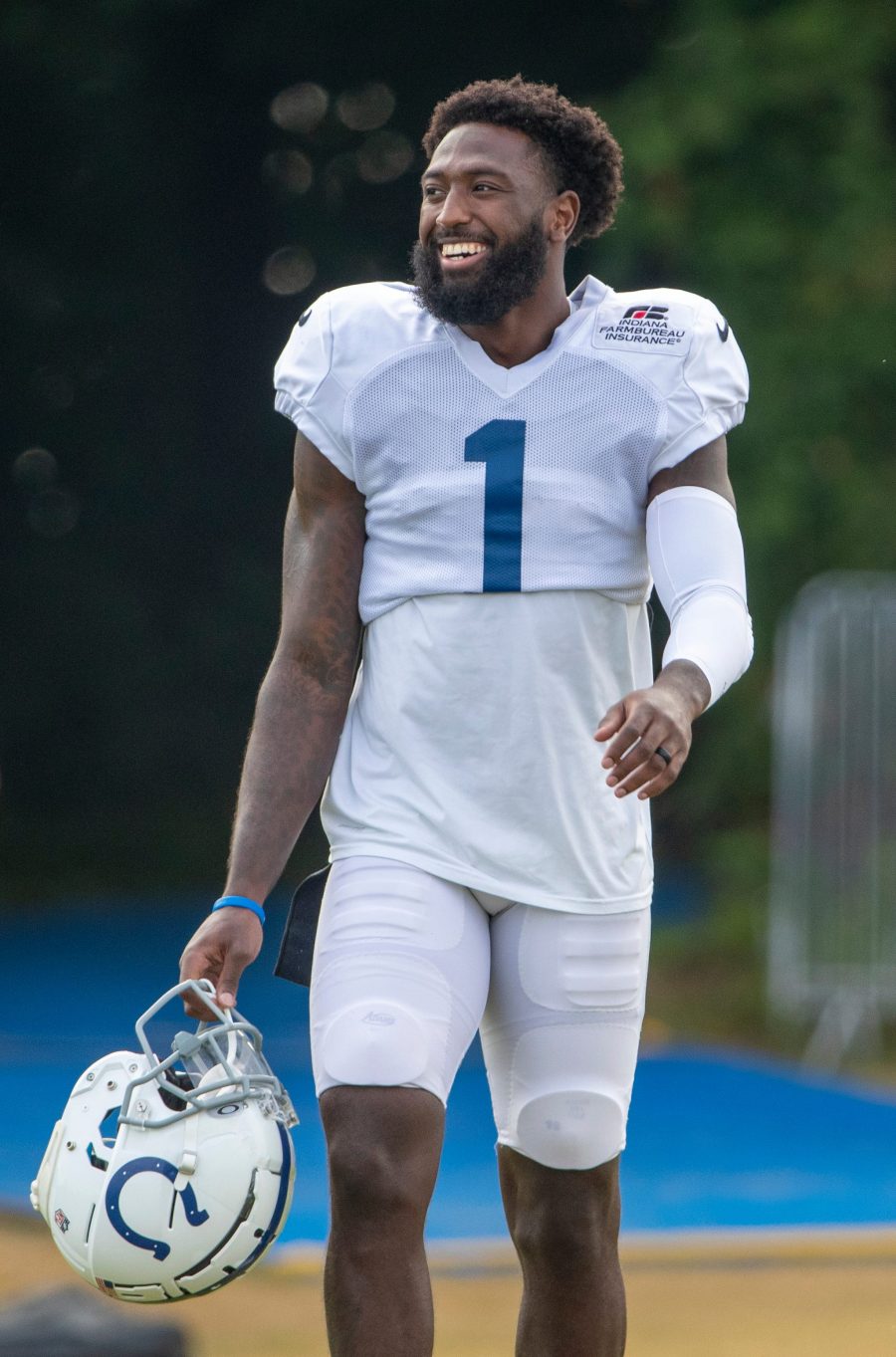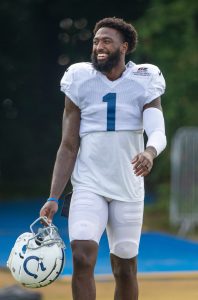 The contracts given to Campbell and Jamison Crowder show modest confidence, and taken in with Beasley's deal along with the Shepard re-signing and Robinson draft choice, this Giants regime certainly has a type at receiver. Jokes about Big Blue's slot receiver hoarding aside, Campbell's injury trouble from 2019-21 led to this small guarantee.
The ex-Ohio State speedster was a non-factor over his first three NFL years, but as eyes fixated elsewhere during a disastrous 2022 Colts campaign, he played 17 games and posted 623 receiving yards. Campbell, 26, seems a safe bet to make the team, while Crowder (30) is more a flier. A decent slot contributor in Washington and with the Jets (three 700-yard seasons), Crowder is coming off a season in which a fractured ankle limited him to four games with the Bills.
Even with Williams and Lawrence entrenched up front, the Giants ranked 27th against the run last season. They brought in Robinson and Nunez-Roches to help the cause. PFF rated Robinson as a top-30 run defender among D-tackles last year, and the ex-Lions draftee started for a Super Bowl-winning Rams outfit a season prior. Nunez-Roches (30) and Robinson (28) should have promising opportunities alongside the Giants' big two up front. If nothing else, each provides some stability after the Giants lacked depth here last year.
Notable losses:
Not using the post-June 1 designation on Golladay, the Giants are taking the entire $14.7MM dead-cap penalty in 2023. Responsible for two 1,000-yard seasons in Detroit, the slow-footed target quickly showed in New York he would not come close to replicating that production. Daboll banished Golladay from the Giants' receiver rotation last season, going with Slayton and low-end additions Richie James and Isaiah Hodgins as his primary wideouts. James (561 yards last season, easily a career-high total) signed with the Chiefs this offseason, but it is not exactly like the Giants are hurting for slot receiver types.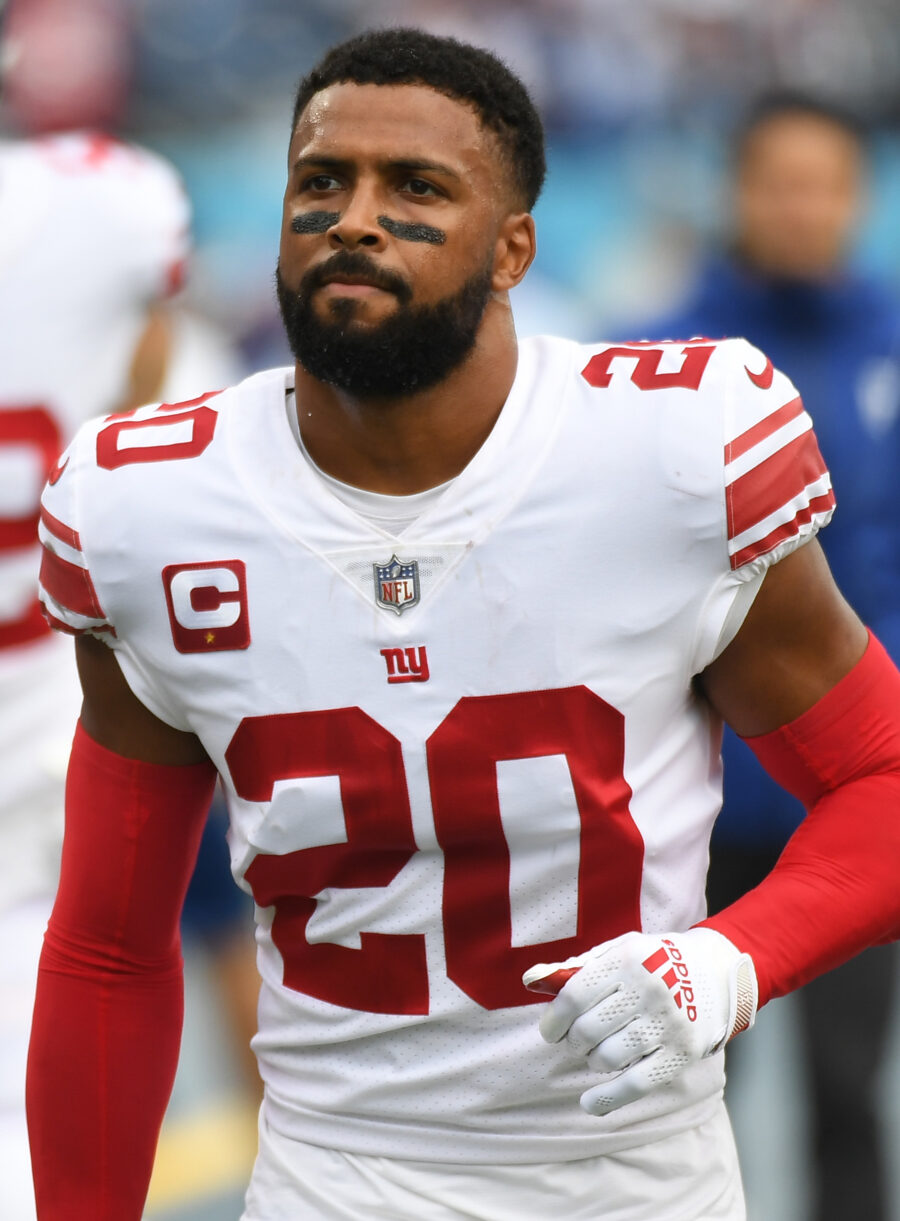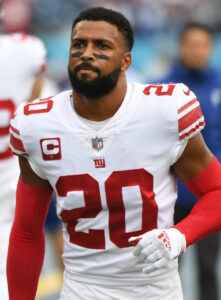 Love may have joined C.J. Gardner-Johnson in misreading the market. As the Eagles safety ended up taking a one-year deal worth $6.5MM with the Lions, Love joined the Seahawks for two years and $12MM. But the Giants expected to re-sign the improving safety. Their offseason offer was believed to be worth more than what the Seahawks proposed, but after the market opened, it appears likely the Giants — after paying Okereke, Nunez-Roches and Slayton — were moving in a different direction. Love signed with Seattle five days into free agency. He joined a team that already had the most money allocated to safeties, thanks to the top-five Jamal Adams pact and Quandre Diggs' quality third contract.
Former Jets draftee Jason Pinnock, who made five starts for the Giants last season, joins McCain, 2022 fourth-rounder Dane Belton and converted cornerback Nick McCloud in competition to start alongside Xavier McKinney. Pinnock worked as McKinney's primary fill-in when the latter sustained injuries in an ATV accident. The Giants let two safeties (Logan Ryan, Jabrill Peppers) go last year, moving to Love, who delivered a 124-tackle slate in being used across the formation under Martindale. Love will not be easy to replace, but the Giants have an array of options they are considering.
Rumored to be on the Giants' extension radar, Gates and Feliciano are now in Washington and San Francisco, respectively. Gates' exit has introduced a guard competition, one that primarily involves Ben Bredeson and 2022 third-rounder Joshua Ezeudu.
Draft: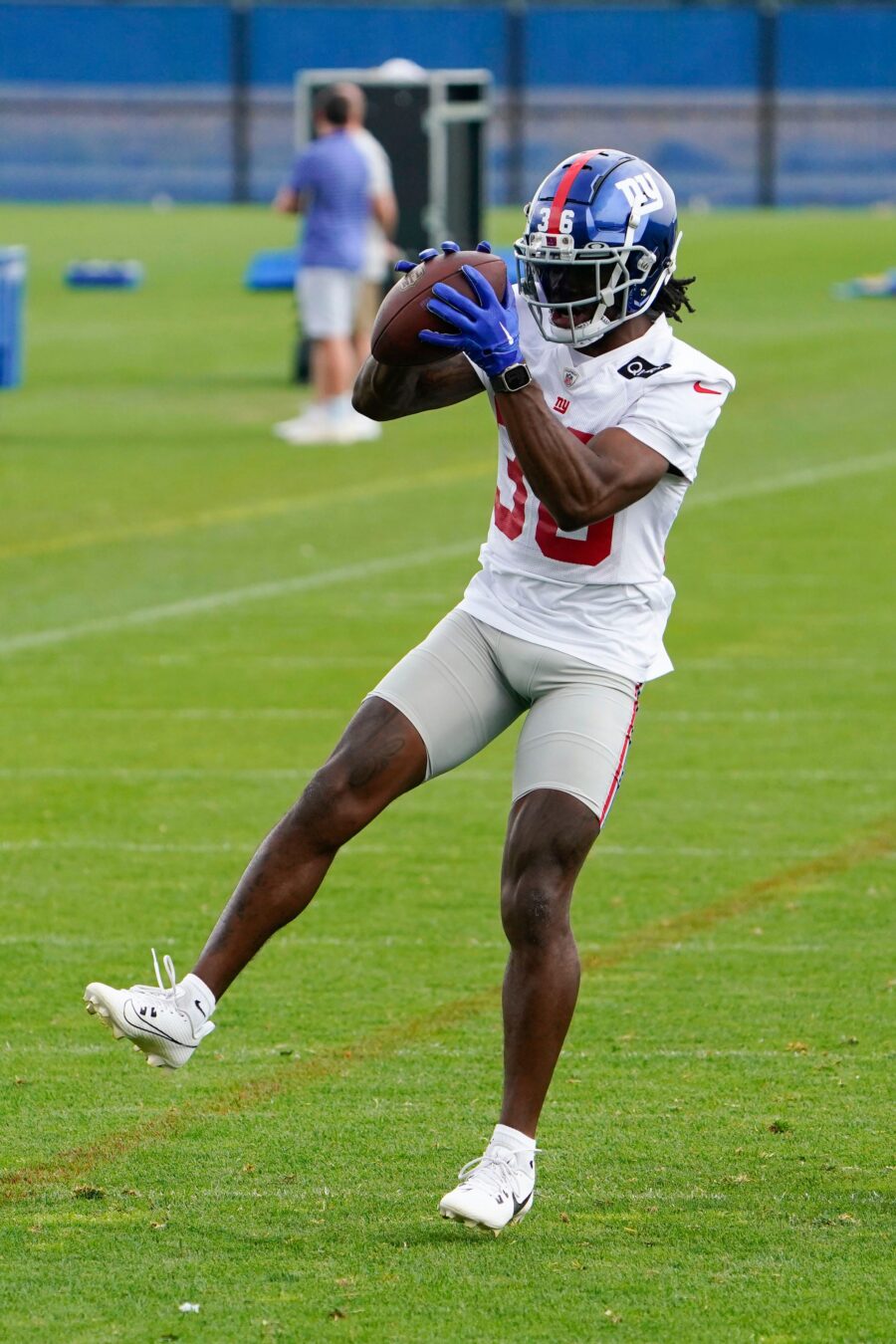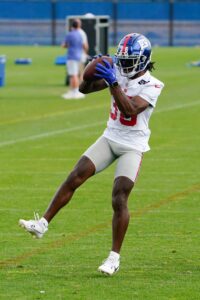 No team was more closely connected to this year's batch of first-round receivers than the Giants, who both met with the top four (Jaxon Smith-Njigba, Quentin Johnston, Zay Flowers, Jordan Addison) around their pro days and brought them in for "30" visits. The Giants, who had pursued Odell Beckham Jr. before surprising Ravens offer won that race over both New York teams, also explored trade-up avenues — with Flowers being the reported target. But no path emerged, leaving the team to address another need in Round 1.
With answers beyond Adoree' Jackson scarce at corner, whom the team is not preparing to extend before this season, the Giants chose Banks. The Giants lost Jackson to an MCL sprain and spent most of last season without their planned CB2 — Aaron Robinson. With question marks at corner, the team will need to count on Banks, a multiyear Maryland starter who enhanced his value after an early-season shoulder sprain kiboshed his junior year, to start immediately. As a senior in 2022, the 6-foot cover man held his own in a matchup with high-end Ohio State receiver prospect Marvin Harrison Jr. and finished with eight pass breakups.
The Giants showed early interest in Schmitz and made him this draft's first pure center pick. Big Blue's second-round choice came down to a Schmitz-or-Hyatt decision, and with the Biletnikoff winner falling out of Round 2, Schoen pulled the trigger on a 16-spot trade-up. Schmitz will be expected to start before Hyatt, as the Giants let Feliciano — their 2022 center starter — walk in free agency.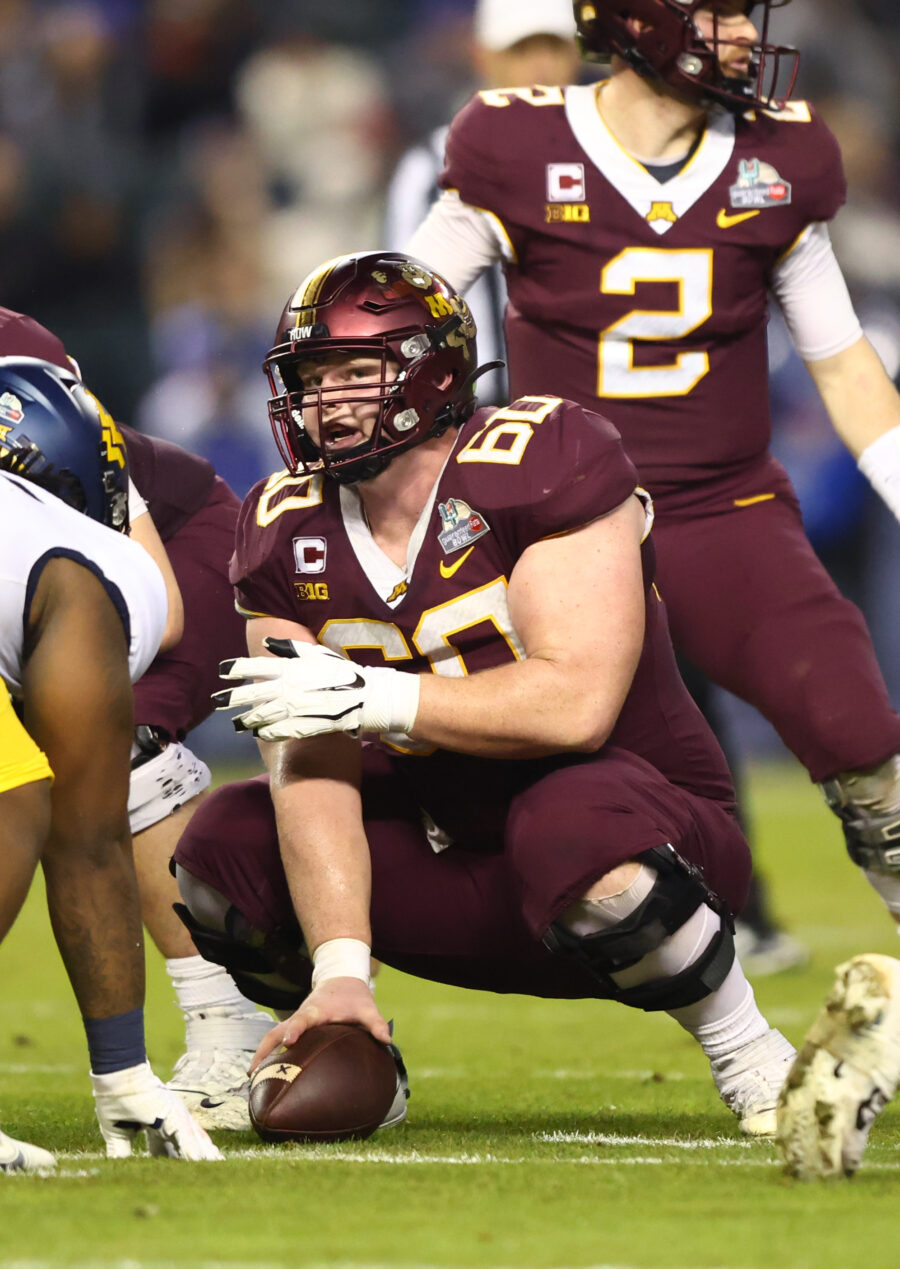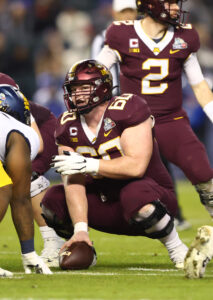 This pick comes nine years after the Weston Richburg second-round investment. Since Richburg's 2018 free agency exit, the Giants have deployed a different primary center (Spencer Pulley, Jon Halapio, Nick Gates, Billy Price, Feliciano) in each season. They will call on Schmitz, who earned second-team All-Big Ten honors as a junior and first-team acclaim as a COVID-year senior, to stop the carousel.
The receiver investment the Giants circled back to, Hyatt brings a different dimension to a slot-heavy Giants receiving corps. He of a five-touchdown performance in Tennessee's win over Alabama last season, Hyatt broke out after two off-grid years in Knoxville. That junior-season showing prompted the Giants to meet with him pre-draft and then take him at 73. Hyatt's 4.40-second Combine 40-yard dash clocking surprised some, illustrating the speed profile the 6-footer had created, but a hamstring ailment had bothered him at that point. With the Giants lacking a long-term outside presence, Hyatt should be given an opportunity to commandeer this role in Daboll's offense.
Other:
Last year's surprising work on offense garnered Kafka and Tierney looks, and despite a 29th-place DVOA finish (albeit with a host of starters missing time with injuries), the Giants' defensive performance led to Martindale returning to the HC carousel for the first time since the Giants interviewed him in 2020. Martindale, 60, is tied to a three-year contract. If Jones takes another step, Kafka — the team's play-caller — will be a tough candidate to ignore come 2024. A closer Tierney OC look will probably follow as well.
The Giants hired Jeff Nixon to replace Smith. This marks an interesting addition, with Nixon having been a Matt Rhule assistant — at Baylor and with the Panthers — for the past six years. Nixon spent time in the NFL prior to his Rhule ties, though.
Top 10 cap charges for 2023:
An extension brought down Lawrence's 2023 cap number, but the Giants have not discussed a second re-up with Williams just yet. The 29-year-old D-tackle carries the largest 2023 cap hit for any defender. It will be tougher for the Giants to carry two big-ticket D-line contracts in 2024, when Jones' cap number — barring a restructure — will spike to $45MM. Thomas' $23.7MM 2024 cap figure and Lawrence's $21.9MM number further complicate Williams' Big Apple future.
As for this year's team, expectations are higher compared to 2022. The Giants do face five 2022 playoff teams in their first six games, with a date with the now-Aaron Rodgers-fronted Jets in Week 8. Even in a shallower NFC, the team will be challenged to stay afloat early. Potential Barkley disharmony will be a storyline to monitor, considering the other payments the Giants handed out and running backs now holding meetings to discuss their depressed market. Barkley's 2023 workload also ties directly to an ability to score what could be a last-chance free agency payday, making his carry count a potential plotline as well.
Jones' progress after a 2022 step forward will still be the biggest factor in determining whether the Giants can sustain their momentum. Development from the highly drafted Schoen players to go along with the established Gettleman-era bastions will aid Jones, but the scrutiny — as many are naturally viewing the middling QB's payment as out of step given the Barkley saga's 2023 conclusion — does not figure to let up anytime soon. The fifth-year QB should be in better position this year, however, positioning the Giants to see if they made the right call.
Follow @PFRumors