It doesn't sound like we'll see Aldon Smith reinstated anytime soon. The linebacker has said that he'll be back soon, but sources close to Smith say that he has made no consistent effort to follow the program laid out for him by the league, sources tell Jason Cole of Bleacher Report (video link). Those who know him best say that he'll have one great week followed by a week of the same old problems.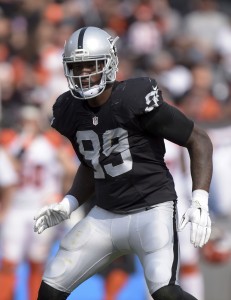 Smith's camp was pushing for reinstatement late last season, but commissioner Roger Goodell decided to table that discussion until March 2017. In between December and March, Smith found himself under police investigation for an alleged domestic violence incident and in a separate incident was arrested for crashing into a police cruiser while driving drunk. Those events put up major barriers between Smith and a potential return and it sounds like he's only setting himself back further with his erratic behavior.
Prior to the draft, GM Reggie McKenzie indicated that the Raiders were not banking on having Smith return in 2017.
"Our thought process is on the draft and not considering Aldon at this point," McKenzie said. "He's still on the suspension list, so we're not considering him at this point."
Photo courtesy of USA Today Sports Images.