Some would say that RGIII is coming to Cleveland with baggage, but new Browns coach Hue Jackson wouldn't agree.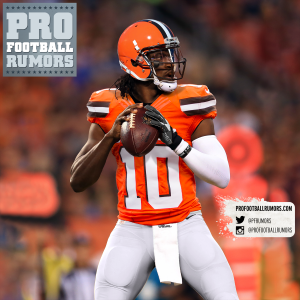 "I said this to all the players: Everybody's slate is clean," Jackson said, according to Albert Breer of The MMQB. "You always want to give guys the benefit of the doubt coming in, and I have not seen, heard or felt any negativity out of him. That's the only Robert Griffin I know. He's been an ideal teammate, a hard worker, he wants to please his coaches and he's followed directions. That's all I know."
Griffin started out red hot with the Redskins before injuries and in-fighting led to his downfall. Eventually, the Redskins found their new franchise quarterback in Kirk Cousins while Griffin was on the outside looking in. Because of the stop-and-start nature of the last few years, Jackson & Co. know that they have a lot of work to do when it comes to the Baylor product.
"I'm not gonna say he's raw, but he is still developing. And most young quarterbacks are still developing," Jackson said. "I'd give coach (Mike) Shanahan and his son a lot of credit—he came into the league and they fashioned an offense for him that worked for him. And I'd give him credit too, coming out of the Baylor system, without the traditional footwork you play with, he produced right away. Those guys were able to mesh together a great season, but all that is in his past. It's about mastering the quarterback position now. Mastery of how to play the position is the key to his success."
Here's more from Breer's column:
Here's an interesting twist to the Von Miller saga. As previously reported, if Miller opts to sit out the 2016 season, the Broncos will only be able to use the non-exclusive franchise tag on him and will not have the exclusive franchise tag at their disposal. Typically, a team that is able to pry a player away on the non-exclusive tag would have to forfeit two first-round picks to the former team. However, if Miller were to sit out, a union source tells Breer that the compensation price would drop from two first-round picks to a first and a third. I imagine that there are some teams that would at least consider forfeiting two first-round choices to land Miller, regarded as one of the best defensive talents in the game. If the price drops to a first- and third-round choice, I think that market opens up even more. Of course, any team that would sign Miller to an offer sheet would also be giving him a $100MM+ deal with significant guarantees.
The Rams have yet to trade Nick Foles because they believe that his trade value could increase a bit once training camp begins, Breer hears. At that point, rival teams will have injuries under center and other clubs may find that their backups aren't coming along as planned.
While there is some feeling inside the Jets that they could get by with Geno Smith, many outside of the organization are skeptical. "I think they'll struggle if [Geno is] the guy," one rival defensive coach told Breer. "Too inconsistent, stares guys down, average at reading defenses, makes poor decisions. … Fitz is much smarter, more accurate, and a better leader."
Former Baylor coach Art Briles has been linked to NFL jobs in the past but it seems unlikely that he would be in the mix for a job right now following the program's recent scandal. However, there are factors beyond those events that could keep Briles from getting a chance in the pros. "The big-picture stuff, he's good at," said one AFC scout. "The detail is why his offense would fail in the NFL. His offense at Baylor is not detailed—we're gonna play tempo, we're gonna play fast, and we'll get you with our speed and just out-athlete you because our guys don't have to think and your guys do."
Like the RGIII jersey swap above? Follow Pro Football Rumors on Instagram for more great pics.