During the pregame show for Saturday's AFC Divisional Round matchup between the Titans and Ravens on CBS Sports,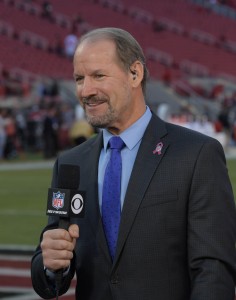 president of the Pro Football Hall of Fame, David Baker, showed up on set to surprise Bill Cowher with the news that he had been elected to the Pro Football Hall of Fame as a part of the class of 2020. Cowher is the first selection of the class, which will have twenty members.
Cowher, of course, built his Hall of Fame pedigree as the head coach of the Steelers from 1992-2006. Following in the footsteps of another Hall of Fame coach, Chuck Noll, Cowher led Pittsburgh to 11 playoff appearances, 6 AFC Championship games, 2 Super Bowls, and a Super Bowl victory in his penultimate season with the team.
Prior to Cowher's arrival in Pittsburgh, the team had failed to make the playoffs in five of their previous six campaigns. After Cowher's arrival, the team reached the playoffs in six consecutive seasons, including Super Bowl XXX (where they lost to the Cowboys). At that time, Cowher was the youngest head coach to reach the Super Bowl. Still, it would take him another ten years to reach the Super Bowl again. When he did, the Steelers defeated the Seahawks in Super Bowl XL, giving him his only Super Bowl ring.
After just one more season, Cowher stepped down to spend more time with his family. Since he has served as an analyst with CBS Sports. While many teams have been rumored to make runs to get Cowher back on the field, it appears he is content with what he has accomplished.
In the end, Cowher finished his career with a 149-90-1 regular season record and a 12-9 postseason record.