Every time a head-coaching position pops up, it seems like Bill Cowher's name seems to surface. The former Steelers head coach and Super Bowl XL winner quickly quelled any possible talk of him heading to New York to take the Giants job, however, saying he has no interest to leave CBS to return to the sidelines, Justin Terranova of the New York Post writes.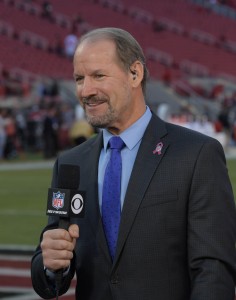 Though it was unlikely Cowher, who is now 11 years removed from his last game, would be a candidate for the job, some thought if anyone could lure him away from TV it would be the Mara family. Cowher confirmed he was happy and content with his current profession, saying, "It's not even about a team, it's about lifestyle. Coaching is always going to be a great challenge and every building dynamic is different. I had the best job in football and I was able to step away and transition from it to a next phase of life, which, quite frankly, I am very, very comfortable with. I am in a very good place."
In his 15-year run with the Steelers, Cowher amassed a 149-90 record and appeared in two Super Bowls, winning his final trip in his second to last season in the Steel City. Since leaving the game, he has often been among the first names mentioned for a vacant position, but the balance in lifestyle afforded to him by CBS has him in a good spot.
He did mention that whoever takes the job has tough to decisions to make with regards to Eli Manning and Odell Beckham Jr.'s future with the team.
Photo courtesy of USA Today Sports Images.