Although Seahawks head coach Pete Carroll recently said Seahawks defensive end Cliff Avril is "going to have a hard time playing football again" after suffering a serious neck injury that caused numbness in his arms, Avril hopes to continue his career, as he explained to Steve Wyche of NFL.com.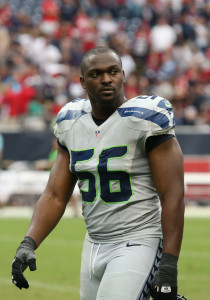 "I believe so," Avril said when asked if he will return to the NFL. "Right now it's all about recovery. I had surgery. I'm in the process of recovering. It's a long process, a long journey. When I get to the end of that, then I'll figure out what's next.
"I mean, it's something I love to do. It's what I've been doing forever and, just as a competitor, I want to show that I can come back if it's possible, you know?" Avril said. "You do see all the injuries. You see the game from a different perspective when you're on the sideline. And those thoughts do definitely pop into my head of 'should I come back or not?' But again, right now it's all about recovery."
The 31-year-old Avril has previously indicated that he'd prefer to continue playing in the NFL despite repeated comments from Carroll that both Avril and Seattle safety Kam Chancellor — also dealing with a neck injury — may be forced into retirement. Avril, a 10-year veteran, is under contract for the 2018 campaign with a cap charge of $8MM.
In 2017, Avril played only 151 defensive snaps before going down, and garnered a disappointing 44.1 overall grade from Pro Football Focus. That was the lowest mark of Avril's career, and he'd been an exceptional player as recently as 2015. It's unclear, however, whether the Seahawks — or any other club — would be willing to risk putting Avril on the field given his recent injury history.
Photo courtesy of USA Today Sports Images.