Texans defensive tackle D.J. Reader is far from a household name, but he looks poised to become a very rich man in the near future. The Clemson product, who was selected by the Texans in the fifth round of the 2016 draft, is finishing up the last year of his rookie contract and is eligible for unrestricted free agency in March.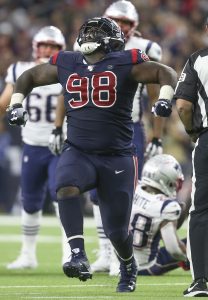 In his platform year, Reader has continued to thrive as a run-stopper, and his ability to absorb blocks and open lanes for Houston's linebackers is a key component of the team's defense. He has also shown growth as a pass rusher, and even though he hasn't posted a sack since Week 5, head coach Bill O'Brien recently acknowledged that Reader gives the defense some "juice" in the passing game.
As such, it makes sense that Houston would want to retain Reader's services for the foreseeable future, but as Aaron Wilson of the Houston Chronicle writes, the two sides are "nowhere close" on a new deal. Such a contract may look similar to the five-year, $54MM ($27.5MM guaranteed) pact the Ravens gave to Brandon Williams in 2017, which looked like an overpay at the time but which now may be more in line with the current market. Like Williams, Reader is a natural 3-4 nose tackle who can play defensive end and whose primary job is to stop the run and eat blocks while making opposing quarterbacks uncomfortable when he can.
If the two sides cannot come to an agreement before free agency opens, Wilson suggests that the franchise tag could be in play for Reader, who was named as a Pro Bowl alternate this year. The 2020 tag for DTs is projected to be roughly $15.5MM.
For what it's worth, Reader would like to stay with the Texans. "Oh, you know I love it here," Reader said. "I love the fans. I love the organization. They gave me my first real job. I love the city. People love me here. Hopefully, that opportunity comes around."
Photo courtesy of USA Today Sports Images.