Vikings running back Dalvin Cook will be on hand (or, rather, online) for the Vikings' virtual offseason program, as Tom Pelissero of NFL.com tweets. Cook has been pushing for a new deal as he enters his walk year, but that won't stop him from participating in the club's voluntary OTAs.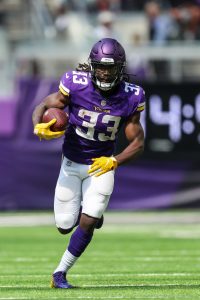 [RELATED: Vikings Tried, Failed To Land Trent Williams] 
This could be a sign that things are trending in the right direction between the Vikes and their starting running back. Or, it could just mean that things are, generally, in a good place between the player and the club. Typically, players seeking new contracts are skittish about offseason activities because of the injury risk involved. Obviously, there's no risk of injury when the OTAs consist of Zoom meetings.
So far, Cook and the Vikings have been on the same page.
"I definitely love Minnesota," the 24-year-old (25 in August) said recently. "I love everything the state has to bring. Being a kid, I was drafted (in 2017) from Miami (his hometown), so I didn't know what I was getting myself into. I actually am happy where I'm at, and I would like to be in Minnesota long term." 
Last year, Cook ran for 1,135 yards and 13 touchdowns last season. He also added another 519 yards through the air, giving him more than 1,600 all-purpose yards on the year. Meanwhile, he's slated to earn a base salary of just $1.33MM in 2020.
The Florida State product fell to the second round in 2017, which means that the Vikings do not have the luxury of the fifth-year option. There's a sense of urgency on both sides here – Cook wants security and the Vikings, ideally, would like to keep Cook under control at a reasonable rate.
Photo courtesy of USA Today Sports Images.