If DeShone Kizer wants to take his talents north of the border, the Toronto Argonauts will be ready to talk. The Argos have claimed the former second-round pick's negotiating rights, according to Justin Dunk of 3DownNation.com.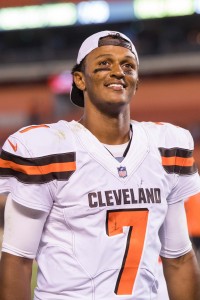 [RELATED: NFL Lays Out Plan For Reopening Facilities]
So far, Kizer's pro career hasn't gone according to plan. The Notre Dame product started 15 games for the Browns as a rookie and he went 0-15 on one of the league's worst teams in league history. One year later, he was shipped to the Packers where he sat behind Aaron Rodgers and appeared in three games. All in all, Kizer has completed 53% of his passes in the NFL for 3,081 yards, eleven touchdowns, and 24 interceptions.
Kizer didn't make the Packers cut, which led him to the Raiders. He didn't throw a pass in 2019 and the Raiders recently dropped him during their virtual OTA period. At this point, a comeback attempt in the CFL might be his best bet.
Just a few years ago, Kizer showed potential with the Fightin' Irish. There, he threw for 47 touchdowns against 19 interceptions over the course of two seasons, though concerns about his field vision and decision making pushed him out of the first round. In the NFL, Kizer didn't do much to silence the critics.
Photo courtesy of USA Today Sports Images.