The Seahawks are getting a boost as they gear up for their playoff push. The team is activating offensive lineman Ethan Pocic off injured reserve, they announced in a release.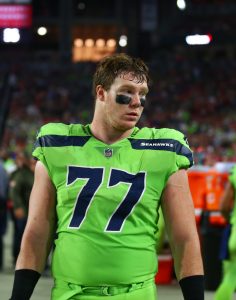 To make room for him on the roster they officially placed running Rashaad Penny, who tore an ACL last week, on injured reserve. Pocic was placed on injured reserve after Week 6, and is now returning when first eligible after missing the requisite eight games. He had been dealing with a back issue. Pocic started the team's opener at left guard and played 100 percent of the snaps, but injuries have limited him to just two games in his third season as a pro.
Seattle drafted him in the second round back in 2017, and he started 11 games as a rookie while appearing in all 16. An LSU product, injuries limited him to only ten appearances last year with four starts. Pocic has played all along the offensive line during his college and pro days, so he brings some valuable versatility to the unit. Normal starting center Justin Britt is on injured reserve with an ACL tear of his own, and Joey Hunt has been filling in. Now that Pocic is back, he could push Hunt for that gig soon. Either way, he'll be a nice depth piece for the stretch run.
Photo courtesy of USA Today Sports Images.