Months after authorizing a monster extension for defensive tackle DeForest Buckner, the Colts have identified another D-tackle they want to keep long-term.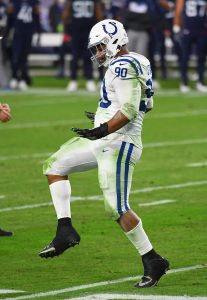 They agreed to an extension with contract-year interior lineman Grover Stewart on Saturday, Jim Ayello of the Indianapolis Star reports. It's a three-year, $30.75MM deal.
Stewart has started alongside Buckner this season and has been a Colts first-stringer since last year. He was one of GM Chris Ballard's first draft picks, going to Indianapolis in the 2017 fourth round. The Colts now have Stewart and Buckner signed through at least 2023. Upon being acquired from San Francisco, Buckner signed a four-year, $84MM deal in March.
The Colts have used Stewart, 27, at nose tackle this season. While that is not a statistically friendly role, Stewart has made 36 tackles (four for loss) and grades as a top-40 interior defender this season — per Pro Football Focus. He has helped the Colts become a top-five defense. Indianapolis' defense ranks third against the run and fourth against the pass, taking a major step forward after a down 2019.
Ballard and Co. have made Stewart a key priority; he is the first of the Ballard-era defensive draftees to receive a major extension. Others, like Darius Leonard, will follow. But for now, the Colts have taken care of a player that has helped make Leonard's dominance possible.
Photo courtesy of USA Today Sports Images.