Hue Jackson is back in football. The former Browns and Raiders head coach will serve as the offensive coordinator for Eddie George's Tennessee State staff, as Mike Organ of The Tennessean writes.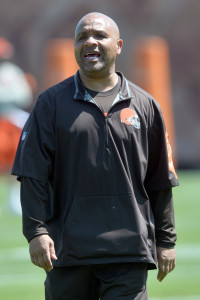 Jackson, 55, has been away from the game since infamous tenure with the Browns. After his Cleveland teams went 3-36-1 across two-and-a-half seasons, Jackson has hardly been able to get an interview for an NFL job. Recently, he went public to try and set the record straight.
"There is no doubt I was lied to by ownership and the executive team," Jackson said. "They were going to be football plus analytics, but they intentionally made it football versus analytics. They were going to take two years and they were going to find a way to use us as an experiment to make sure that they got the data that they needed for it to get better — at the expense of whoever — and that's not right."
Now, Jackson will try to rebuild his stock at the NCAA level. For what it's worth, he was in the running for the Steelers' OC position just a few months ago, so it's still possible that he could mount an NFL return — just not in Cleveland.
Photo courtesy of USA Today Sports Images.