With all of the action we've seen this offseason, it's easy to forget that April blockbusters are also relatively common. In fact, we had a significant trade go down two years ago today. On April 4th, 2018, the Rams acquired wideout Brandin Cooks and a fourth-rounder from the Patriots for a first-rounder and sixth-rounder.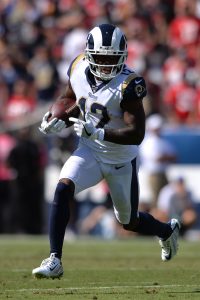 Cooks had actually been acquired by New England only 13 months before the Rams/Pats deal. While the former first-rounder had a solid season as one of Tom Brady's main targets, he didn't match his production with the Saints from 2015 or 2016. Cooks ultimately finished the 2017 regular season with 65 receptions, 1,082 yards, and seven scores. While the receiver had a standout performance during that year's AFC Championship, he was limited to only a single catch in the Super Bowl before exiting with a concussion.
With Cooks set to hit free agency following the 2018 season, the Pats decided to ship the receiver to Los Angeles. The Rams immediately inked the wideout to a five-year, $81MM extension, and that looked to be a good decision at first. Despite playing alongside Robert Woods, Todd Gurley, and Cooper Kupp, Cooks finished that year with 80 receptions, five touchdowns, and a career-high 1,204 receiving yards. He was productive during the Rams' run to the Super Bowl, finishing with 292 receiving yards in three games.
However, the wheels somewhat fell off in 2019. Cooks battled several ailments, including a concussion that knocked him out of the lineup for several weeks. When all was said and done, Cooks put up some of his lowest numbers since his rookie campaign, finishing with 42 receptions for 583 yards and two touchdowns in 14 games.
With $12MM guaranteed in 2020 and his contract lasting through the 2023 season, there were rumblings that the Rams could look to trade the receiver this offseason. However, following the organization's decision to move on from Gurley, it sounds like Cooks isn't on the block.
On New England's side, the team used that first-rounder to select offensive lineman Isaiah Wynn. The Georgia product sat out his entire rookie campaign, and he landed on IR following Week 2 of the 2019 season. However, he managed to return in Week 12, and he proceeded to start each of the Patriots' remaining regular season and postseason games. In true New England fashion, they traded the sixth-rounder for a pair of seventh-rounders.
Both Cooks and (to a lesser extent) Wynn have been productive for their teams so far. However, their future performance will go a long way in determining who won this specific trade. For the time being, we're comfortable grading both squads as "incomplete."
Photo courtesy of USA Today Sports Images.