Kyle Rudolph passed his physical Wednesday and will move toward a Week 1 return. The veteran tight end is now off the Giants' active/PUP list.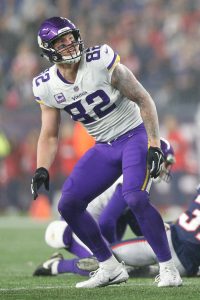 The offseason acquisition spent nearly a month on the Giants' PUP list due to the foot surgery he underwent in March. That operation briefly clouded Rudolph's agreement to join the Giants, but the sides ended up following through with the initial deal.
It remains uncertain if Rudolph will be ready to play for his new team when its season begins Sept. 12. The 11th-year veteran, however, is not noticeably behind schedule. He said earlier this summer missing training camp was in play but has continued to keep Week 1 as the goal.
Rudolph, 31, suffered a foot injury last season — one that caused him to miss his first game action since 2014 — and Giants doctors discovered a Lisfranc issue during his physical in March. Lisfranc injuries can be difficult to shake, so it will be interesting to see if Rudolph can avoid any additional setbacks.
He committed to the Giants on a two-year, $12MM deal, joining the likes of Kenny Golladay, John Ross and first-round pick Kadarius Toney as new weapons for Daniel Jones. Rudolph will be expected to work in tandem with Evan Engram, who is going into a contract year.
Photo courtesy of USA Today Sports Images.