Shortly after the Giants agreed to terms with Kyle Rudolph, the agreement hit a snag due to the veteran tight end's physical. While the Giants ended up finalizing the deal, Rudolph underwent a foot surgery that has required months of rehab.
Rudolph said he underwent the surgery shortly after his Giants contract became official in late March, and while the 11th-year pass catcher stopped short of saying he will be ready when Big Blue's training camp begins, the plan remains for him to be available by Week 1.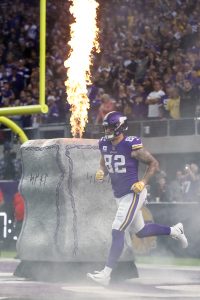 "As far as football goes, I was extremely fortunate that the Giants organization and everyone involved [caught the injury during a physical], and how they were able to handle my situation, that I won't miss any football," Rudolph said, via Pat Leonard of the New York Daily News.
The two-time Pro Bowler missed the final four games of last season due to a foot injury but did not expect to have additional issues with the ailment this offseason. Rudolph did not miss a game from 2015-19, but foot trouble has comprised a sizable chunk of his past year.
"I felt completely fine coming out of last season. After I rehabbed, I was anticipating coming back for the last game of the year and then playing through the playoffs," Rudolph said. "Unfortunately that didn't work out for us as a team last year in Minnesota, so there were no playoffs. Then I continued with my offseason as if I was completely healthy.
"So I was extremely fortunate the Giants medical staff was able to find this in March and it isn't something where I came back here all fired up for OTAs in June and then hurt myself and put myself at risk for missing football games."
The Giants loaded up on skill-position players this offseason. Rudolph joins Kenny Golladay, John Ross, Devontae Booker and first-round pick Kadarius Toney as new options this year. While it is unclear if Rudolph will have a full workload to start the season or if he will be eased into action like Saquon Barkley, the Giants may be set to use him in a part-time capacity anyway. Evan Engram remains the team's starting tight end.
Photo courtesy of USA Today Sports Images.