Shortly after the Falcons brought Matt Bosher off IR, the veteran punter will return to the team's injured list. Bosher re-injured his groin and is back on IR.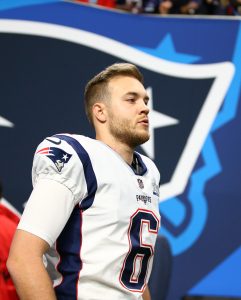 The Falcons used one of their two IR-DTR slots on their ninth-year punter late last week but will not have the chance to redeploy him on fourth downs Sunday. Atlanta re-signed Ryan Allen, its punter in the past four games.
Bosher returned to Falcons practice on Nov. 20 but will have to wait until 2020 to return to game action. His Falcons contract — signed way back in 2014 — expires after this season. The 32-year-old specialist has been Atlanta's punter since 2011.
One of the key Patriots in Super Bowl LIII, Allen has only punted since November of this season. The Patriots drafted Jake Bailey in Round 5 and released Allen this summer.
Chris Lindstrom represents the other Falcons IR-DTR player. The rookie lineman is still on track to return this week.
Photo courtesy of USA Today Sports Images.