Austin Davis' signing with the Titans would seem to indicate they've decided on the outside quarterback investment they'll be making while Marcus Mariota and Blaine Gabbert deal with injuries. But Tennessee wanted a more experienced backup option to come in for a workout.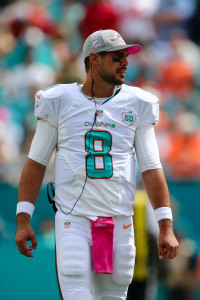 The Titans sought Matt Moore for a workout this week, Terry McCormick of TitansInsider.com tweets. Moore, though, decided against attending. He also turned down a chance to take part in a now-extensive 49ers signal-caller audition. There may be more to this as well.
Moore served as Ryan Tannehill's backup with the Dolphins for five seasons, but Miami chose to sign Jay Cutler after its starter went down last summer, adding $10MM to the payroll rather than just promoting Moore. Rumors of Moore having arm trouble are out there, with Mike Florio of Pro Football Talk tweeting Moore didn't get the Dolphins' job in 2017 because his arm was "shot."
It's uncertain if that's true, but the 34-year-old passer turning down multiple opportunities this week is certainly interesting. Earlier this offseason, Moore discussed a deal with the Chiefs and Texans but was willing to wait for the right fit. The Dolphins' decision to sign Cutler last year reportedly irked Moore as well.
Moore took over for an injured Tannehill in 2016 and led the Dolphins to the playoffs. He did not fare as well in two starts for Cutler last year, his yards-per-attempt figure dropping from 8.3 to 6.8 and his interception count (five) eclipsing his touchdown-pass total (four).
Photo courtesy of USA Today Sports Images.