Philip Rivers returned to the NFL news cycle Tuesday, indicating he will consider a late-season comeback — if an opportunity presents itself. The former Chargers and Colts quarterback made it clear Wednesday he will not ditch his plans to coach high school football this season.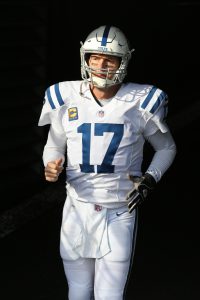 The 39-year-old passer-turned-coach confirmed he will finish his first season at St. Michael Catholic (Fairhope, Alabama) and added that a comeback should still be considered on the less likely side. That said, Rivers plans to stay ready after his high school team's season ends in either October or November — depending on St. Michael's postseason docket.
"It's a long shot at best. But gonna be ready just in case," Rivers said in a text to ESPN's Chris Mortensen (on Twitter). "…Will not even consider until our season is over no matter what. And like I said, somebody has to want ya."
Rivers ditching plans to make his coaching debut would help the Colts, who have his successor — Carson Wentz — sidelined for an extensive period. But any team eyeing Rivers will have to wait. However, Rivers' potential return would hinge on a starter going down. The 17-year vet would only come back if a starter on a contending team was lost for the season, thus opening up a QB1 gig, Mortensen adds (via Twitter). So, a significant injury's timing would need to line up for Rivers to suit up again.
After leading the Colts to the 2020 playoffs, Rivers called it quits shortly after Indianapolis' narrow opening-round defeat. But his unretirement will be a storyline to monitor this year, depending on how the quarterback health landscape looks during the season's second half.
Photo courtesy of USA Today Sports Images.