Texans left tackle Duane Brown said he will not report to the team until after its Week 7 bye at the earliest, according to Jason La Canfora of CBS Sports. There is some significance to that date, as Brown could skip eight weeks before returning and still receive credit for an accrued season toward free agency, and La Canfora suggests that Brown will report in enough time to earn that credit.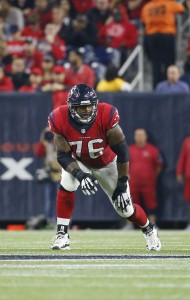 However, Houston needs him back much sooner than that. The Texans' offense has been anemic through their first two games of the season, and that is thanks in large part to their poor pass protection. Brown's return would provide a much-needed boost to the team's O-line, but La Canfora says there has been very little progress towards a new deal. The Texans have been unwilling to negotiate to this point, and that may not change given that the relationship between the two sides has become quite strained. However, Houston has also been unwilling to discuss trading Brown, even though there may be a number of potential trade partners given Brown's talent and reasonable salaries in 2017 and 2018 (of course, those reasonable salaries are the cause of Brown's discontent, so any acquiring team would need to satisfy at least some of his contract demands).
Houston quarterback Tom Savage may have been hurt the most by Brown's absence during the team's Week 1 loss to Jacksonville. Savage's play was certainly sub-par, but he was under duress virtually the entire time he was in the game. Nonetheless, head coach Bill O'Brien felt compelled to make an in-game switch to Deshaun Watson, which almost certainly ended the short-lived Savage era in Houston.
That has fueled speculation that Savage could be traded, but La Canfora reports in a separate piece that Savage is not requesting a trade. His agent, Neil Schwartz, who went public with his displeasure over Savage's benching earlier this week, said, "I'm not happy and Tom is not happy about this, but we're not asking for a trade."
Per La Canfora, at least four teams have expressed some level of interest in Savage over the course of the last year or so, but all were convinced that Houston was very high on the former fourth-round pick and that it would take a lot to pry him away from the Texans. That, combined with the support of veteran teammates that Savage enjoyed, made O'Brien's quick hook somewhat puzzling, but given that Savage will be a free agent at the end of the year, it is perhaps not surprising that he is content to wait to see what the open market has in store for him rather than push for a trade now.
Photo courtesy of USA Today Sports Images.