Veteran tight end Coby Fleener admitted that he's still dealing with symptoms from a concussion he suffered last November, and the lingering effects may prevent him from joining a new team by the time training camp starts.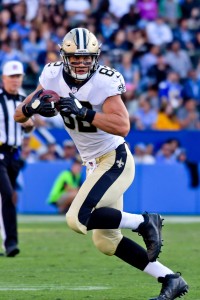 "It's still there, unfortunately,'' Fleener said in an interview with Don Banks of The Athletic. "I'm just hoping it heals and gets better from time, I guess. I'd still like to play, but I have to get healthy first before I can even make that decision really. That's the frustrating aspect of it. The doctors aren't able to say, 'Oh, in four to six weeks, he'll be right as rain.' That's just not the reality with concussions. It's a frustration for every athlete and every doctor who treats them and every coach who has to coach them.''
The 29-year-old had gotten off to a solid start for the Saints last season, hauling in 22 receptions for 295 yards and two touchdowns through 11 games. However, Fleener suffered a concussion in late November, forcing him to miss the rest of the regular season and the playoffs. Fleener has yet to fully recover from the injury, and after having signed a five-year, $36MM contract with the Saints back in 2016, the tight end was released by the organization back in May.
The veteran has some logistical hurdles to overcome before he could consider signing with a team. While Banks writes that several organizations have expressed interest, they need to wait until Fleener is capable of passing the NFL's concussion protocol. With all the uncertainty, the former second-rounder isn't sure if he'll be back in the NFL by the time training camp rolls around.
"I don't know, because that's kind of guesswork,'' he said. "If you would have asked me the day after my concussion, I would have said, 'Oh, yeah, I imagine I'll be fine in a week.' I don't think anyone foresaw this happening. But I don't want to try and put a timetable on it in any way, shape or form at this point.''
Fleener has spent six years in the NFL with the Saints and Colts. His best season came in 2014 with Indy, when he compiled 51 receptions for 774 yards and eight touchdowns.
Photo courtesy of USA Today Sports Images.