One way or another, the Seahawks do not appear to be ready to let Frank Clark leave the Pacific Northwest. Their top pass rusher is on the verge of UFA status, but the Seahawks have begun discussions for a second Clark contract, Bob Condotta of the Seattle Times notes.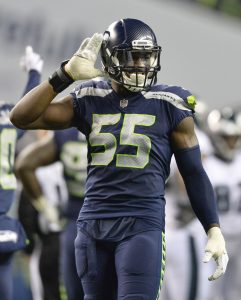 The sides have been negotiating since the season ended, per Condotta, who adds the Seahawks view the franchise tag as a "legitimate option" this year. Pete Carroll said at season's end he's "counting on" Clark being back with the Seahawks next season.
Seattle has not used the tag since applying their 2010 tag to Olindo Mare, but with Clark in position to command a lucrative deal on the open market, it looks like his current team will not allow that.
Seattle let several core defenders go last year and may enter the 2019 season with just one of its Super Bowl-era defenders left, Bobby Wagner. Clark led the Seahawks with 13 sacks — the most for this franchise since Patrick Kerney's 14.5 in 2007 — and profiles as another front-seven piece that could join Wagner as a long-term starter after waiting behind Michael Bennett and Cliff Avril for years.
Clark said he would be fine if the Seahawks tagged him. This would cost the Seahawks approximately $17MM, but the team is armed with more cap space than it has carried in recent years. Seattle stands to have just more than $60MM in room. With the team going through most of the 2010s without using the tag, a back-to-back tag scenario may unfold. Russell Wilson could be a legitimate option for a 2020 tag.
Considering Melvin Ingram and Chandler Jones signed extensions in the $16MM-AAV neighborhood after being tagged two years ago, on a $167MM cap, Clark will surely push to become the NFL's highest-paid 4-3 defensive end. Danielle Hunter signed for $14.4MM per year before his Pro Bowl season. Clark's 2018 production will surely push him north of that figure, if he and the Seahawks do get close on a long-term deal before the tag deadline.
Additionally, Clark said (on Twitter) he played this season with two torn UCLs. That injury usually leads to Tommy John surgery, so it's a situation worth monitoring this offseason.
Photo courtesy of USA Today Sports Images.