Tuesday marked the official end of an era as the Panthers officially placed Luke Kuechly on the reserve/retired list. Now, the linebacker is considering a role in the team's front office as a pro scout (via Bill Voth of the team website).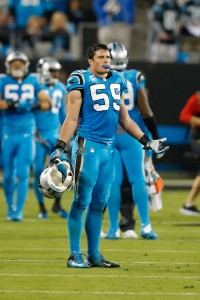 [RELATED: Panthers Place Luke Kuechly On Reserve/Retired List]
"I think it's great if it works out if it's what he wants to do," head coach Matt Rhule said. "Obviously, the pro side (scouts) are the guys who are evaluating other NFL players. Their mission is twofold: They're helping us build the roster by finding other guys that fit what we do, and they're also providing advanced scouting each week on the opponent. If there's someone who was built for that, it's probably Luke Kuechly with his preparation and work."
Kuechly's tireless work ethic and film review helped propel him to seven Pro Bowl selections, a Defensive Player of the Year trophy, and an appearance in Super Bowl 50. His retirement announcement in January took many by surprise, but few were taken off guard by his reported desire to stay involved with the game of football.
"In my heart I know it's the right thing to do," Kuechly said earlier this year. "There's only one way to play this game since I was a little kid – play fast, play physical and play strong. And at this point I don't know if I am able to do that anymore."
Kuechly could also advance up the ladder from here. The 29-year-old said to have some interest in coaching as well.
Photo courtesy of USA Today Sports Images.