Things have not gone well for Terrelle Pryor lately. Following a terrific 2016 campaign with the Browns — his first full season as a wide receiver after converting from the quarterback position — Pryor badly misjudged the free agent market for his services. He was hoping for a long-term deal worth about $15MM per season, but when that didn't materialize, he eschewed the multi-year offers he did have to take a one-year, $8MM contract with the Redskins.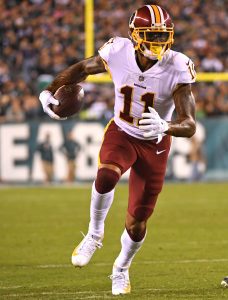 He hoped that, if he built on his breakout effort in Cleveland and proved that it wasn't a fluke, he would land a $15MM/year deal the following offseason. But his one year in Washington didn't go as planned, as he played in just nine games (two starts) and caught 20 passes for 240 yards and a TD. He was hampered by an ankle injury for most of the season and ultimately landed on IR.
So instead of getting the massive payday he was seeking in the 2018 offseason, he settled for a one-year, $4.5MM pact with the Jets. He lasted just six games with Gang Green, catching 14 passes for 235 yards and two TDs. A groin injury slowed him a bit, and he was released in October 2018. The division-rival Bills scooped him up shortly thereafter, but he played just two games for Buffalo before being cut again.
Pryor signed with the Jaguars in May 2019, but he never played a regular season game for them. He was put on IR during final cutdowns and released several days later.
In November, Pryor was stabbed in the shoulder and chest by a woman in an incident that saw both parties criminally charged. Pryor, though, tells TMZ Sports that he is fully healthy and is ready for a chance to resume his NFL career.
He says he has been in contact with five teams, including the Patriots, about a potential contract. We don't know who the other four teams are, but Pryor indicated he would also like to play for his hometown Steelers.
New England, though, seems like a better fit. Pryor's abilities as a deep threat — assuming he still has them — would complement the rest of the Pats' pass catchers nicely, and on paper it looks like New England needs more receiving help than Pittsburgh.
Regardless, it will take only a minimum commitment for any team to bring Pryor into the fold. Given his recent history, though, the 31-year-old may need to wait until COVID-19 restrictions have been lifted so he can prove to interested clubs that he's ready to go.
Photo courtesy of USA Today Sports Images.