When Terrelle Pryor was traded from the Raiders seven years ago today, many questioned whether he'd be able to stick around the NFL as a quarterback. Little did we know that the player would eventually transform into a 1,000-yard receiver.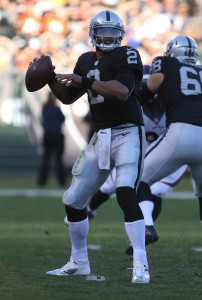 Before we discuss that trade, let's go back a bit. Following an autograph scandal and subsequent withdrawal from Ohio State, the former Big Ten star had to settle for the 2011 Supplemental Draft. The Raiders gave up a third-round to acquire the quarterback, and he later inked a four-year deal with the organization. Prior barely saw the field as a rookie, but he showed flashes during the 2012 season, tossing two scores and running for another on the ground.
He finally got a shot to start in 2013 following the Carson Palmer trade, and results were mixed. The Raiders went 3-6 in Pryor's nine starts, with the quarterback completing only 57.4-percent of his passes for 1,798 yards, seven touchdowns, and 11 interceptions. However, he continued to show his talents on the ground, running for two more scores. During the 2014 offseason, Pryor found himself buried on the depth chart following the team's signing of Matt Schaub. So, on April 21, 2014, the Raiders cleared a roster spot and saved a chunk of money by trading Pryor to Seattle for a seventh-round pick.
Pryor didn't even make it to the regular season with the Seahawks, and he proceeded to bounce around the NFL a bit over the next few years, spending time with the Chiefs and Bengals. He spent time on the Browns roster during the 2015 campaign, and he got some recognition when he hauled in a 44-yard catch during the final game of the season.
He stuck around Cleveland for the 2016 season and proceeded to have a breakout campaign. Pryor played everywhere for the Browns: quarterback, wideout, safety. He was most productive at receiver, finishing the year with 1,028 yards from scrimmage and five scores (he also completed five of his nine passes). That performance earned him a one-year, $8MM deal from Washington, but he was unable to replicate his production from 2016, finishing the 2017 season with only 240 yards from scrimmage in nine games. Pryor had stints with the Jets, Dolphins, and Jaguars between the 2018 and 2019 seasons, and he hasn't been on an NFL roster since the end of the 2019 preseason.
While Pryor's peak was brief, it was memorable. Pryor's transformation from struggling quarterback to 1,000-yard wideout was one of the better comeback stories in recent NFL history, and that transformation was unexpected when Pryor was traded on this date in 2014.
Photo courtesy of USA Today Sports Images.