Notable signings:
Notable losses:
Trades:
Draft picks:
Other:
After acquiring living legend Peyton Manning two years ago, the Broncos probably thought they would have another Lombardi Trophy in their collection by now. But after being upset by Baltimore in a double-overtime thriller in the 2012 playoffs, Denver was blindsided by Seattle's suffocating defense one year later in Super Bowl XLVIII. In an attempt to get his team over the hump, GM John Elway was very aggressive in free agency, landing a number of marquee pieces to ensure that the Broncos get another crack at the title.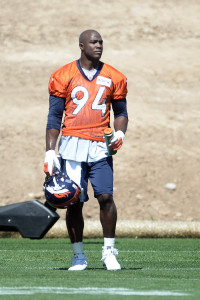 On offense, Elway made the difficult decision to let wide receiver Eric Decker walk in free agency. Decker had put up over 1,000 yards and double-digit touchdowns in each of the past two seasons, but the Broncos knew they would be unable to meet Decker's open-market price (especially since they are also mulling extensions to dynamic receiving threats Demaryius Thomas and Julius Thomas). The team did sign former Steeler's wideout Emmanuel Sanders, who offers a different skillset than Decker and whose speed and elusiveness, combined with Manning's accuracy, could create nightmarish problems over the middle of the field.
Along the offensive line, Denver added veteran center Will Montgomery and will reshuffle the unit with the return of Ryan Clady from injury and the departure of left guard Zane Beadles. Clady will resume his post at left tackle, so Chris Clark–who replaced Clady at that spot last season–will move over to right tackle. Orlando Franklin, last year's right tackle, gets bumped inside to left guard to replace Beadles. The mix-up might have created a bit of confusion and disappointment for Franklin, but it should not negatively impact what was a tremendous offensive line in 2013. The group excelled in pass protection, giving up just 20 sacks–though Manning's quick trigger surely played a significant part in that–and they were effective in run blocking as well.
Speaking of the running game, the Broncos let running back Knowshon Moreno leave in free agency–he ultimately signed a modest deal with the Dolphins–and have not attempted to replace him with a veteran. Instead, they seem comfortable riding their stable of young backs, none of whom have started a game in the NFL. But all the Broncos really need from their run game is the ability to pick up first downs off of short yardage and touchdowns off of goal-to-go situations. Talented but unproven runners like Montee Ball, Ronnie Hillman, and C.J. Anderson should be able to carry the load.
The defensive side of the ball is where the Broncos made the biggest splashes in free agency. According to Football Outsiders' metrics, Denver had a middle of the pack defense in 2013, ranking 9th against the run–as measured by Defense-adjusted Value Over Average (DVOA)–but 21st against the pass and 15th overall. Those evaluations were supported by Pro Football Focus' advanced metrics (subscription required), which ranked the Broncos' defense second-best in the league against the run but just 17th in coverage and 14th in pass rushing.
Enter DeMarcus Ware. Released by the Cowboys, the perennial All-Pro found a home in the Mile High City, where he and Von Miller will create a formidable pass rush duo that should boost the team's sack total (the Broncos racked up 41 sacks in 2013, tied for 13th-most in the league). In the secondary, although Denver lost Dominique Rodgers-Cromartie to the Giants, they replaced him with Aqib Talib, who resurrected his career with back-to-back solid seasons in New England. Although Pro Football Focus (subscription required) suggests this is something of a downgrade–Talib was ranked 57th out of 110 qualified corners, whereas Rodgers-Cromartie was ranked 6th-best–it would be surprising if Talib did not perform at least as well as the man affectionately known as DRC. This is not to mention, of course, the addition of first-round selection Bradley Roby, a talented cornerback in his own right.
The Broncos also added safety T.J. Ward to boost the back end of the defense. Ward thrives against both the run and the pass, and he adds some much-needed athleticism to a defense that said goodbye to aging veterans Mike Adams, Champ Bailey, and Quentin Jammer.
Manning, who is an aging veteran himself, shows no signs of slowing down and said that he plans to play out his current contract, which runs through the 2016 season (when Manning will be 40). Because of Manning's age and the age of other key players–Ware and Wes Welker, for instance–there is a belief that Denver's window to win it all is fairly small. However, as shown above, the Broncos are also getting younger and more athletic in some areas, and should they reach extensions with Demaryius and Julius Thomas, they will have secured a key part of their offensive future.
In any event, barring an injury to Manning, this team is not going anywhere in the next several years. They should take home the AFC West title again this season, and, although it is rare for such things to happen in the NFL, we may see a Super Bowl XLVIII rematch in Super Bowl XLIX. The Broncos are certainly favorites to represent the AFC in the big game again, and if they do, their offseason additions may just be enough to bring a third title to Denver.
Spotrac and Over The Cap were used in the creation of this post.

Photo courtesy of USA Today Sports Images