DeSean Jackson posted two 1,000-yard seasons when working with Sean McVay in Washington, and the veteran wide receiver was candid about seeking a reunion with the wunderkind play-caller.
A potential Buccaneers cap casualty — though, Bruce Arians appears to want the deep threat to stay — Jackson may end up back on the market. He expressed interest in joining the Rams.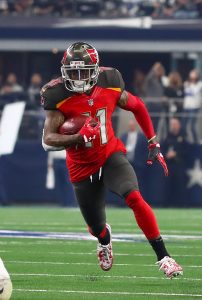 "If anything, I would like to kind of end up in L.A., being a Ram," Jackson said during an appearance on the Simms and Lefkoe podcast (Twitter link). "Sean McVay, you know, we got some connection from when I was in D.C., but we'll see how it plays out, man. Right now, I got another year in Tampa. So we'll see how it plays out, man."
As for the Rams reciprocating said interest, that seems like a stretch. Los Angeles made several splashy moves last year, setting the market at multiple positions and extending Brandin Cooks. Not only does the 25-year-old cover some of the same bases Jackson would, the Rams also have Robert Woods on a veteran contract. Cooper Kupp is due back in 2019 as well. Their repeated big-ticket additions notwithstanding, the Rams are probably not too eager to add another veteran salary to their receiving corps — unless Jackson would be willing to take a big pay cut.
Jackson, 32, is entering the final year of his Bucs contract. Considering Tampa Bay's financial situation (barely $12MM in cap space), it would not be a stretch to see the team try to lower Jackson's $10MM salary. Jackson was not too happy being with the Bucs last season, requesting a trade, and did not mesh well with Jameis Winston. Jackson and Dirk Koetter also clashed at a practice this season, with ESPN.com's Jenna Laine reporting the since-fired coach took issue with Jackson's effort during one workout, leading to a verbal dispute between the two.
The 11-year veteran said he wants to play for a team with a coach and a quarterback who understand a veteran player's needs. Arians may fit that mold, but Jackson certainly seems to think McVay does.
"I think like where I've been able to come to in my career, as professional athletes having so much success, and early on in our career[s], being Pro Bowlers and being some of the players that have done some things that no other players have done, you kind of create that model and that mold behind that, like, 'I know what it takes to get the job done,'" Jackson said.
"But then you have some coaches that have the old-school mentality, where, 'You gotta go to practice. You gotta do it this way.' But we're like, 'As long as when Sunday comes in between the white lines we do what it takes, we know what needs to be done.'"
Jackson also said during the interview he does not have an agent right now. He had been with Joel Segal since 2013.
Photo courtesy of USA Today Sports Images.