Contrary to some reports, the Cardinals are not shopping linebacker Haason Reddick, according to Ian Rapoport of NFL.com (video link). The club is shopping linebacker/safety Deone Bucannon, however, which is consistent with what we've heard in recent weeks.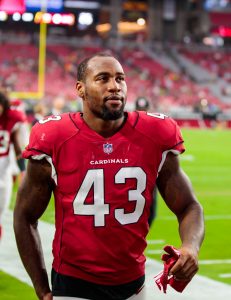 [RELATED: Cardinals GM Downplays Trade Rumors]
The Cardinals drafted the former Temple standout with the 13th overall pick in the 2017 draft in the hopes that his explosive athleticism would serve him well as a pass rusher and as a run stopper. So far, his development has not gone as planned, but the Cardinals are not ready to give up on him just yet. The 24-year-old recently regained his spot in the starting lineup and has two sacks in the last three weeks, so he seems to be trending in the right direction.
The Cardinals fell to 1-5 after Sunday's 27-17 loss to the Vikings. While Reddick apparently won't be on the table, you can expect GM Steve Keim to pitch rival clubs on Bucannon and others as the Cardinals look to build for the future.
Photo courtesy of USA Today Sports Images.