Joe Flacco has been cleared to throw, but the quarterback says he won't be ready for the start of the Jets' season. In an interview with SiriusXM, Flacco explained that his exact timetable is still up in the air.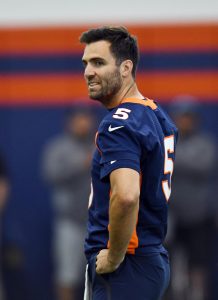 [RELATED: Jets, Joe Flacco Agree To Deal]
"I can't speak to exactly when I'm going to be ready, but it will not be day one," Flacco said (transcript via ESPN.com's Rich Cimini). "Obviously, we'll get with the doctors and I have another checkup come August, so we'll see where that goes."
Sources tell Cimini that Flacco could get the go-ahead for contact sometime in September. However, he won't be able to play in Week 1, when the Jets are slated to open up the season against the Bills in Buffalo.
Flacco, 35, joined the Jets on a one-year deal with a base value of $1.5MM. With bonuses, he could earn up to $4.5MM. The Jets are happy to have Flacco in the fold, but they hope that he won't have the opportunity to earn those incentives. Ideally, Sam Darnold will stay healthy for the duration of the year in what would be his first ever 16-game slate.
"First and foremost, I want to help the team in any way possible and also be a guy Sam can lean on, that he can learn from," Flacco said. "I would say those are the two most important things: Help out the guys on the team and help out Sam to do all they can…For me, personally, I want to play football. I've had some things happen, got injured and had to have surgery. I have to find my way back into the league. I want to play for years to come. I think these guys have given me a great opportunity and hope I can make the most of my situation and make the most of whatever my role ends up being."
With David Fales, rookie James Morgan, and Mike White also on the QB depth chart, the Jets can probably afford to stand pat under center even if Flacco needs more time to recover than expected.
Photo courtesy of USA Today Sports Images.