Just as Bengals running back Joe Mixon was beginning to get comfortable with the NFL game, the team has officially ruled him out for rest the team's Monday night game vs. the Steelers with a concussion.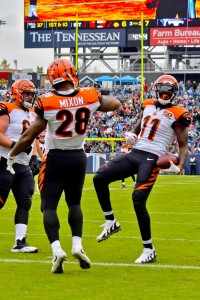 The rookie running back took a big hit from both sides and was down on the ground for awhile until he was able to walk off under his own power to go through testing on the sideline.
Mixon, 21, had started off his NFL career fairly slowly given his lofty status coming out of the draft. Many experts speculated that the former Oklahoma Sooner was just as, if not more talented than top backs like Leonard Fournette, Christian McCaffrey and Dalvin Cook. However, Mixon had just rushed for his first 100 rushing performance last week in a win over Cleveland and was just starting to show that immense potential many thought he had coming into the 2017 NFL Draft. The primary reason why the Bengals were able to nab him in the second round was due to off-the-field concerns stemming from an assault he committed back in 2014.
Cincinnati will be on a short week after appearing on primetime tonight, so it remains to be seen whether Mixon will have enough time to recover from the injury for the team's Week 14 game against the Bears.
Photo courtesy of USA Today Sports Images.