The Bengals recently made Oklahoma running back Joe Mixon the No. 48 overall pick of the 2017 draft, a move that predictably sparked a great deal of conversation and controversy. Mixon's assault of a female Oklahoma student several years ago caused a number of teams to remove him from their draft boards completely — a recent report indicated that only four clubs said they would consider drafting Mixon — and any team that did select him knew it would have to contend with significant public backlash.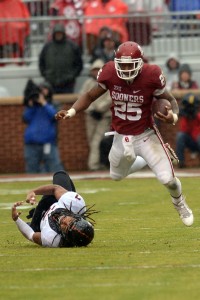 Cincinnati, no stranger to taking a chance on players with character concerns, decided to take the plunge in the second round of the draft. Jeremy Hill and Giovani Bernard are on the Bengals' roster, but neither back reached the 4.0 yards-per-carry mark last season, Hill will be a free agent next offseason, and Bernard is coming off a serious injury, having torn his ACL in November. So Mixon, who was perhaps the most talented back in this year's class, made sense from an on-field need and value perspective.
Nonetheless, the off-field concerns needed to be addressed, and Bengals owner and president Mike Brown wrote a letter to the team's fanbase in an attempt to do that. Here are the highlights (courtesy of the Cincinnati Enquirer):
On the incident itself:
"Joe's regrettable deed was that he struck a young woman, another student, shortly after arriving on campus in Norman, Oklahoma, three years ago. Joe and this young woman recently met in person, came to terms with the incident, and they agreed to resolve their differences so they could move forward with their lives."
On Mixon's response to the incident:
"Since the incident three years ago, Joe was suspended by the football team, pleaded guilty in court, and accepted the consequences of his actions. He later went on to become a good citizen in Norman, a popular teammate, a player respected by his coaches, and one of the most talented players in college football."
On why the team selected Mixon:
"[H]e is a rare football talent, and his conduct over the past three years leads us to believe he can help us win football games and also become a productive member of this community."
On Mixon's future with the club:
"In making our decision, we took a risk. In this case, the risk has an upside as well as a downside. We believe Joe has put this behind him and that he can turn into the player and community member that creates a plus for Cincinnati. We are going to do everything in our power to make this happen. Our hope is that time will prove that this opportunity is deserved, and perhaps – if given a chance – Joe can write a chapter in Cincinnati sports history that both he and Cincinnati can be proud of."
Photo courtesy of USA Today Sports Images.