Steelers wide receiver JuJu Smith-Schuster and Bengals safety George Iloka have each been suspended one game for violations of safety-related playing rules on Monday night. The league announced the suspensions in a press release on Tuesday, and has already denied an appeal by Smith-Schuster.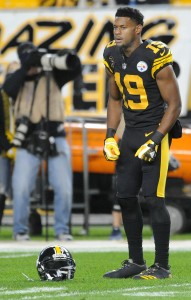 In his letter to Smith-Schuster notifying him of the suspension, NFL Vice President of Football Operations Jon Runyan slammed his unsportsmanlike conduct in his illegal hit on Bengals linebacker Vontaze Burfict. Runyan also noted of Smith-Schuster's taunting:
"You are suspended for the dangerous and unsportsmanlike acts you committed during the fourth quarter of last night's game. Specifically, with 7:10 remaining, on a passing play to a running back, you lined up a defender and delivered a violent and unnecessary blindside shot to his head and neck area. You then "celebrated" the play by standing over him and taunting him. The contact you made with your opponent placed the opposing player at risk of serious injury and could have been avoided. Your conduct following the hit fell far below the high standards of sportsmanship expected of an NFL player."
Smith-Schuster is appealing his one-game suspension, a source tells Adam Schefter of ESPN.com (on Twitter). Per the collective bargaining agreement, his appeal will be heard by either Hall of Fame linebacker Derrick Brooks or former NFL receiver James Thrash.
Meanwhile, Iloka will serve a one-game ban for his helmet to helmet hit on Antonio Brown with 3:55 left in the game. He'll miss Sunday's game against the Bears while Smith-Schuster will be forced out of Sunday's primetime matchup against the Ravens.
Photo courtesy of USA Today Sports Images.