Less than a month after cutting Martellus Bennett, the Packers are attempting to recover some of the signing bonus they paid the then-coveted tight end in free agency.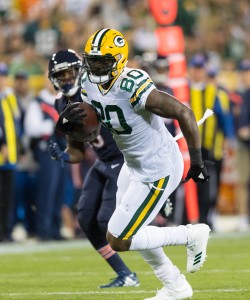 The Packers filed paperwork to reclaim $4.2MM of Bennett's $6.3MM signing bonus on Thursday, Rob Demovsky of ESPN.com reports. They waived Bennett with a "Failure to Disclose a Physical Condition" designation, leading to this decision — one that was in the works. Bennett's bonus was to be spread over the life of his three-year, $21MM deal, creating the $4.2MM figure now in dispute.
Bennett alleged the Packers were well aware of his shoulder problem, reportedly a torn rotator cuff, dating back to when he signed. He said it worsened while in Green Bay and criticized a team doctor for convincing him to put off a surgery he reportedly was told by independent physicians he needed. Other Packers, present and past, came to Dr. Pat McKenzie's defense, and Clay Matthews — per Demovsky — said he and his teammates "got a good laugh" when Bennett suited up for the Patriots during his first game back with them after sitting out that previous Monday with the Packers because of the shoulder malady.
The 30-year-old tight end is now on IR after suffering a hamstring injury, and he will undergo shoulder surgery. Bennett passed a Patriots physical, and the league office didn't have any issues with how the pass-catcher's team change went down.
The NFLPA is aware of this situation, Demovsky reports, adding an arbitrator is expected to review this matter before next season because of salary cap purposes.
The Packers could have gone after Bennett's entire bonus, but Demovsky notes him playing in seven games with Green Bay makes only seeking the remaining $4.2MM a stronger case. With Bennett's bonus on their books, the Packers are projected to have more than $43MM in cap space in 2018. Bennett said earlier this season he was considering retirement at its conclusion.
Photo courtesy of USA Today Sports Images.