Leon Orr is out of a job. After being arrested on charges of misdemeanor marijuana possession and possession of a controlled substance, the Dolphins have released the defensive tackle, coach Adam Gase confirmed to reporters.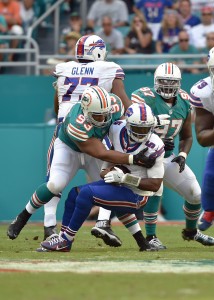 Orr was signed to Miami's practice squad in September and was bumped up to the active roster in October. The promotion was a big opportunity for the 2015 UDFA out of Florida as he had only three NFL games on his resume heading into this season. Now, it might be a while before he gets his next opportunity to play anywhere.
Orr, 24, was pulled over when cops believed his car to have illegally tinted windows. Upon approaching the car, deputies detected a strong odor of marijuana. From there, they found Orr to be carrying marijuana on his person and discovered marijuana wax and THC-laced liquids in the car.
This isn't Orr's first red flag. During his senior year at Florida, Orr was moved out of the starting lineup and responded by walking out on the program. When he returned two days later to apologize, he was told by then-coach Will Muschamp that he was not welcome back. If not for that incident, it's possible that Orr could have been a Day 3 pick.