The Patriots have finally added an undrafted free agent. The team announced today that they've signed rookie kicker Quinn Nordin.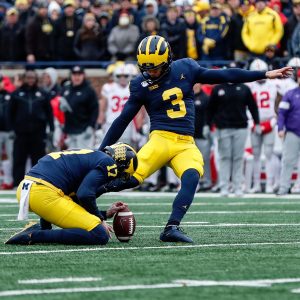 Nordin appeared in 37 games during his four years at Michigan, connecting on 42 of his 58 field goal attempts and 119 of his 124 extra point attempts. This included a 2017 campaign where he led the Big Ten in field goals made (19) while finishing fifth in points (92). Nordin didn't have many opportunities to show off his skills in 2020, as he was limited to only four games. He connected on two of his five field goal attempts this past year, although he did convert each of his 12 extra point tries.
The Patriots were already rostering a pair of kickers, including incumbent Nick Folk. The team also picked up former second-round pick Roberto Aguayo late last season. The team used a fifth-round pick last season on Justin Rohrwasser, but he was waived by the team back in March.
For a front office that seems to love their hidden gems, it's a bit of a surprise that the Patriots have been so inactive following the draft. However, ESPN's Mike Reiss provides a potential explanation, noting that the team could still be operating on 2020 rules as they await final word on 2021 rules. Specifically, teams were allowed to carry up to 90 players if they went with the "split-squad set-up" in 2020, but they were only allowed to keep 80 players if they went with the full-team route. The Patriots fell into the latter category, and as a result, the Patriots were forced to cut bait with a handful of undrafted free agents (including some with guaranteed money) to get to the limit. The team is currently rostering 83 players (including Nordin), so the team may be awaiting clarity on rules before they add a handful of players.
Reiss also wonders if a shallow group of UDFAs could be an explanation for the lack of moves, and the reporter also notes that Bill Belichick and co. may be more interested in bringing in players on a tryout basis.
If precedent tells us anything, the Patriots will probably add at least a couple more UDFAs. If any of them (or Nodin) make the active roster, it will be the 18th straight season that an undrafted free agent has made the team, the third-longest streak in the NFL behind the Chargers and Colts (per Reiss).
Photo courtesy of USA Today Sports Images.