This year may bring the most closely followed Jaguars training camp ever, with No. 1 overall pick Trevor Lawrence coming to town and quarterback-turned-tight end Tim Tebow vying for a roster spot. Urban Meyer's role as a first-time NFL coach will be scrutinized as well.
The new Jacksonville HC addressed these topics recently. Lawrence is expected to be the Jaguars' Week 1 starter, but the Jags interestingly pumped the brakes on this expected ascension recently. Meyer confirmed his franchise-QB hopeful is not quite there yet.
"He's not ready yet, but he doesn't have to be ready yet," Meyer said during an interview with USA Today's Mackenzie Salmon (h/t 247sports.com). "We got a long training camp coming up. He's probably advanced maybe a little quicker than we would've thought, which was a positive.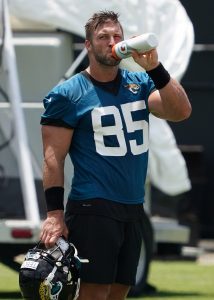 "One thing that we worked on, when we made a decision that Trevor was going to be our No. 1 pick, we went from the evaluation stage to the preparation stage. And that means that I want to see. I can't remember the exact date, but we started installing the playbook with him well before the draft. So you can see the retention. He's got a really good work ethic and he's progressed very well."
Replacing Kelly Bryant as a true freshman at Clemson, Lawrence rocketed onto the NFL radar by leading the Tigers to the 2018 national championship. Lawrence was viewed as the likely 2021 top pick for years. The Jags securing that selection helped lead Meyer to Jacksonville, so it would certainly be stunning if Gardner Minshew or C.J. Beathard started in Week 1.
Despite Tebow not having played in a regular-season game since 2012, the former Heisman winner and playoff QB starter will go to camp with the Jags. Meyer said earlier this month Tebow has done a "decent job" since joining the Jaguars. Last month, 46% of PFR readers said Tebow would make Jacksonville's 53-man roster, while another 25% said the ex-Broncos QB1 and Mets farmhand would land on the practice squad.
"The last thing you just said is the tough part – there's 53. And that's new to me," Meyer said, via Salmon (video link). "That's the reality of the NFL – that you have 90 players. So to me he's one of 90. What's the difference between him and the other 40 guys trying to make the team? To me it's all the same. This is their livelihood. This is a job. This is a way to make a living and the reality is a good percentage of your roster is going to get cut or transitioned out of here which to me, that's completely new."
The Jags signed Chris Manhertz, a Panther in 2020, and drafted Ohio State's Luke Farrell in Round 5. Veteran James O'Shaughnessy remains on the team as well. Tebow, 2020 sixth-round pick Tyler Davis and 2020 UDFA Ben Ellefson round out the Jags' tight end contingent. The Jags potentially planning wildcat-type looks for Tebow may give him an edge, but teams keeping more than four tight ends on an active roster is fairly rare.
Photo courtesy of USA Today Sports Images.