Nothing gold can stay. From Sean McVay's 2017 arrival through the 2022 offseason, the Rams treated the football world to a win-now mantra. As draft pick-collecting crusades transpired elsewhere, the Rams' recovery from a 12-year playoff drought produced two Super Bowl berths and a championship. Evading critics with a George Allen-esque, "eff them picks" M.O. that still leaves Jared Goff as the most recent first-rounder the franchise has drafted, the Rams should be lauded for the effort and ability to craft a championship-caliber roster largely without the cost shortcuts other teams lacking a top-shelf quarterback have relied upon in this era.
Los Angeles' 5-12 offering last season — unequivocally the worst Super Bowl title defense in NFL history — paused the music, and the McVay-Les Snead duo operated with newfound restraint this offseason. The team that has traded its past seven first-round picks stripped its defense of a few linchpins and stopped its spree of big-ticket contracts after a busy 2022 on that front. The presence of cornerstone holdovers blended with a sudden cost-conscious approach makes the Rams' 2023 outlook difficult to pin down.
Trades: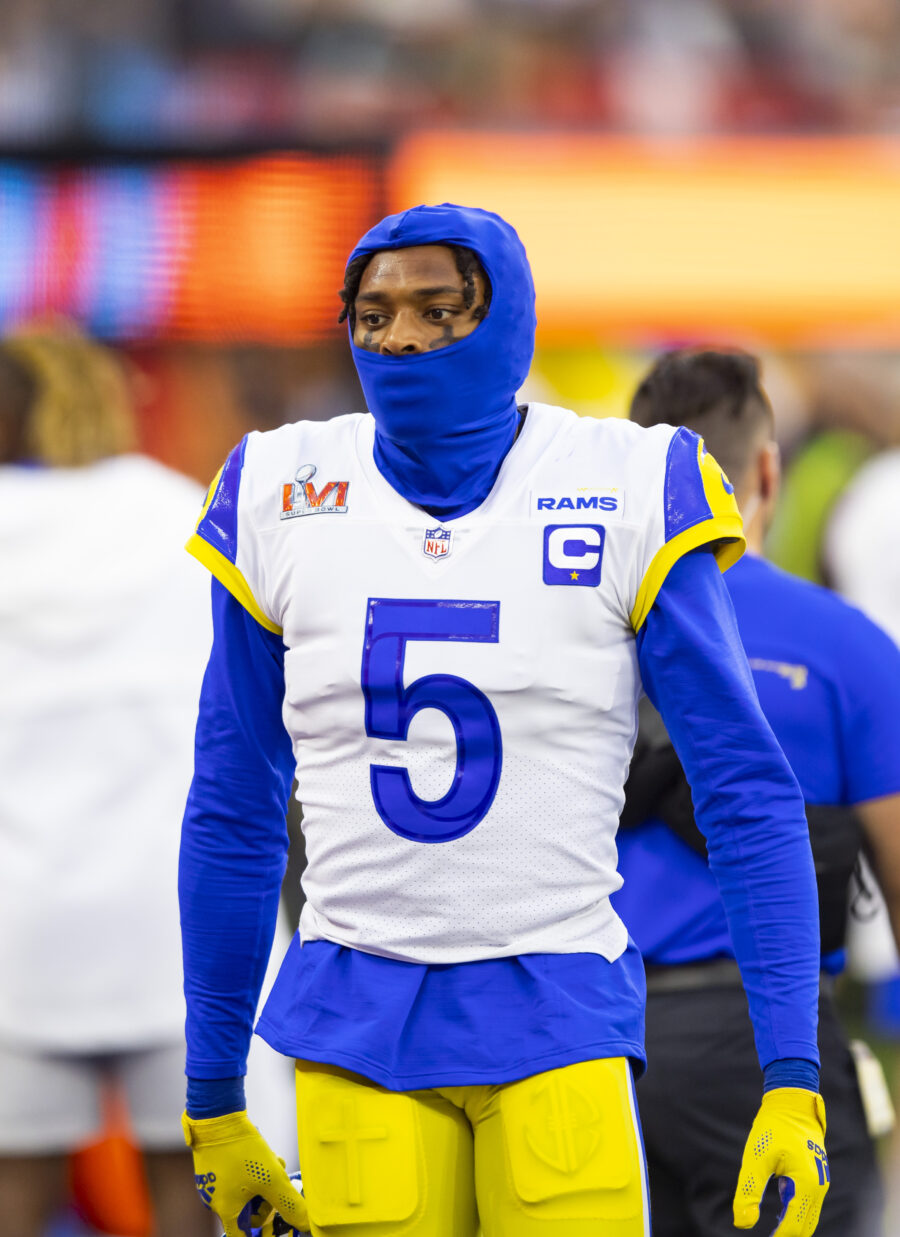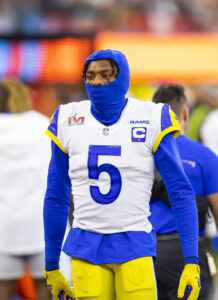 Rumors about a Ramsey Los Angeles exit started in January, and as an updated Rams blueprint became clearer, the trade winds blew in March. Less than four years after sending the Jaguars two first-round picks for Ramsey, the Rams accepted considerably less to move him. The cornerback's desire for an updated contract, despite being tied to a top-five accord at his position, affected the compensation the Rams were able to fetch. The Dolphins have since adjusted Ramsey's deal, giving the 28-year-old defender fully guaranteed salaries in 2023 and '24.
Ramsey did reward the Rams, earning back-to-back first-team All-Pro nods from 2020-21 and anchoring a Super Bowl-winning team's secondary. One of Snead's "eff them picks" victories, Ramsey succeeded as a boundary corner and a matchup-based slot stopper. Pro Football Focus rated Ramsey as a top-10 corner in each of his three full Rams seasons, placing him first in 2021 and third overall during last season's mess. Ramsey, who sought Miami (NBA-style) as a destination, played three seasons on his five-year, $100MM deal; the former top-five pick will tag the Rams with $19.6MM in dead money this year.
The Rams received good health and elite performance from Ramsey, making this a sobering return package. L.A. saw Aaron Donald's run of health cease with a high ankle sprain late last season, but Ramsey played all 17 games. The Florida State product delivered for a team that needed to place late-round picks or UDFAs across from him, though slot cog Troy Hill provided some veteran stability. Ramsey, Hill, Darious Williams and David Long are all out of the picture, leaving L.A. with a gaggle of Day 3 picks and Steelers castoff Ahkello Witherspoon at corner.
The Rams were able to recover from disbanding their Super Bowl LIII Aqib Talib–Marcus Peters pair, but Ramsey played the lead role there. Even with Donald, DC Raheem Morris will have a much tougher time assembling a high-end pass defense this season. Two years remain on Hunter Long's rookie contract; the former third-round pick has one reception in 16 career games.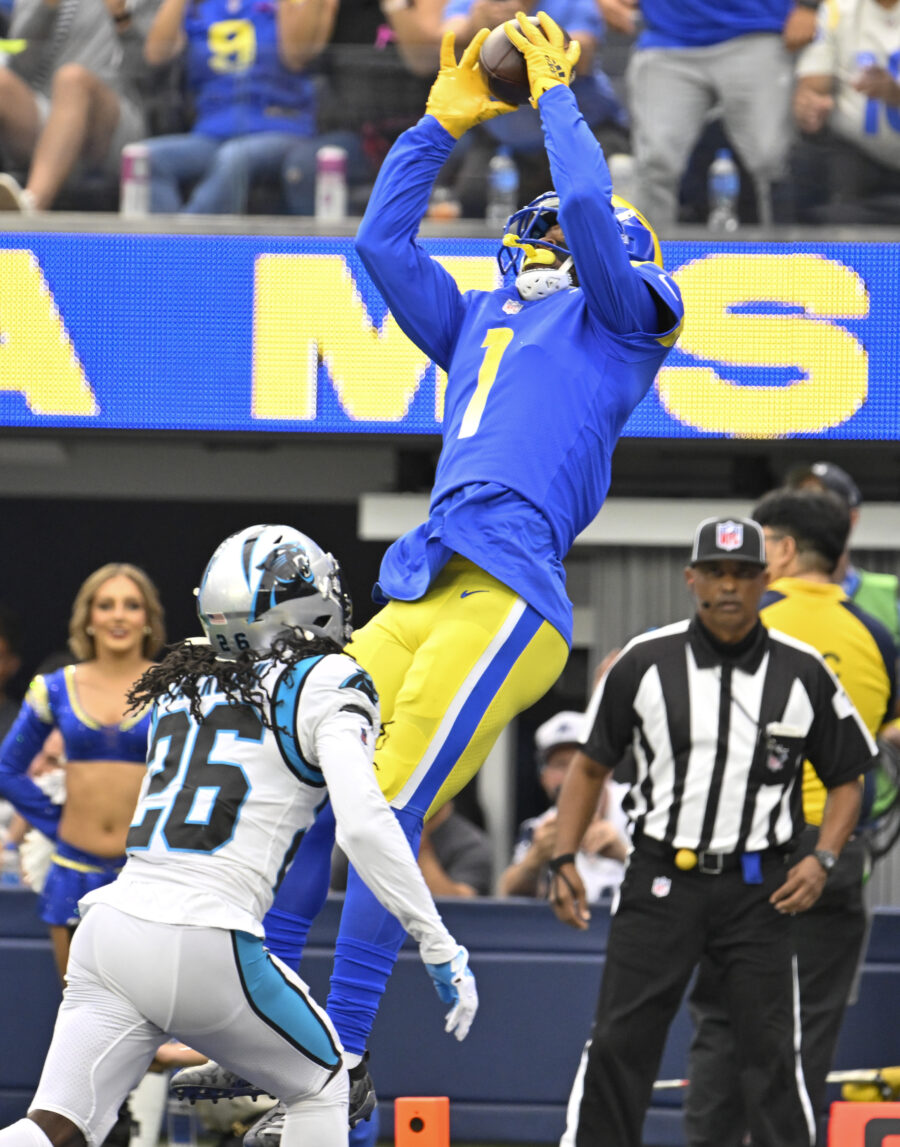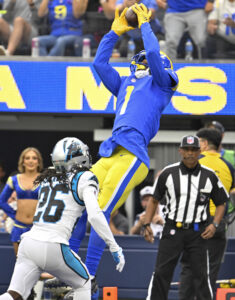 A 2022 effort to re-sign Von Miller last year failing led to a pivot to Robinson. That contingency plan burned the Rams, whose aggressiveness has involved a few bad contracts during the Snead-McVay years. Robinson was unable to shake off a down 2021, when he underwhelmed on a Bears franchise tag. His 2022 line: 33 receptions, 339 yards, three touchdowns before a season-ending surgery.
After giving Robinson permission to seek a trade, the Rams needed to pay $5MM of the 10th-year veteran's 2023 guarantee to convince the Steelers to drop 17 spots in this year's seventh round. This process continued a late-20s decline for the former Pro Bowler.
Cooper Kupp remains the Rams' receiving anchor, and Robinson's exit should not affect the team much. He was unable to create much separation and left defenses keying on the 2021 receiving triple-crown winner. But Kupp's 2023 batch of wingmen either lack experience or present low ceilings. Kupp missed seven games last season; his 812 receiving yards led the Rams by more than 100 and paced all their wide receivers by over 400. Van Jefferson, an 802-yard receiver in 2021, will attempt to shake off a forgettable 2022. Utilityman Ben Skowronek (376 receiving yards last year), underwhelming and undersized second-round pick Tutu Atwell, UFA addition Demarcus Robinson and fifth-rounder Puka Nacua round out L.A.'s top-heavy receiving cadre.
Free agency additions:
All four of the Rams' notable UFA acquisitions came after the draft. Michel, 28, looms as the most interesting, as the 2021 trade get has led two Super Bowl-winning teams in rushing. Cam Akers' July 2021 Achilles tear initially brought the ex-Patriots first-rounder to L.A. Michel proceeded to lead the Rams' championship edition in rushing (845 yards — the most by a non-Todd Gurley Ram under McVay) and shed the injury concerns that plagued him with the Patriots by playing in all 21 Rams games that year. Michel spent last season with the Chargers but did not make much of an impact, rushing for only 106 yards and being cut before season's end.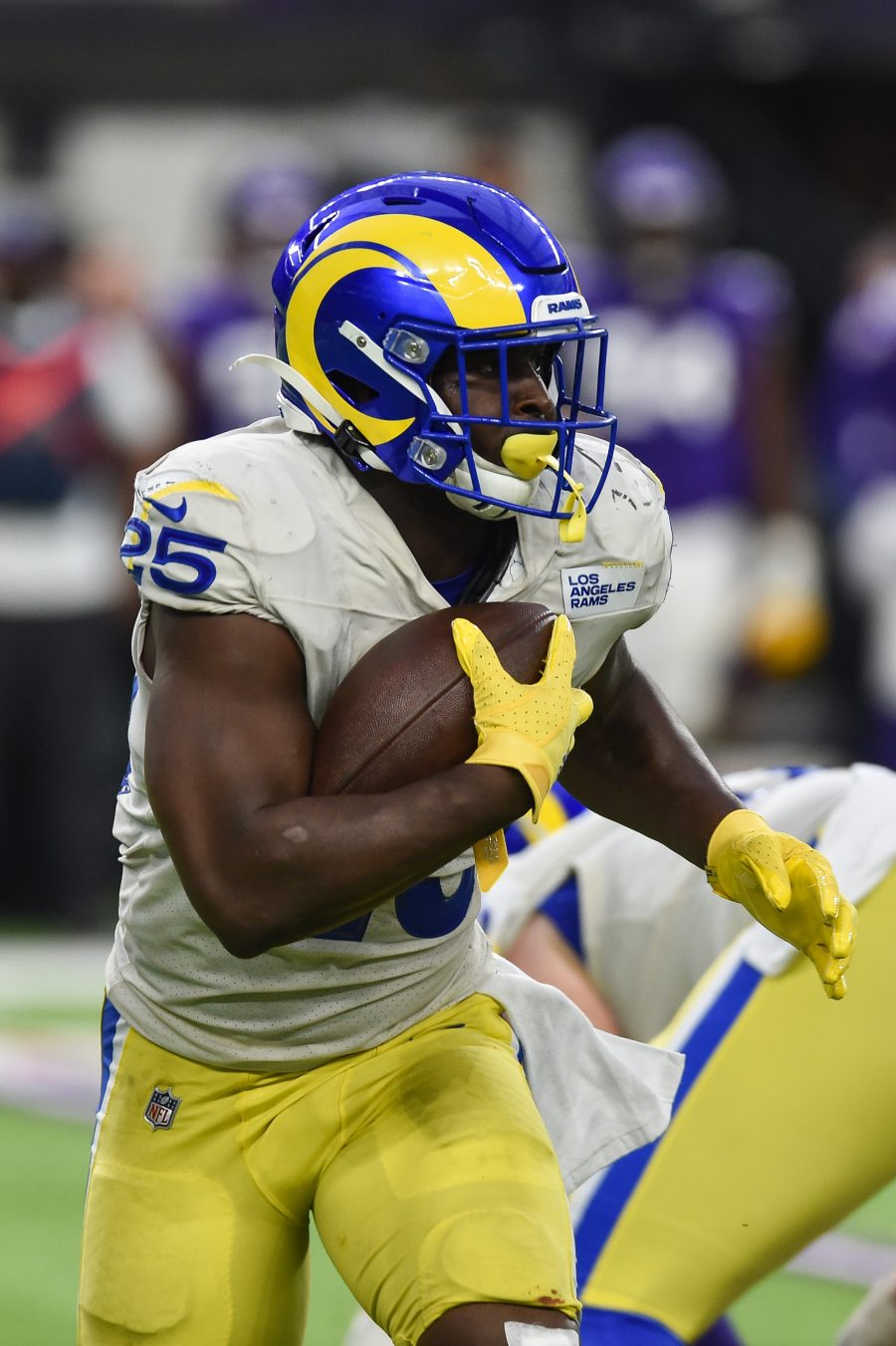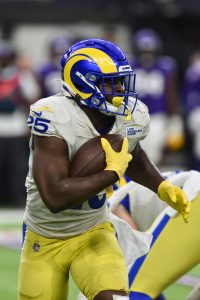 Despite McVay and Akers not being on the same page for much of last season, leading to a trade request and a genuine Rams effort to move him, the former second-rounder will be given another chance. With only 2022 fifth-rounder Kyren Williams and sixth-round rookie (and one-time five-star recruit) Zach Evans residing behind Akers, it would not surprise if Michel emerged as the Rams' top backup. Akers, 24, is going into a contract year. With the once-promising Florida State talent not looking like himself much since that Achilles injury, this profiles as a crucial year for his NFL future.
Witherspoon started his career in San Francisco, starting 33 games in four Bay Area seasons. The 6-foot-2 defender signed with the Seahawks, but they traded him to the Steelers before the 2021 season began. Injuries impacted Witherspoon in Pittsburgh; he missed 21 games over the past two seasons. This league-minimum deal qualifies as a flier, but Pro Football Focus rated Witherspoon as a top-20 corner in 2020 and '21.
Going into his age-29 season, Robinson has served as an auxiliary target for Alex Smith, Patrick Mahomes and Lamar Jackson in a seven-year career. A backup role might be in the cards for the former fourth-round pick. Robinson, however, has tallied three 400-plus-yard receiving seasons in the past four years. The last of those happened for a Baltimore team forced to trot out Tyler Huntley to close its season; Robinson also scored a touchdown in the Ravens' playoff loss in Cincinnati.
Re-signings:
Shelton won the Rams' starting right guard job out of training camp last year. From 2019-21, Shelton had made two starts. Illustrating the Rams' injury plight last season, he was needed for 13. Having experience at center and guard, Shelton gives the team options. With the injury-prone Brian Allen not a lock to keep his snapping gig, Shelton looms as a backstop. PFF did rank Shelton 30th among centers last season. His profile points to a swing gig, but with Allen struggling to stay healthy, Shelton seeing several starts would not surprise.
With Logan Bruss back from his ACL and MCL tears and second-rounder Steve Avila penciled in as a starter, the Rams are in better shape compared to the blocker infirmary that formed last season.
Notable losses:
Nine regular starters, the team's season-ending QB1 and both its specialists are no longer in the picture. In their place: mostly rookies. Edwards, Gaines, Scott, Rapp, Wolford and Long played out their rookie contracts. The Rams have let role players walk following the expiration of their rookie deals in the past. But this offseason brought a different goal compared to when the likes of Cory Littleton, Austin Corbett, Gerald Everett or Darious Williams were made expendable to afford higher-priced talent. Stafford, Donald and Kupp keep the stars-and-scrubs blueprint alive, but the Rams said goodbye to more core performers than usual.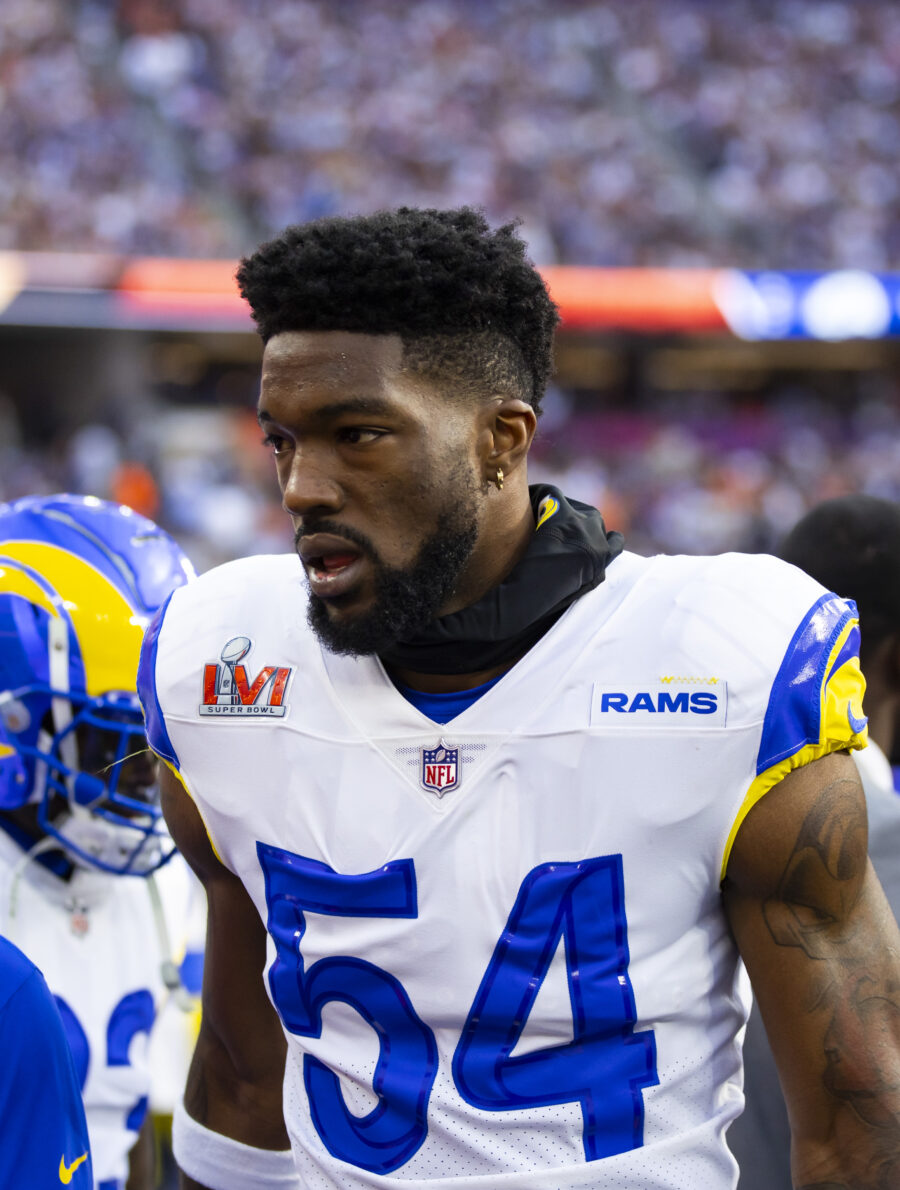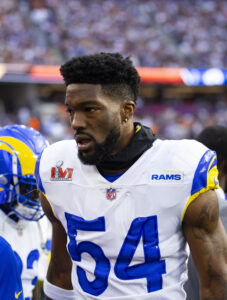 Floyd rejuvenated his career in Los Angeles, capitalizing on being a Donald sidekick. The Bills have collected a few starters from Super Bowl LVI, reuniting Floyd, Rapp and Edwards with Miller this offseason. Floyd racked up 29 sacks during his three-year Rams run, going from bargain buy — after the Bears backtracked on his fifth-year option (when the 2011 CBA had the options guaranteed for injury only) — to reliable edge rusher. The former top-10 pick registered sacks of Tom Brady and Joe Burrow during the Rams' Super Bowl charge.
L.A. has now lost Miller and Floyd in consecutive offseasons. With the Rams bailing on Floyd's four-year, $64MM contract after two seasons, a team perpetually on the hunt for edge rushers — as October's two-first-rounder offer for Brian Burns most recently illustrated — is perilously thin at OLB.
As the Rams' bills came due, Wagner completed an unexpected about-face. Joining Ramsey as an impact performer for a deteriorating team, Wagner finished his ninth straight season as a first- or second-team All-Pro. The Canton-bound inside linebacker transitioned well to a 3-4 scheme, rating as PFF's No. 1 overall off-ball 'backer despite playing an age-32 season. In Morris' scheme, Wagner collected a career-high six sacks as well.
The Rams added the Los Angeles native as part of another reload effort, but when it became clear the team was heading in a different direction, the sides agreed to mutually part ways. A year after the seemingly rebuilding Seahawks ditched Wagner, the all-time Seattle great is back — for a team that will be expected to return to the playoffs — on a one-year, $5.5MM deal.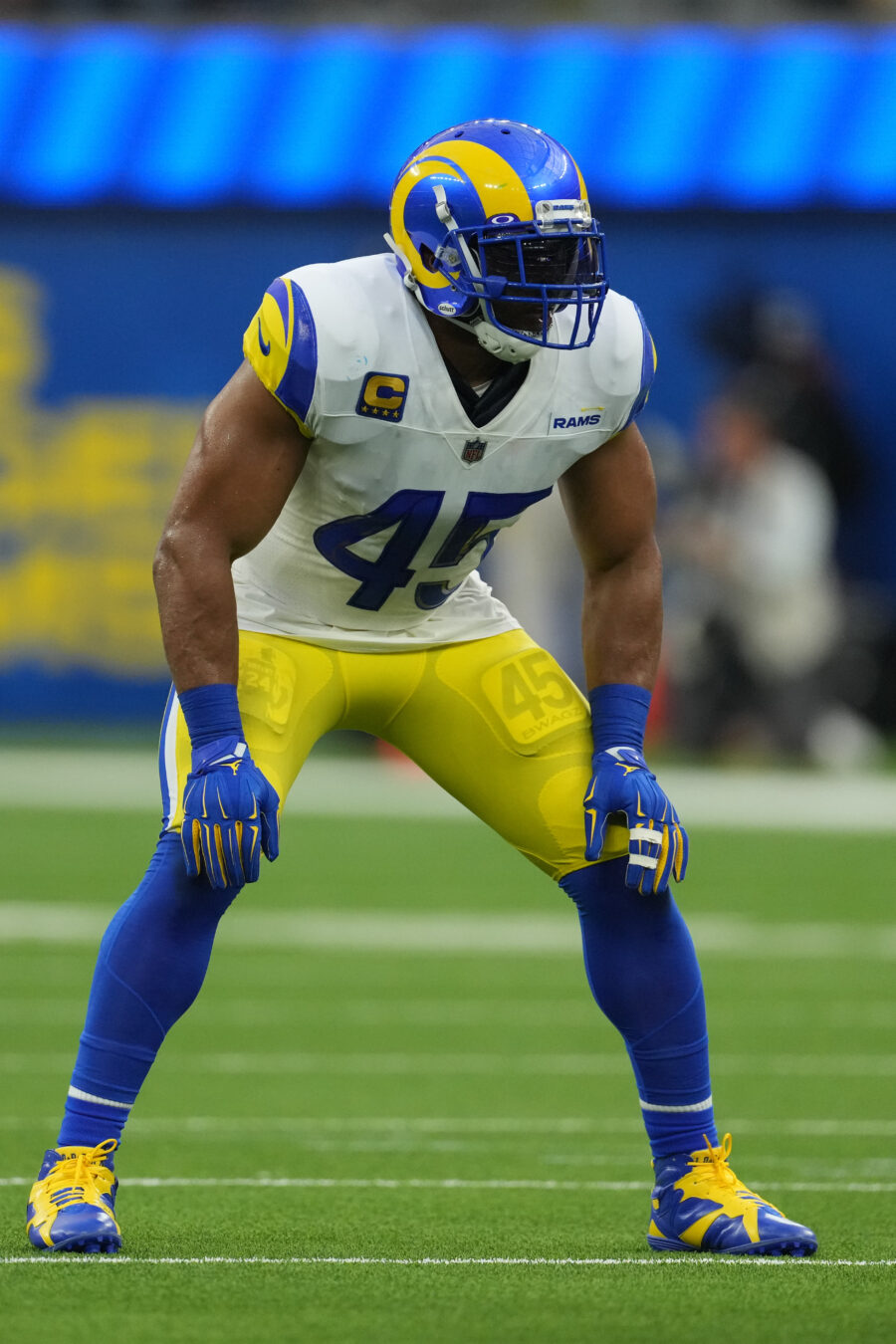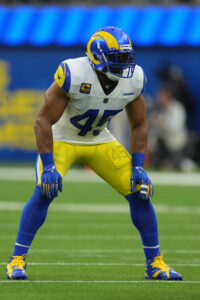 Two new support staffers will join Donald up front. Gaines and Robinson flanked the D-tackle legend for the past two seasons, but the Super Bowl starters respectively joined the Buccaneers and Giants this offseason. Both played key roles in the Rams ranking sixth against the run in 2021. Rapp started 48 games in four Rams seasons, collecting a ring despite missing Super Bowl LVI, while Scott became a starter this past season. PFF rated Rapp as a top-15 safety in 2022, though his market did not reflect that. Buffalo landed Rapp for just $1.77MM. Even with a fraction of Rapp's experience, Scott commanded a three-year, $12MM Bengals pact. He will play a role in helping Cincinnati replace Jessie Bates and Vonn Bell.
Fourth-year starter Jordan Fuller remains, though he is now in his platform year, while 2022 seventh-rounder Russ Yeast (113 defensive snaps last season) may be the favorite to become L.A.'s other safety starter. Fuller failed to surmount a hamstring injury last season, being limited to three games. The starter's return will be a welcome sight for a Rams team that will throw an otherwise-inexperienced DB crew at teams.
In another example of a Rams starter being questioned, Edwards also scored only $1.77MM in free agency. One of several successful Day 3 picks that supplemented the Rams' expensive stars, the ex-fifth-rounder started 45 games from 2019-22. Although the Panthers gave the Rams' other Super Bowl LVI guard starter — Corbett — a three-year, $26.25MM deal in 2022, a concussion-marred season likely hurt Edwards' market. PFF graded Edwards as a top-30 guard in 2020 and '21, but the head injury limited him to four games last year.
Speaking highly of his Rams stay recently, Mayfield engineered one of the more unusual comeback drives in NFL history in December. Cast aside by the Browns and Panthers, the former No. 1 overall pick led a 98-yard, game-winning drive to beat the Raiders despite being a Ram for all of two days. The waiver claim, who also sliced up a top-10 Broncos defense on Christmas Day, was inconsistent with the Rams. But the stay gave the ex-Progressive pitchman some momentum; he will attempt to parlay it into a Bucs starting role. After hoping to use the 2022 season as a springboard to a lucrative market, the former Browns playoff starter only received a $4MM guarantee from Tampa Bay.
Draft:
Round 2, No. 36: Steve Avila, G (TCU) (signed)
Round 3, No. 77 (from Dolphins through Patriots): Byron Young, OLB (Tennessee)
Round 3, No. 89 (from Giants): Kobie Turner, DT (Wake Forest)
Round 4, No. 128 (from Rams): Stetson Bennett, QB (Georgia) (signed)
Round 5, No. 161 (from Cowboys through Texans): Nick Hampton, LB (Appalachian State) (signed)
Round 5, No. 174 (from Raiders through Texans): Warren McClendon, OT (Georgia) (signed)
Round 5, No. 175 (from Buccaneers): Davis Allen, TE (Clemson) (signed)
Round 5, No. 177: Puka Nacua, WR (BYU) (signed)
Round 6, No. 182: Tre'Vius Hodges-Tomlinson, CB (TCU) (signed)
Round 6, No. 189 (from Titans): Ochaun Mathis, OLB (Nebraska) (signed)
Round 6, No. 215 (from Commanders through Bills): Zach Evans, RB (Ole Miss) (signed)
Round 7, No. 223: Ethan Evans, P (Wingate) (signed)
Round 7, No. 234 (from Steelers): Jason Taylor II, S (Oklahoma State) (signed)
Round 7, No. 259 (from Texans): Desjuan Johnson, DL (Toledo) (signed)
The highest pick of McVay's tenure, Avila represents a reinforcement for a team that has said goodbye to Corbett and Edwards in consecutive offseasons. Avila earned consensus All-American honors at TCU, helping the Horned Frogs to a stunning journey to last season's national championship game. The Rams are expected to plug Avila into their starting lineup from the jump, though the team's O-line features questions at three other posts.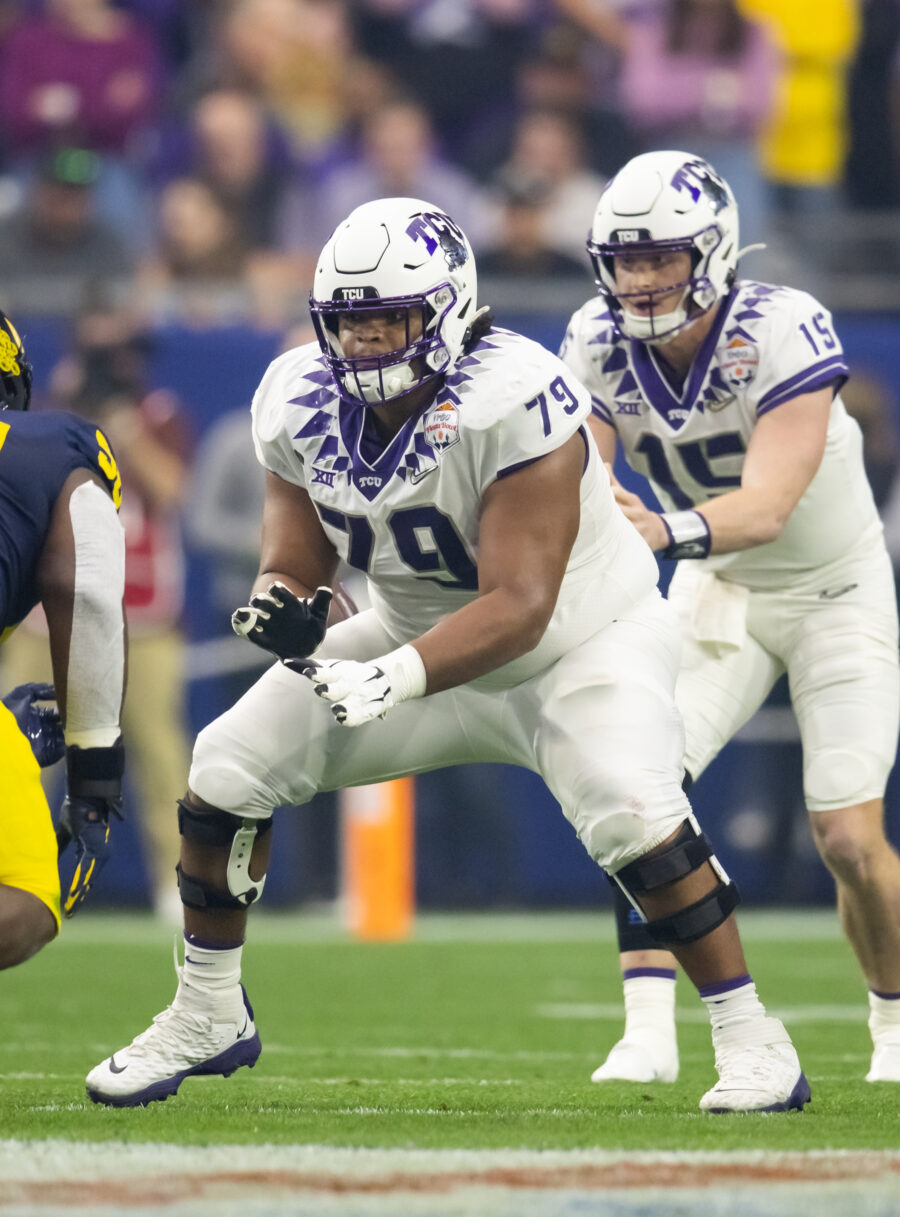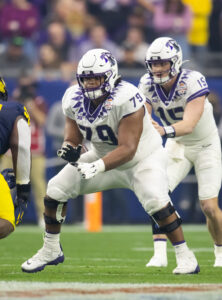 Post-surgery, Bruss will factor into the guard competition; the college right tackle also could serve as a Rob Havenstein backup. Despite a $13MM-per-year contract, left tackle Joseph Noteboom is coming back from an Achilles tear and not a lock to keep his blindside job. Sub Alaric Jackson is believed to be in the mix to usurp Noteboom or perhaps kick him inside to guard, where he played in 2019. Andrew Whitworth's fill-in, Noteboom being moved would bring an interesting plotline seeing that he is the highest-paid Rams O-lineman — including Havenstein, who is going into his ninth season.
Miller, Floyd, Dante Fowler and Samson Ebukam have manned the OLB positions during McVay's tenure; the Rams have made a habit of neglecting the all-important spot before circling back to it via trade. This year, it does not seem like reinforcements are coming. As such, Young will join Michael Hoecht (4.5 sacks last season) and other inexperienced youngsters to form one of the thinnest position groups of the McVay era (most of the competition for that obscure title comes from 2023 Rams units).
Two Byron Youngs went in Round 3 this year; the Rams version tallied 23.5 tackles and 12.5 sacks in two years at Tennessee. If the Rams really are standing pat on the edge, it is certainly possible they will make Young a rookie-year starter. They are expected to move Turner into their Week 1 lineup. Picking up more draft capital by trading down twice in the third round, the Rams chose Turner after moving down to give the Giants No. 73 (and wideout Jalin Hyatt). Turner earned first-team All-Colonial Athletic Association acclaim twice (while at Richmond) before transferring to Wake Forest in 2022.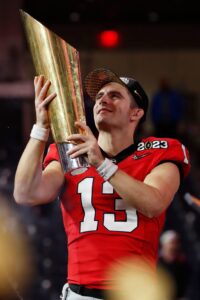 Bennett's Tommy Callahan-ian academic pace aside, the Rams' top Day 3 priority appeared to be landing the two-time national champion quarterback. While the Rams did show interest in trading into the first round, Will Levis was not believed to be their target. Instead, Snead fixated on Bennett, whom ex-Rams backup QB Kellen Clemens met with (as a team consultant) before the draft.
A Georgia recruit who transferred away during Justin Fields' year in Athens (2018), the 5-foot-11 QB returned in 2019 and waited behind Jake Fromm. Despite Bennett's role as triggerman on two championship teams, scant interest came his way during the pre-draft process. Scouts Inc. placed Bennett as this draft's No. 237 overall prospect. Seeing as the Rams took him 109 spots higher, the 26-year-old passer will be expected to become Stafford's backup soon.
Extensions and restructures:
Other:
The topic of McVay leaving his Rams role for a TV gig has come up in multiple offseasons. Although Al Michaels made an effort to bring McVay to Amazon in 2022, this offseason looked to be the closest the play-calling prodigy has come to leaving the sideline for the booth/studio. Rumors after the season pointed to a better-than-average chance of McVay stepping down to complete what would have been a stunning early exit, based on the Rams HC's age and status in the game. The Rams had let their assistants test the waters, indicating they would not block lateral moves as McVay determined his future. But McVay, 37, opted to stick with coaching.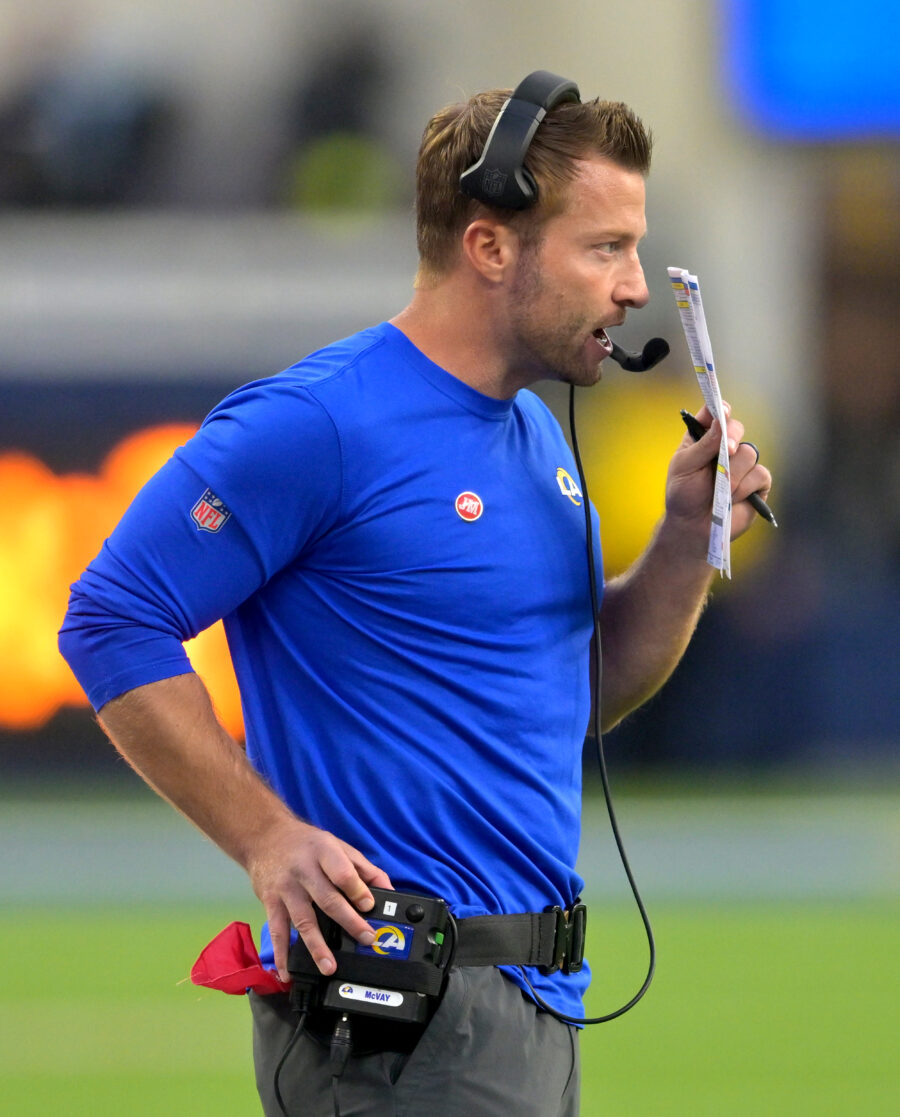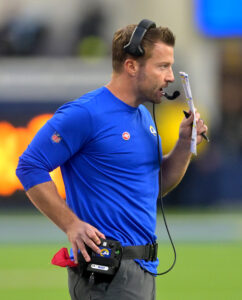 Since Tony Romo's $17.5MM-per-year CBS deal came about, the money being handed to high-profile TV analysts has led to NFL-or-broadcasting decisions each offseason. John Lynch turned down an Amazon offer believed to be worth at least double his 49ers GM salary last year. The Rams had missed the playoffs for 12 straight seasons prior to the McVay hire; they voyaged to four NFC brackets and two Super Bowls in his first five seasons. The L.A. market losing McVay would have doubled as a major loss for the NFL, which has relied on veteran-fueled Rams teams anchoring its second-largest market.
McVay expressed interest in trying TV at some point, but upon recommitting to the Rams, the seventh-year HC does not plan to go anywhere in the near future. This season will bring a new challenge. The 26 UDFAs created a 40-rookie offseason roster, and The Athletic's Jourdan Rodrigue (subscription required) predicts 15 first-year players will make the team. Star power still exists here, but it is notable McVay has signed up to lead what also looks like a bit of a rebuild effort.
After Coen agreed to leave his one-year Rams post to return to Kentucky, LaFleur arrived as McVay's latest non-play-calling OC. This will be a step back for LaFleur, who called plays with the Jets, but previous McVay assistants have used the role as a springboard to HC offers. Prior to Coen, the past two Rams OCs — Kevin O'Connell and Mike LaFleur's brother Matt — jumped for HC opportunities. The Jets dismissed LaFleur after two seasons, with Zach Wilson's performance doing the most to sink the younger LaFleur. McVay's offense will be a natural fit for LaFleur, 36, seeing as he spent seven seasons working under Kyle Shanahan — from Cleveland to Atlanta to San Francisco. Both McVay and Shanahan run versions of the Mike Shanahan/Gary Kubiak offense.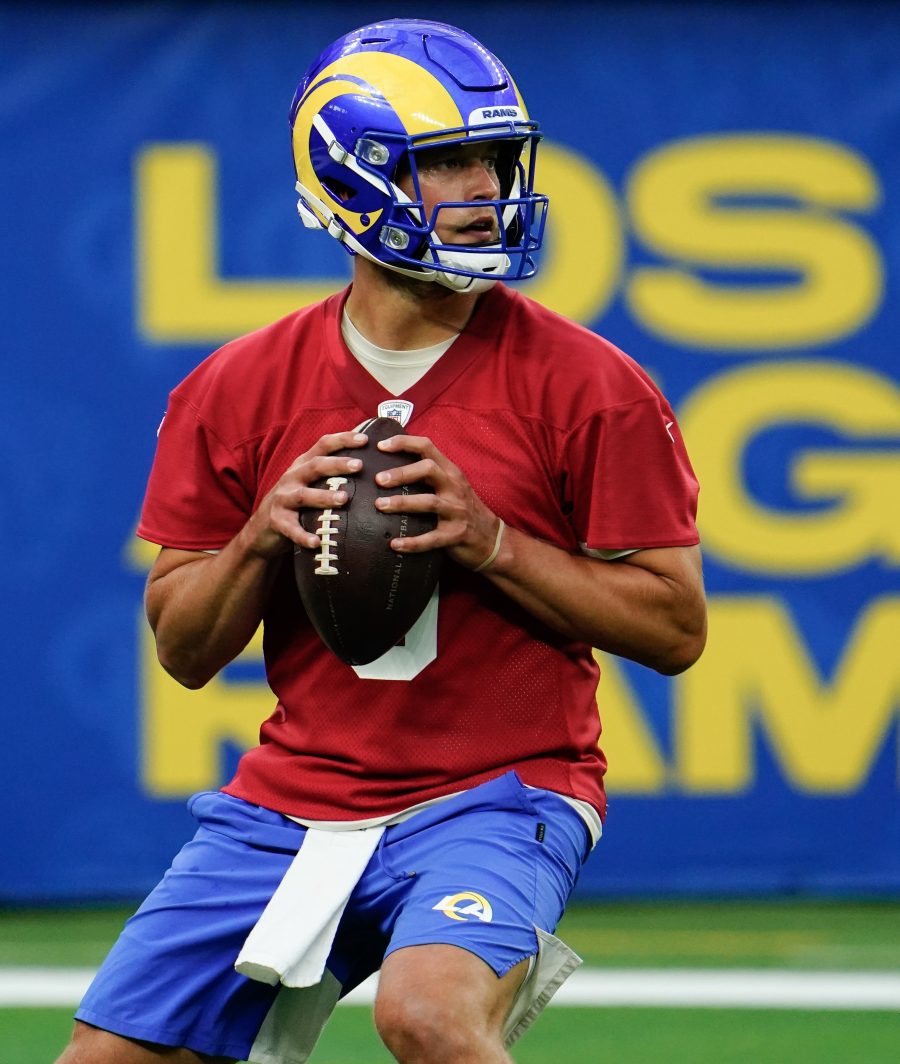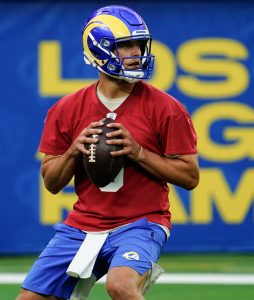 Even after last year's steep decline, the Rams saw the McVay coaching tree plucked yet again. Brown had been with the Rams since 2020; he is now in place as the Panthers' non-play-calling OC. Brown, 36, had coached running backs and tight ends in L.A. He drew interest from the Texans as well; Houston interviewed the rising assistant for its HC job in January. Olson, another multi-stint Rams staffer who had come back to help Coen, is now with Seattle. He will join another ex-Rams assistant, Shane Waldron, in mentoring Geno Smith.
While Stafford looks out of place on the current Rams, the team's four-year, $160MM extension — authorized in 2022 — has the ex-Lions QB under contract through 2026. Stafford's trade value cratered last year, after elbow trouble and a spinal contusion spoiled his Super Bowl follow-up. (Though, the Rams are believed to have tried to find a market before that $62MM hit their 2023 and '24 books.) After being shut down as the season nosedived, Stafford participated in the Rams' offseason program.
Snead called Stafford, Donald and Kupp organizational pillars, but if this season shows the team is truly rebuilding, it cannot be assumed all three 30-somethings — Stafford is 35, Donald 32 and Kupp 30 — will be part of the 2024 Rams. Donald's contract, which includes a no-trade clause, pays out its guarantees this year.
Top 10 cap charges for 2023:
This section rarely reaches the sub-$2MM level, highlighting the Rams' thinning number of big contracts. The top three certainly stick out, considering they were signed barely a year ago. While clear roster holes exist on defense, the Rams have a proven quarterback, an ace wide receiver and one of the league's all-time defensive greats. It does not seem enough depth surrounds the Stafford-Kupp-Donald trio, but in an NFC flooded with questions, the thought of McVay piecing together a competitive squad does not seem delusional. If we hit mid-October and that is not happening, how serious will the trade rumors that inevitably involve the team's remaining All-Pros be?
As the Rams try to avoid wasting early-30s years from their best two players, this season will simultaneously present a largescale developmental assignment. The Rams have made several mid- and late-round picks productive starters under the McVay-Snead partnership. As rookies could comprise more than a fourth of the roster, this season will put the regime to a new test.
Follow @PFRumors