As partially chronicled on Netflix, the Chiefs secured their second Super Bowl championship in four seasons. Patrick Mahomes is now 3-for-5 in Super Bowl appearances as a starter and is the first quarterback since Otto Graham (1950-55) to begin an NFL career with five straight conference championship games. The two-time MVP gutted through a high ankle sprain to lift the Chiefs past the Jaguars, Bengals and Eagles.
Trading Tyreek Hill and letting Tyrann Mathieu walk in free agency, the Chiefs probably vanquished multiple playoff foes with better overall rosters. The Eagles certainly had such a claim. But Kansas City's Mahomes-Andy Reid foundation has provided a historic advantage, compensating for roster issues elsewhere. The Chiefs have been fortunate regarding the availability of Mahomes' top two co-stars. Travis Kelce and Chris Jones each suiting up for all 20 games obviously aided last year's effort. There is a good chance neither will play in Week 1, giving the Mahomes-Reid partnership a new challenge to start its latest title defense.
Free agency additions:
A trade package centering around a first-round pick brought Orlando Brown Jr. to Kansas City in 2021. The Chiefs then franchise-tagged him last year. After not re-tagging Brown, the defending champions have made some changes regarding their tackle priority. They have taken care of the right tackle spot with Taylor and brought in a veteran placeholder in Smith, whom the Buccaneers released in March. This is a rather interesting setup, as the Reid years have either featured mid- or high-level investments in both tackle spots (Eric Fisher, Mitchell Schwartz) or seen the RT position overlooked.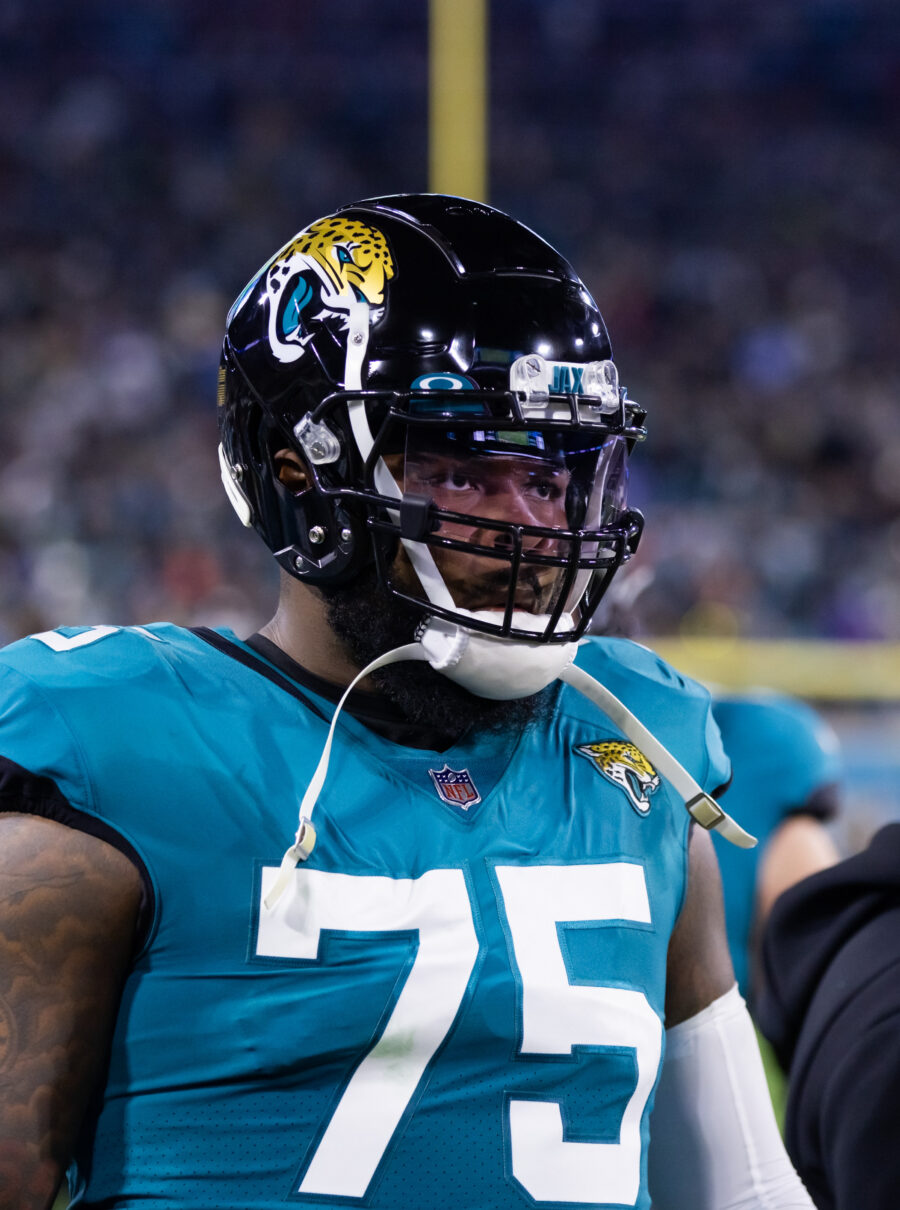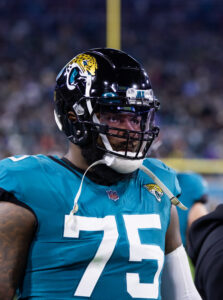 For a stretch immediately following Taylor's signing, it appeared the plan would be to move the former Jaguars and Florida Gators right tackle to the blind side. The team changed course upon signing Smith in May. Taylor, 25, will now keep going on the right side.
The four-year Jags starter has never missed a game. While PFR rated Taylor third overall for free agent earning power, the Chiefs think highly of a player who needed to win a training camp battle — over Walker Little — to keep his RT job going into last season. Taylor's contract-year work scored him a life-changing payday, and he will camp outside of Florida for the first time. The Jaguars decided on tagging Evan Engram, a cheaper option that led to an extension, over cuffing Taylor. Jacksonville already has a top-10 left tackle payment (for Cam Robinson) on its books. Taylor then joined Mike McGlinchey and Kaleb McGary in comprising a strong right tackle free agency class.
More of a pass pro-oriented right tackle compared to McGlinchey, Taylor boasts a skillset fitting Reid's attack better. Pro Football Focus has long been skeptical of Taylor's abilities, having not ranked him inside the top 60 among tackles since his rookie year, when the advanced metrics site slotted him 49th. However, the former second-round pick dropped his hold count from 11 in 2021 to two last season. And Football Outsiders charted Taylor as posting a career-low blown-block rate (1.3%).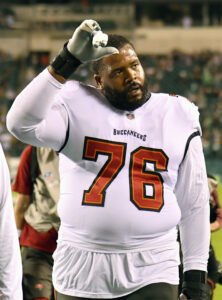 This represents a risk from the Chiefs, who gave a player who was not exactly viewed as an upper-echelon right tackle for much of his rookie-contract run the second-most lucrative contract at the position. Taylor's $20MM AAV trails only Lane Johnson's ($20.2MM). A significant accolade disparity exists between those two, but the Chiefs are betting the fifth-year blocker's best football lies ahead. Taylor will join one of the NFL's best O-line nuclei, which still features rookie-deal cogs Creed Humphrey and Trey Smith.
Older blockers now populate the left side of Kansas City's line. Smith and left guard Joe Thuney are both 30. Smith also struggled during his final Bucs campaign, rating one spot behind Taylor (66th) in PFF's view. His 12 penalties (including seven holds) ranked second in the NFL, and Todd Bowles considered benching the longtime left tackle last season. We slotted the Chiefs as the best Smith fit, and the ex-Tom Brady protector will be thrust into another high-profile spot. The second-longest-tenured left tackle in Bucs history, Smith signed three contracts with the team and has made 124 career starts.
A Missouri native who starred at Mizzou after Chase Daniel's exit from the then-Big 12 program, Gabbert is back in his home state after 12 seasons elsewhere. The Chiefs' previous Mahomes backup, Chad Henne, once replaced Gabbert in Jacksonville in the early 2010s. That demotion — after being chosen 10th overall in 2011 — dropped Gabbert to the backup tier. Other than when he briefly unseated Colin Kaepernick in San Francisco, Gabbert has remained a backup ever since the Jags' decision.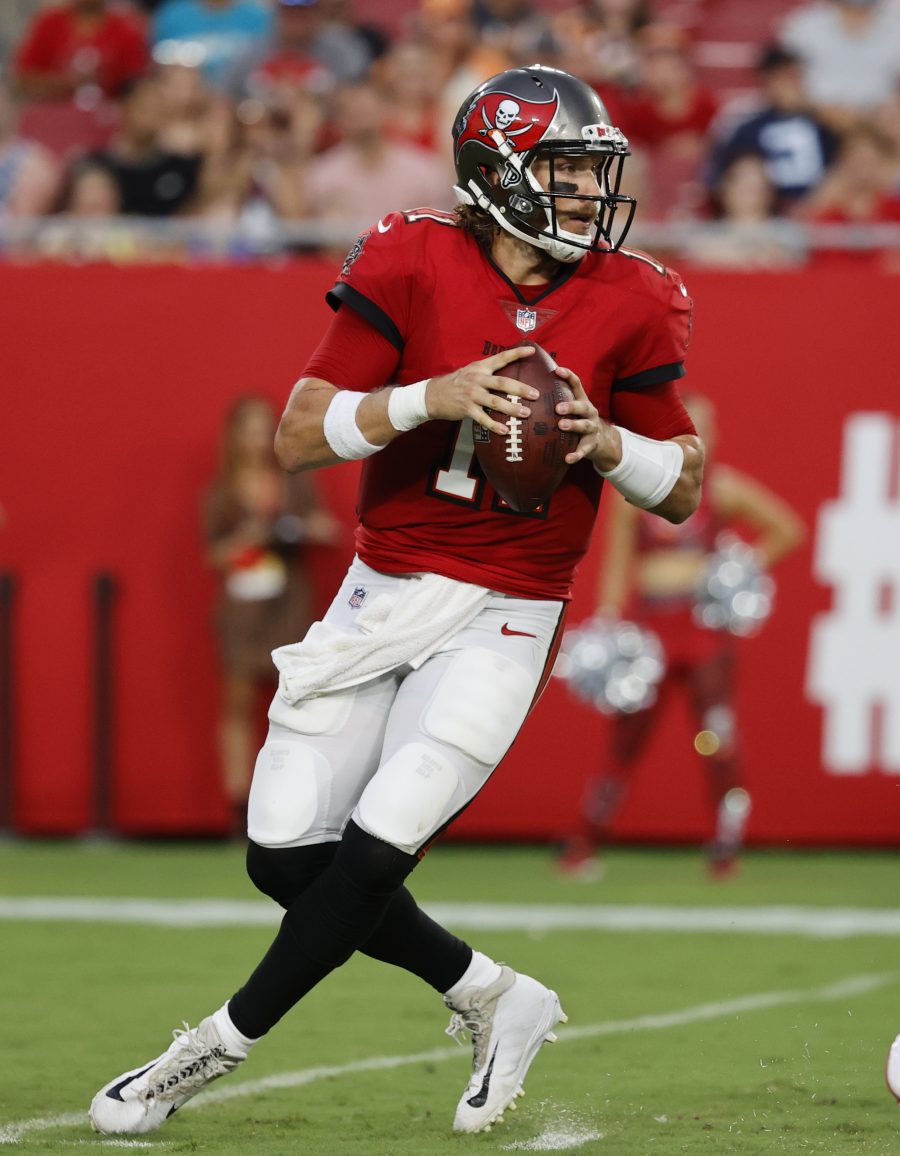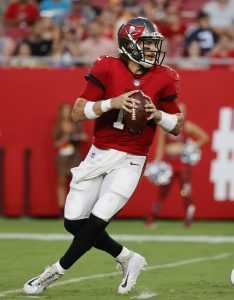 Brady did not miss a start with the Bucs, keeping Gabbert on the bench. Gabbert did make some successful cameos under Bruce Arians with the 2017 Cardinals; his last starts came with the 2018 Titans. Mahomes displayed his toughness during the playoffs but has missed time in two of Kansas City's past three divisional-round games. Mahomes also missed two games in 2019 with a knee injury. Henne and Matt Moore made memorable contributions to help Super Bowl-winning Chiefs squads. Reid pulling Moore out of retirement in 2019, after a season-ending Henne injury, and coaxing decent performances bodes well for Gabbert's potential form should Mahomes go down.
The Reid-era Chiefs have not shown much concern for adding players deemed character risks. One of those gambles (Hill) will be in the Hall of Fame one day; another (Frank Clark) made vital postseason contributions. This has created some controversy, but the Chiefs have also generated some positive results from this old-school strategy. The Chiefs, who also gave ex-first-round cornerbacks DeAndre Baker and Damon Arnette second chances after off-field issues led to early exits elsewhere, will bet on Omenihu. The former Nick Bosa supporting-caster was arrested on a domestic violence charge in January. He already received a six-game suspension.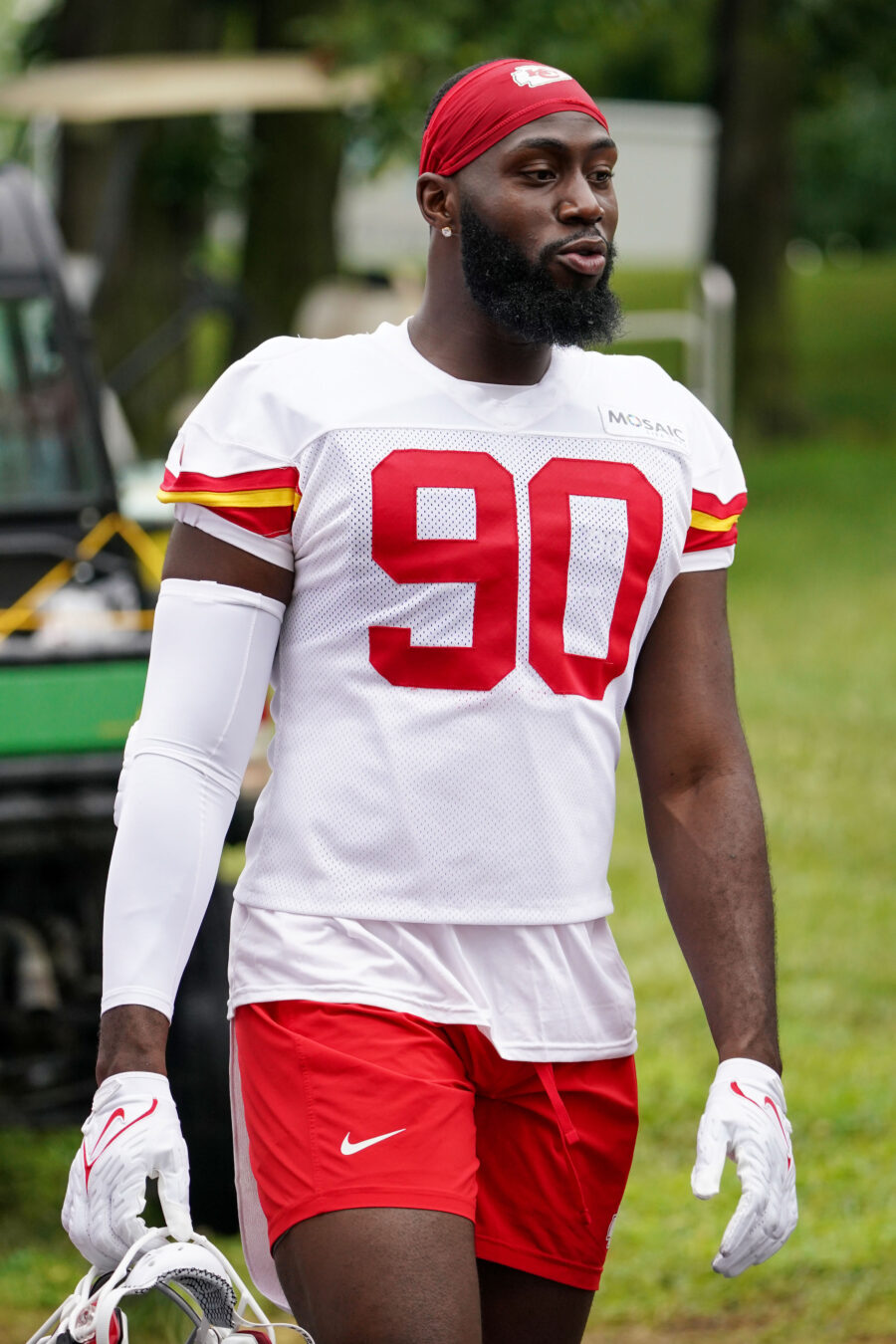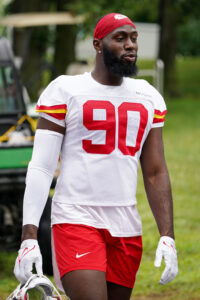 Omenihu, 26, showed promising form for a 49ers team that frequently enhances defensive ends' capabilities, posting the 12th-best pass rush win rate — among D-ends — in 2021 and totaling 4.5 sacks and 16 QB hits last year. With the Chiefs cutting Clark and depending on two recent first-rounders (George Karlaftis, Felix Anudike-Uzomah) on the edge, Omenihu stands to become an important piece. This suspension threatens to void the fifth-year pass rusher's guarantees; it will also place pressure on the two young DEs as Jones remains on the reserve/did not report list.
Even with the off-ball linebacker market featuring few major paydays this offseason, Tranquill's low-cost pact surprised. The former fourth-round pick out of Notre Dame was one of the NFL's most productive linebackers last season, pairing 146 tackles with five sacks, four pass deflections and a forced fumble. The Chargers let the Gus Bradley-era investment Tranquill walk and gave Eric Kendricks a two-year, $13.25MM deal. Reid reaching out to Tranquill, 28, helped seal the deal for the fifth-year linebacker to join Nick Bolton and Willie Gay on Kansas City's defensive second level.
Re-signings: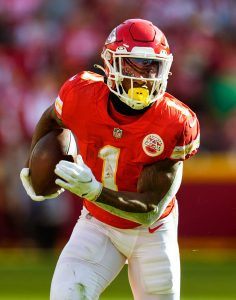 Although McKinnon has not seen a contract close to the one the 49ers gave him in 2018, he has been an undeniable success story in a bleak period for the position. The Chiefs have now given McKinnon three one-year contracts, and it is interesting this one did not require much of a raise from 2022. Then again, the market was unkind to most backs this year.
McKinnon became a valuable piece for the Chiefs, setting a post-merger NFL running back record by catching a touchdown pass in six straight games. McKinnon's nine receiving TDs broke a Chiefs single-season RB standard as well, and his 10 total TDs marked a career high for the one-time Adrian Peterson Vikings successor.
Whiffing on Clyde Edwards-Helaire, a first-rounder who was supposed to become a dynamic aerial option for Mahomes, the Chiefs have both rectified the situation with McKinnon and dealt another blow to RB value in doing so. While most teams cannot get away with giving the keys to a seventh-round pick (Isiah Pacheco) and a 31-year-old back on veteran-minimum money, Mahomes' presence affords the Chiefs luxuries. This low-cost duo comprising the Chiefs' playoff backfield undoubtedly affected teams' thinking at the position this offseason.
McKinnon, who missed two full 49ers seasons after signing a four-year deal worth $28MM, played in every Chiefs game last season. The ex-Vikings draftee has made his most valuable contributions in his NFL twilight years.
Notable losses:
The Chiefs had wanted to retain Brown, but they passed on tagging him a second time (at a cost of $19.9MM). If Donovan Smith proves a significant downgrade at the O-line's glamour position, not re-tagging Brown — a move believed to be in play for a bit — will look like a questionable strategy. Then again, a Brown tag would have almost definitely prevented the Taylor signing. Brown made his way to Cincinnati, and while the overall contract number did not match what the Chiefs proposed before the July 2022 tag extension deadline, the sixth-year blocker still made out well.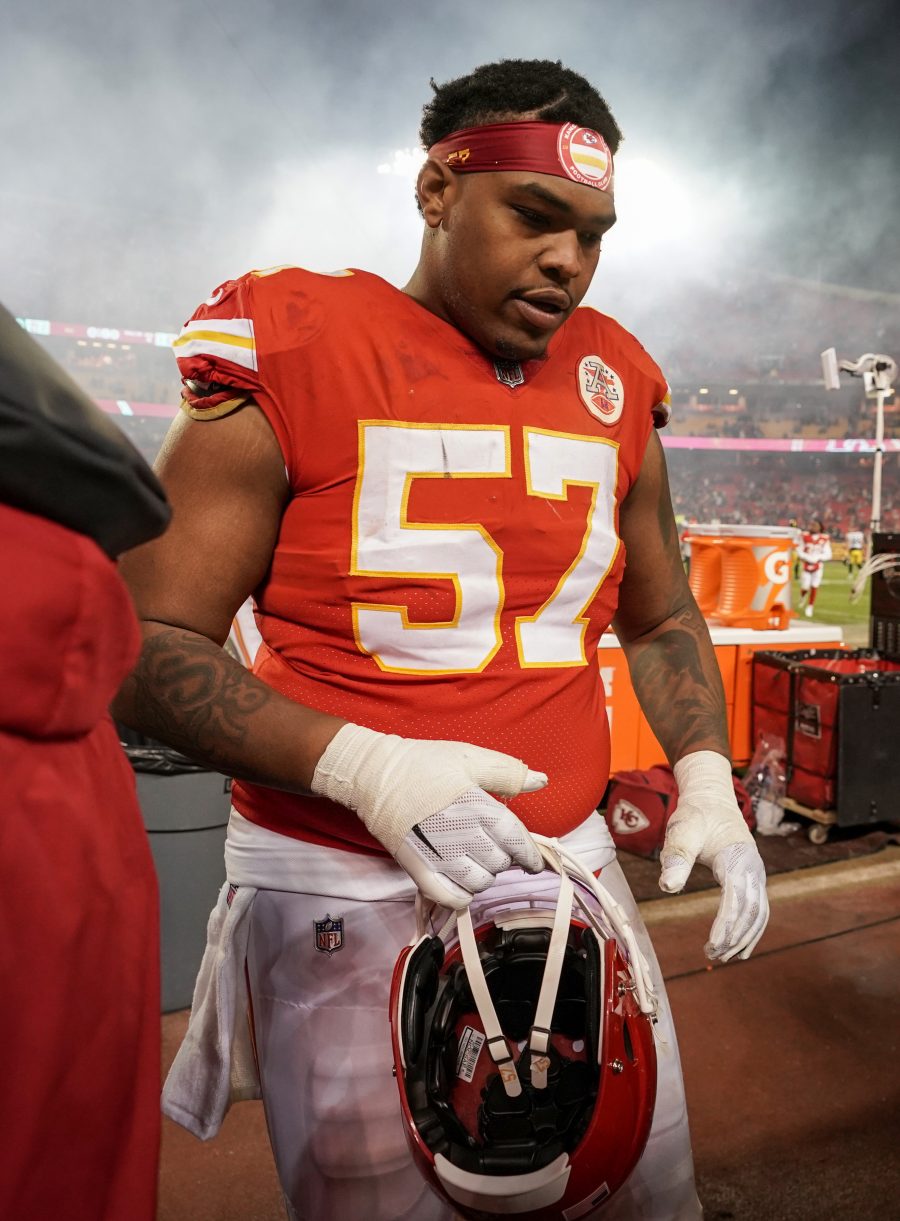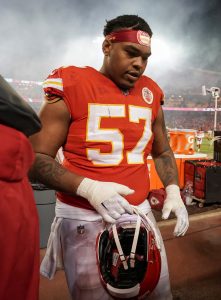 It was assumed when the Chiefs traded first-, third-, fourth- and fifth-round picks for Brown, a second and a sixth in 2021 that the ex-Ravens right tackle — who had angled to be a full-time left tackle — would become a long-term Kansas City blocker. The team giving up that kind of package pointed to an extension being in the works, but the Chiefs held off on a re-up until 2022. This strategy benefited Brown's profile, as he racked up a Pro Bowl in his first full-time LT season. The Chiefs were then unable to work out an extension by last summer's tag deadline, though team brass' frustration with Brown suggested a belief the AFC West powerhouse could lock down its blind-sider.
Kansas City submitted Brown a six-year, $139MM proposal before the July 2022 deadline, and while the $23.1MM AAV topped Trent Williams' then-LT-record number, the Chiefs included an inflated sixth season to boost the number to that point. This is a common tactic for teams; the Dolphins did this to bump Hill's AAV to $30MM. It did not move the needle for Brown, who cited insufficient guarantees upon declining. The Chiefs' offer contained $38MM fully guaranteed, which would have ranked fourth among tackles at the time. While Brown said he wanted to remain a Chief for the long haul and made a second Pro Bowl with the team last season, the organization decided to move on.
Brown, 26, probably made the smarter financial decision by not signing a six-year extension. Brown's Bengals AAV ($16MM) trails the Chiefs offer, but Cincinnati gave him $31.1MM guaranteed at signing and included $42.35MM over the deal's first two seasons. The former third-round pick will now have a chance at a third contract earlier than he would have had signed the Chiefs extension. Brown's size made his matchups with quicker edge rushers adventurous, though PFF graded the 363-pound blocker as a top-20 tackle last season. His defection improving the Bengals' O-line may end up mattering in a crowded AFC race.
Wylie's deal did not trail McGary's Falcons pact by much; the Commanders gave the longtime Chiefs starter a three-year, $24MM accord to follow Eric Bieniemy. This was a bit surprising, seeing as Wylie played on multiple low-cost veteran agreements — including a one-year, $2.5MM deal in 2022 — with the Chiefs over the past two seasons. The Chiefs poured significant resources into three O-line spots and found a gem in sixth-rounder Trey Smith. The team, in turn, refrained from paying up at right tackle for a bit. But Wylie offered some stability last season. The former UDFA, who played guard and tackle in Kansas City, started all 20 Chiefs games during the Super Bowl LVII-winning campaign. Given the expenses on KC's cap sheet, matching the Commanders' offer was likely a non-starter for the defending champs.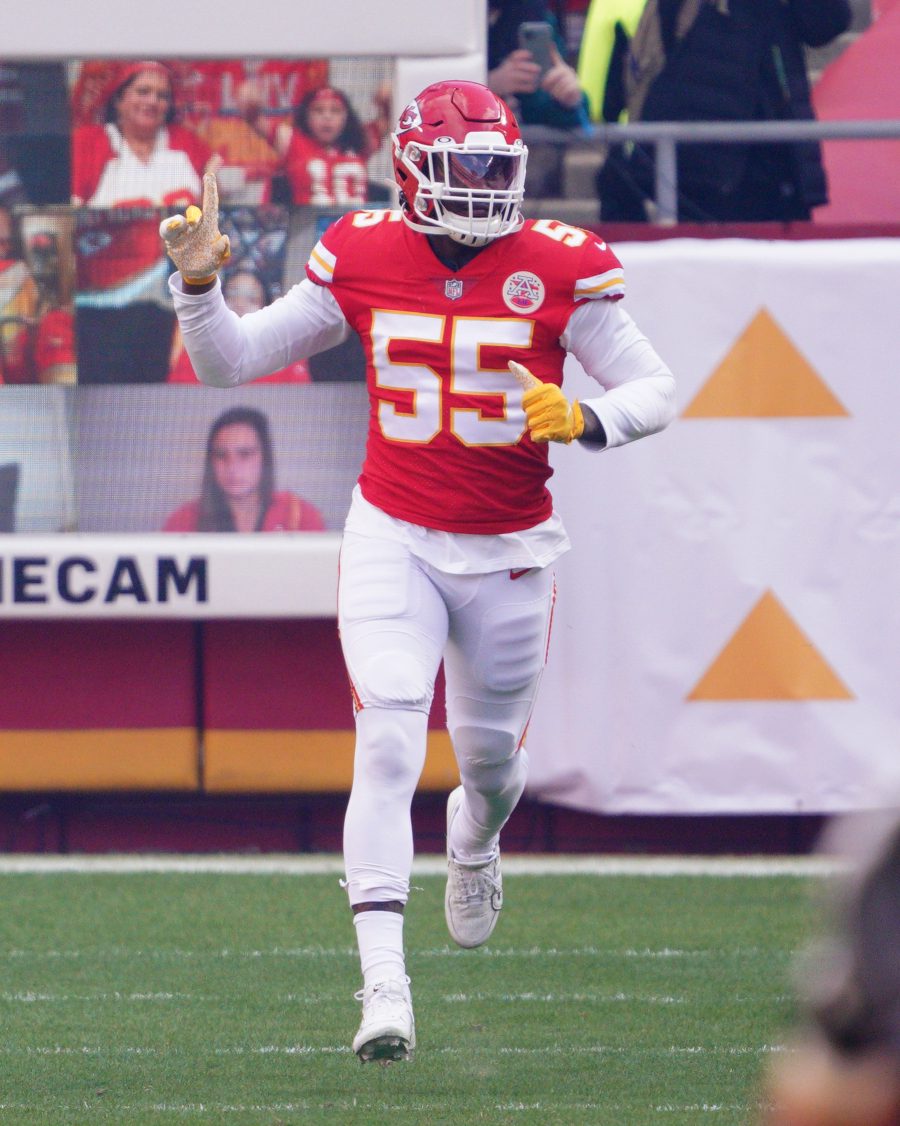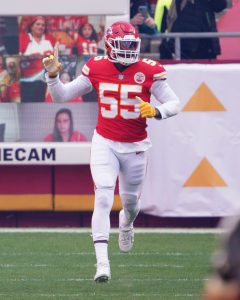 In the grand scheme, the Chiefs overpaid for Clark. A month after sending Dee Ford to the 49ers in a tag-and-trade scenario, the Chiefs gave up first- and second-rounders to acquire Clark from the Seahawks. GM Brett Veach then authorized a five-year, $104MM extension. Clark never eclipsed eight sacks in a season across four Kansas City slates, after doing so in his final three Seattle years, and was twice arrested on gun charges in 2021. That produced a 2022 suspension, which commenced after the Chiefs kept him on a reduced salary.
That said, Clark made a big impact for the Chiefs in the playoffs. The veteran pass rusher now ranks behind only Bruce Smith and Willie McGinest for postseason sacks, with his 2.5 from the 2022 postseason upping his total to 13.5. Clark, 30, caught on with the Broncos on a one-year, $5.5MM deal.
A two-year Chiefs courtship led to Smith-Schuster signing on in 2022. The ex-Steeler picked a good time to join Mahomes and Co. The six-year veteran paced a post-Hill wideout corps by a wide margin in receiving yards (933) and drew the crucial holding penalty that effectively locked up the Super Bowl win. Mutual interest on a second contract existed between the Chiefs and Smith-Schuster, who is somehow just 26. He and Reid communicated before and during free agency, and the 11th-year Chiefs HC said the Patriots authorizing a three-year, $25.5MM deal ($16MM fully guaranteed) was well out of K.C.'s price range. That comment proved eye-opening regarding the AFC power's budget at the position, after parting with Hill rather than pay him Davante Adams-level money.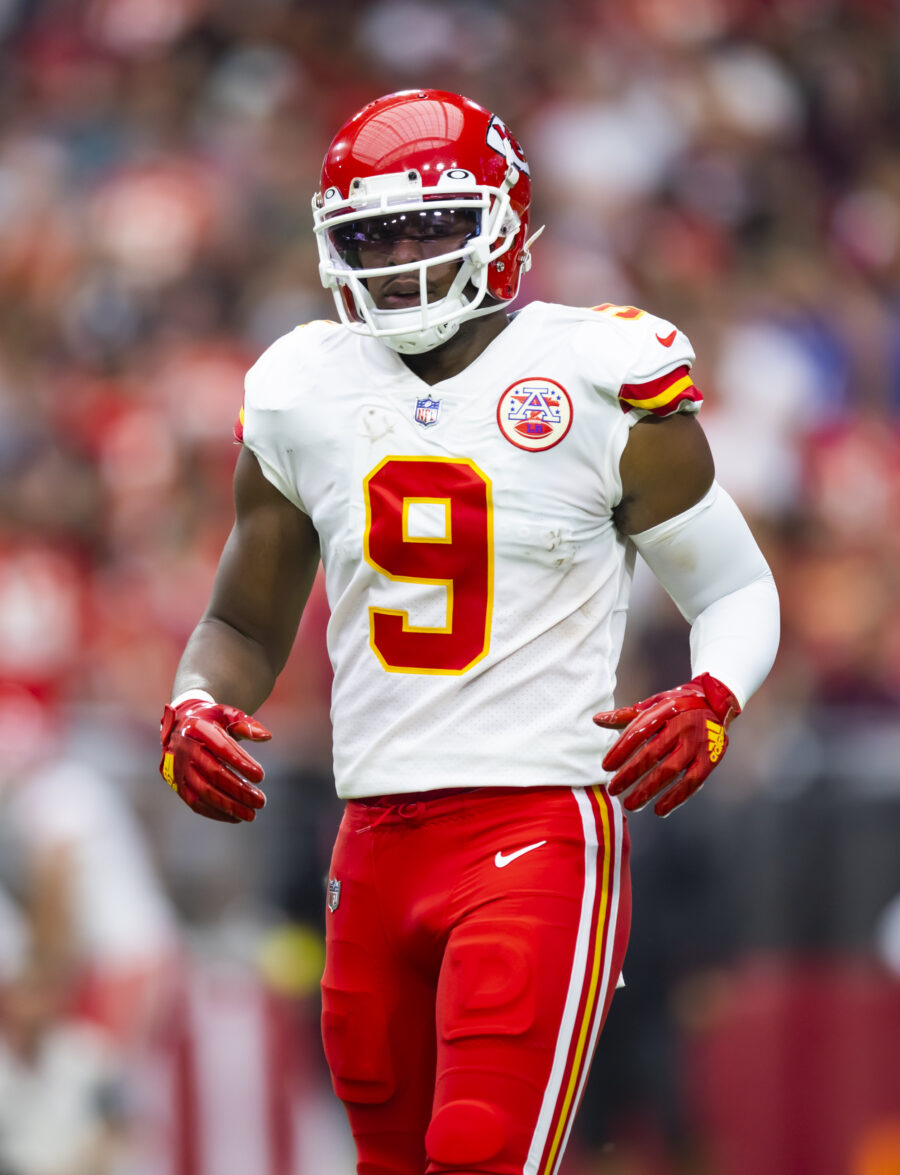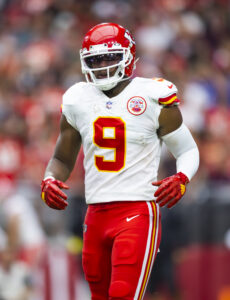 With Smith-Schuster and Hardman walking (to the Jets), the latter being expected to depart after an inconsistent tenure, the Chiefs have tested fantasy GMs ahead of this season. They kept seven receivers on their 53-man roster, with Marquez Valdes-Scantling and Smith-Schuster slot successor Skyy Moore tentatively expected to be the lead producers. The team had hoped Kadarius Toney could become a No. 1-caliber target for Mahomes, and while the shifty ex-first-rounder has recovered from the meniscus injury sustained minutes into training camp, the cavalcade of maladies he has suffered since entering the NFL brings obvious unreliability.
Watson, James, second-rounder Rashee Rice and UDFA flier Justyn Ross — a one-time first-round-level prospect while at Clemson, before a career-threatening neck injury intervened — comprise the Chiefs' muddled receiving corps. This will be one of the league's most interesting position groups to observe early in the season. With Kelce battling a knee contusion that could force his first injury-related absence since microfracture surgery shelved him for 15 games in 2013, this group may go it alone to start the season.
Thornhill rebounded from a late-season ACL tear as a rookie to become a solid Chiefs starter, but the team already has a higher-end safety contract (Justin Reid's three-year, $31.5MM deal) on its payroll. This led to the Browns adding Thornhill for three years and $21MM. The Chiefs acquired Thornhill's replacement — Bryan Cook — in the 2022 second round. Ex-Bucs safety Mike Edwards provides an insurance option in case Cook (one rookie-year start) is not quite ready.
Extensions and restructures: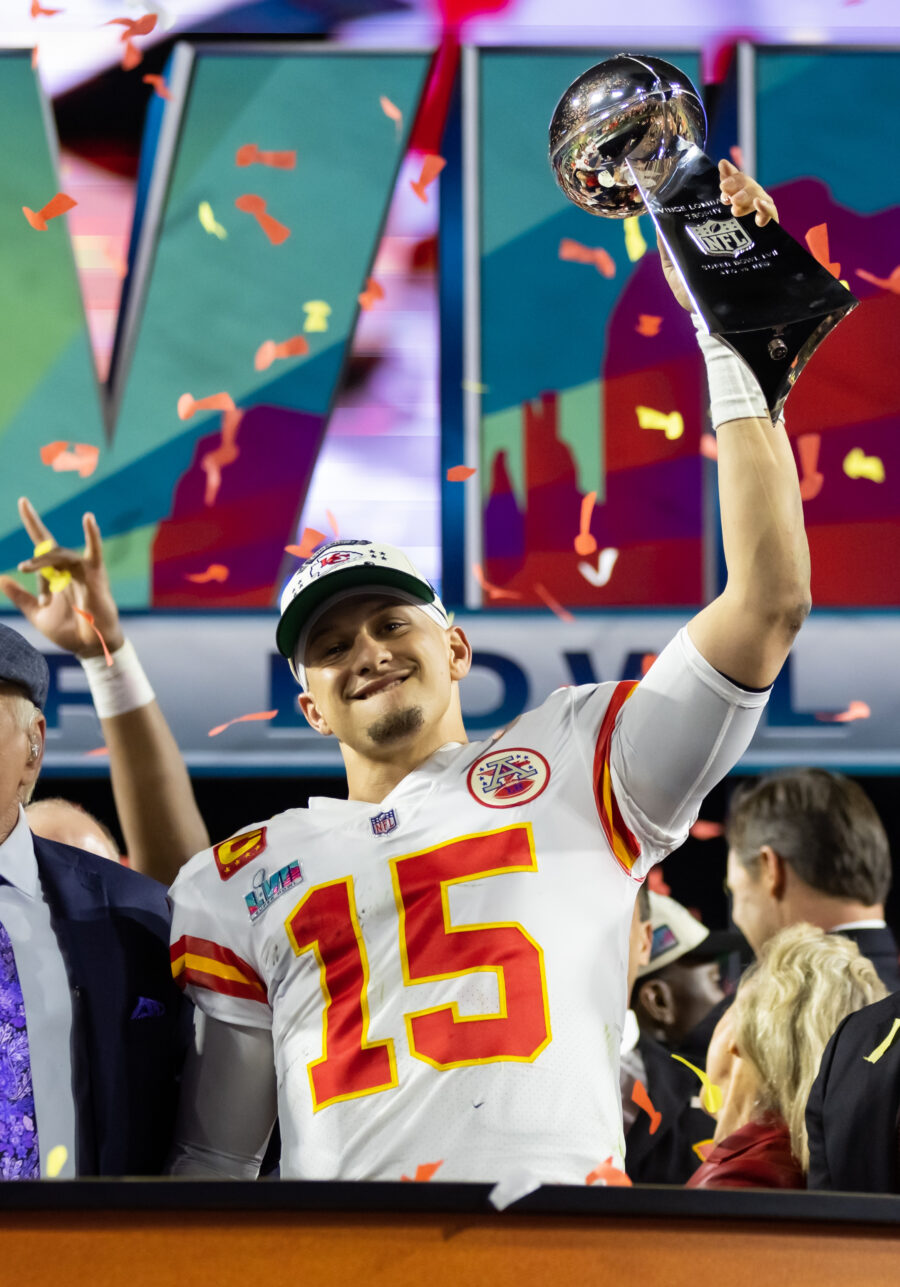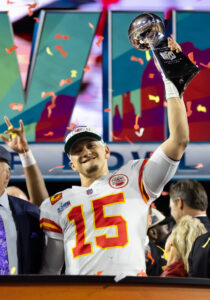 Going into his age-28 season, Mahomes has not made it known he is dissatisfied with his contract. Then again, Joe Burrow's eventual deal would bump the league's biggest star to eighth in AAV. And no quarterback who signed an extension since Mahomes' July 2020 contract has followed his lead on contract length. Mahomes' $45MM-per-year deal runs through 2031; it remains the only NFL contract extending into the 2030s. While this has given the Chiefs flexibility, it will eventually need to be revised as the market soars.
Veach said the team would reexamine Mahomes' contract after this round of QB deals wrapped. With Jalen Hurts, Lamar Jackson and Justin Herbert signed, only Burrow's accord remains. An adjustment would require more creativity from the Chiefs, as teams do not make a habit of removing years from players' contracts. But if any active NFLer has contractual carte blanche with a team, the Chiefs roster him. The Chiefs will not want to become embroiled in a dispute with a player that has meant this much to the franchise's fortunes, but nothing appears imminent on this front. The Chris Jones matter still needs to be resolved.
Draft: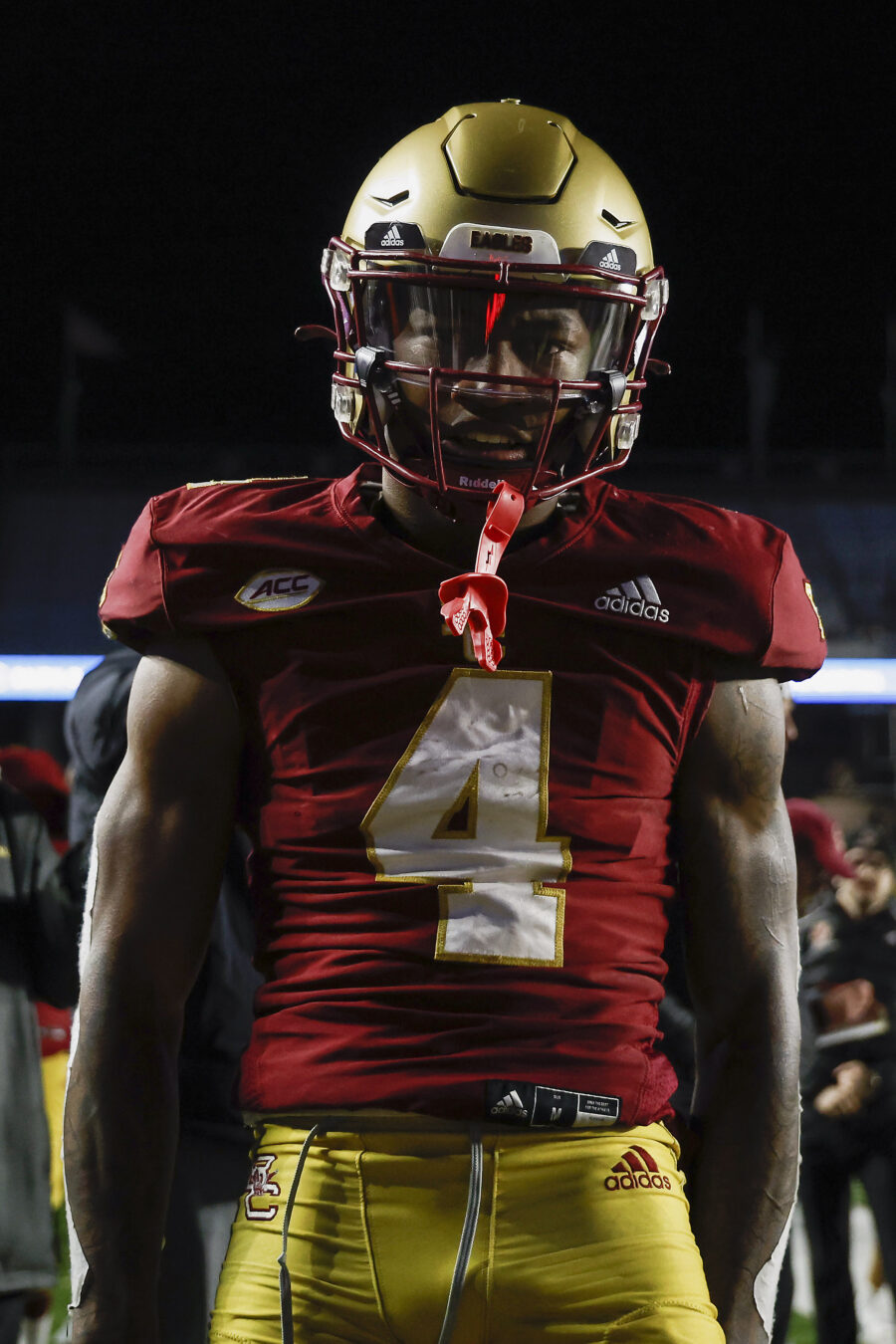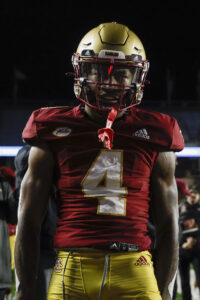 The bevy of visits and arranged workouts with Mahomes showed the Chiefs' hand to a degree, and while Rice became the receiver investment, higher-level prospects appeared on the team's radar. Believed to be interested in Quentin Johnston, the Chiefs also organized a Mahomes-Zay Flowers throwing session.
During Round 1, the Vikings are believed to have fielded a call from the reigning champs, who were pegged as interested in Jordan Addison. The Chargers, Ravens and Vikes respectively chose Flowers, Johnston and Addison from Nos. 21-23, and the Chiefs stood down. A first-round wideout would have added some clarity to Kansas City's receiver setup, but the team addressed its pass rush soon after the Vikings call.
Hailing from Kansas City, Mo., suburb Lee's Summit, Anudike-Uzomah earned Big 12 Defensive Player of the Year acclaim at Kansas State. He combined to register 19.5 sacks, 25.5 tackles for loss and eight forced fumbles from 2021-22. The Clark cut and Omenihu suspension clears a path for a regular early-season role for the 21-year-old edge rusher, though he enters the season as a rotational option behind Karlaftis and Mike Danna. The latter totaled five sacks last season but profiles as a backup when all parties are available. The Chiefs, who were connected to a second Carlos Dunlap agreement but did not follow through, will expect Anudike-Uzomah to become a regular early.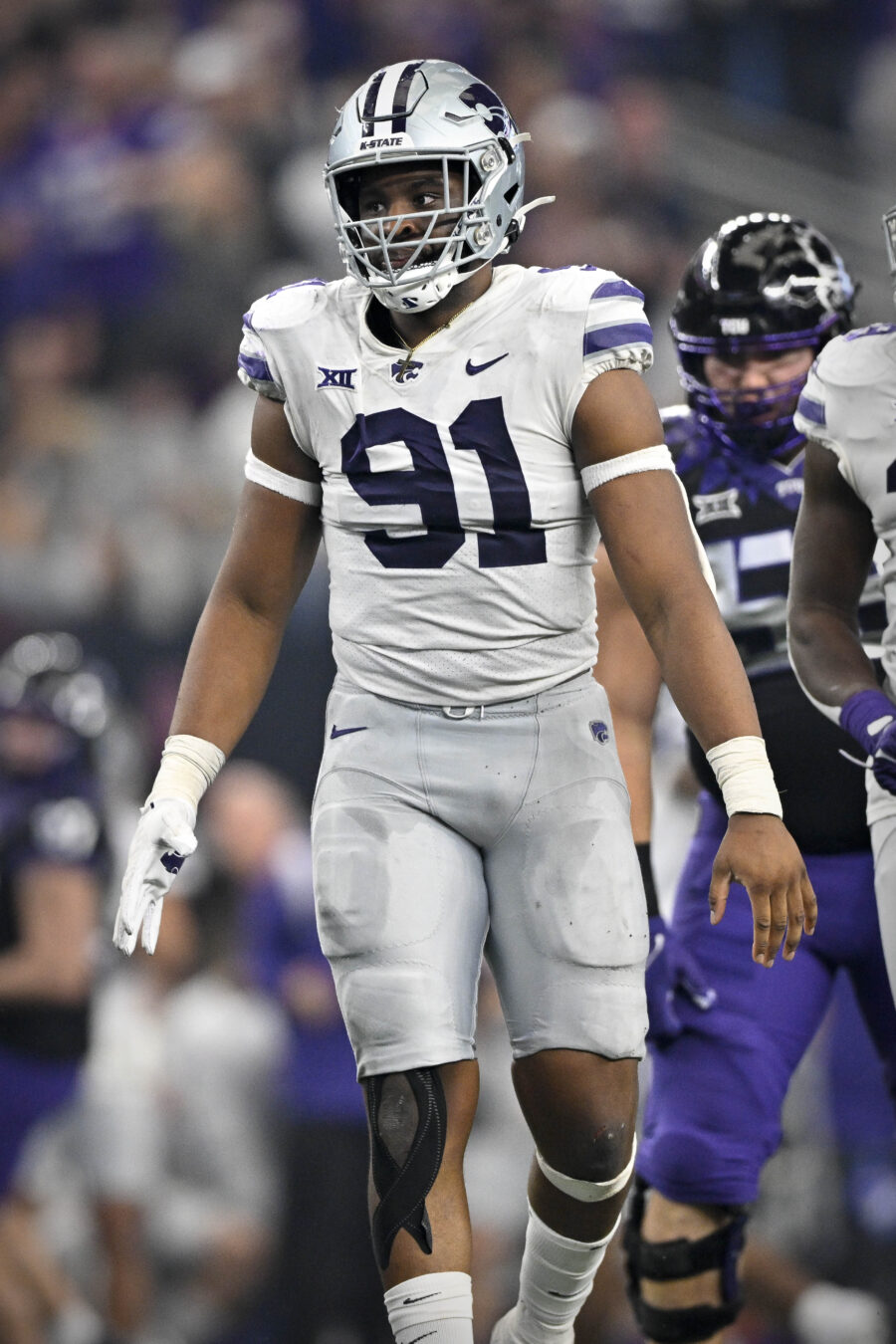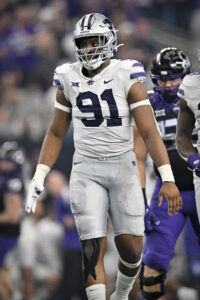 Rice also caught passes from Mahomes leading up to the draft and enticed the Chiefs to trade up eight spots in Round 2. Although, Rice was not rated nearly as highly compared to the four first-round wideouts. ESPN's Scouts Inc. slotted the SMU product 124th in this year's class; the Chiefs disagreed with that assessment.
The 6-foot pass catcher worked as an SMU regular for four seasons, topping out with a 1,355-yard senior showing. He added 14 receptions for 155 yards during the Chiefs' preseason slate. With Toney a perpetual injury risk and nothing else about the team's non-MVS receiver corps sorted out yet, Rice could certainly factor in early.
Veach said Moore will have a three-down role to start the season, with Rice on track for situational work early. It took Moore a year to assimilate in Reid's offense, and Hill remains the only Reid-era receiver draft choice to become an impact receiver in Kansas City. Since Reid arrived in 2013, Hill is the only Chiefs receiver draftee to top 600 yards in a season. With Kelce going into his age-34 season, the Chiefs will likely need that to change this year.
Other:
Reid had stumped for Bieniemy as a head coach for years, but no team viewed him as the right fit. This placed the five-year Chiefs OC as a lightning rod, seeing as Nagy and Doug Pederson were hired after shorter tenures as Kansas City's OC. The league's issues hiring minority candidates prompted multiple changes to the Rooney Rule in recent years, and while Bieniemy had legal issues in his past and has been accused of not interviewing well, it rankled many that he could not land a job after his role as Reid's right-hand man during one of the most explosive periods any offense has put together.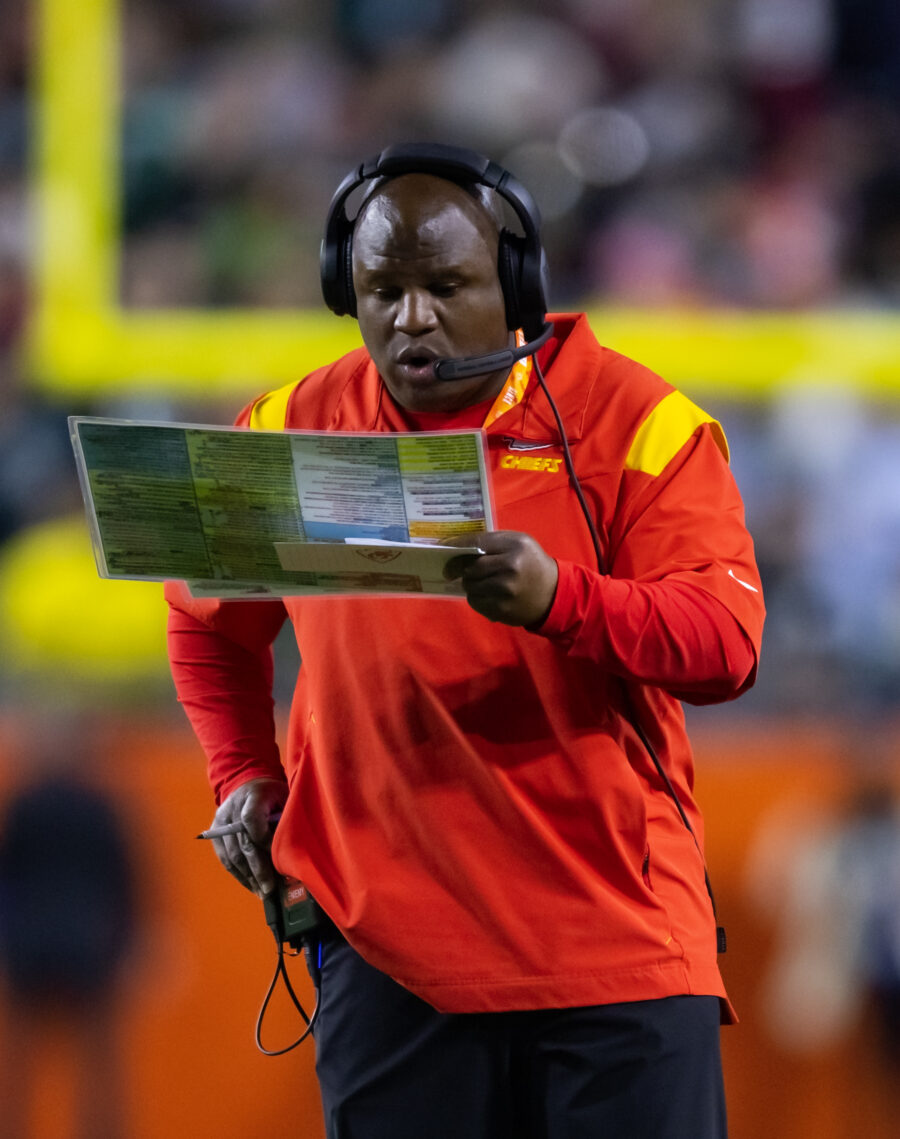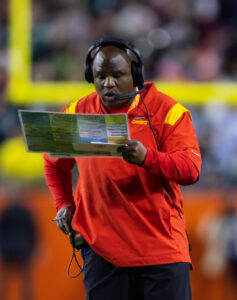 In all, Bieniemy has taken 16 HC interviews. Only one of those, however, came this year. Bieniemy, 52, met with ex-Chiefs coworker Chris Ballard but was not a finalist for the Colts job. The Commanders and Ravens showed interest in the 10-year Reid assistant as an offensive coordinator, and although it still looks strange to see the Chiefs OC need to accept another OC role in an attempt to better position himself for the HC carousel, Bieniemy is now in Washington.
Bieniemy's lack of play-calling credentials hurt him on the interview circuit, though other assistants have lacked such qualifications upon being hired. Nevertheless, the former running back will attempt to prove his credentials by calling plays for a less talented team.
Mike Kafka becoming the Giants' OC, beating Bieniemy to a play-calling role, led Reid to rehire Nagy. The two-year Kansas City OC flamed out as Chicago's HC, despite earning Coach of the Year honors in 2018. Bieniemy's departure creates an opportunity for Nagy, who did call plays at points during his initial Chiefs OC tenure — when Alex Smith remained the QB. Smith enjoyed his best season under Nagy, who parlayed that 2017 performance into the Bears gig. This will be Nagy's first chance as Chiefs OC with Mahomes at the controls.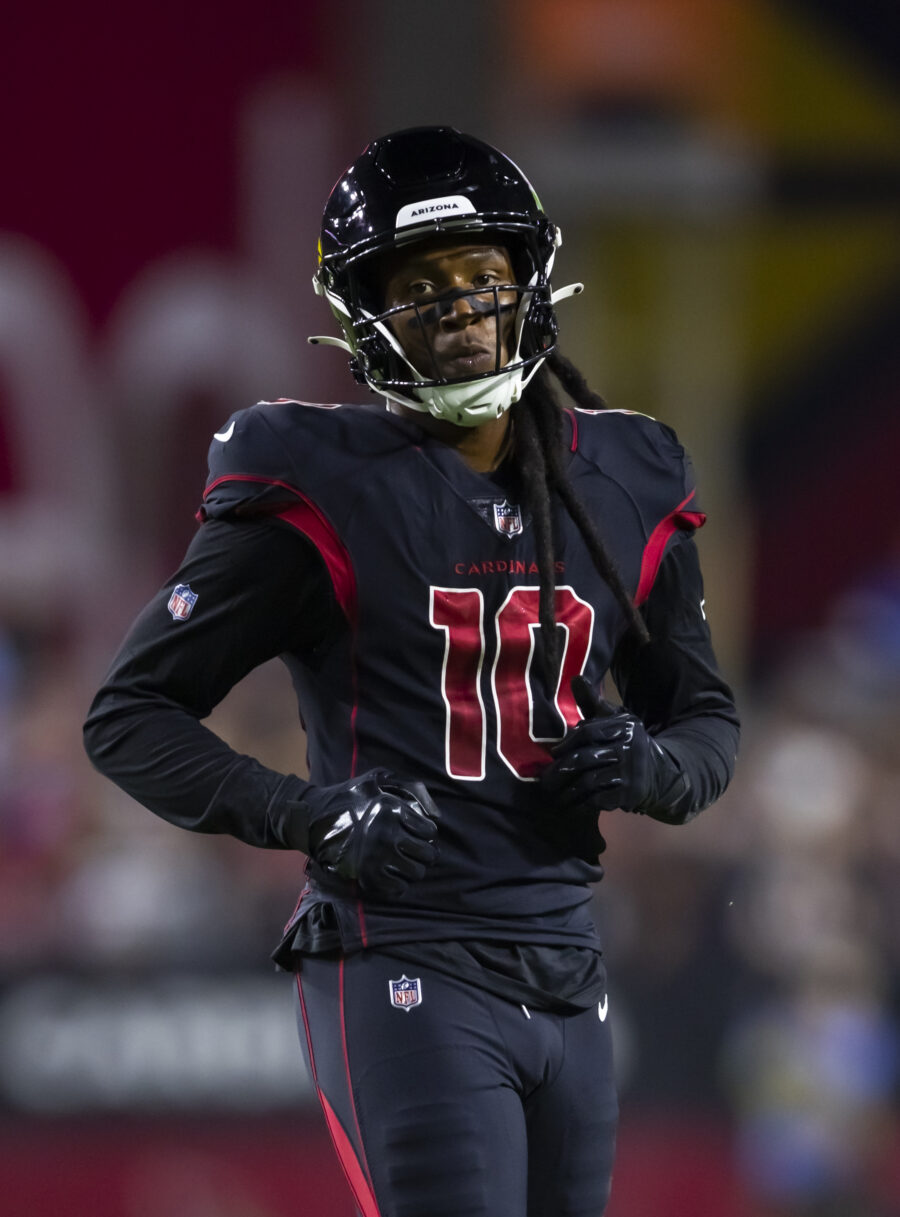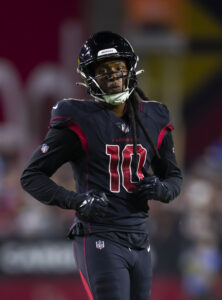 Before turning to the draft to address its receiver need, Kansas City showed steady interest in Hopkins. This pursuit initially popped up in March, and Hopkins expressed interest in joining the Chiefs via trade. The Chiefs then discussed Hopkins terms with the Cardinals, and the former All-Pro was seemingly ready to adjust his contract to facilitate a move. Odell Beckham Jr. securing $15MM guaranteed from the Ravens scuttled the Cards' talks with the Chiefs and Bills, however. The Chiefs remained on the radar for Hopkins during his lengthy free agency stay, but the Titans' offer came in much higher than theirs or other suitors' proposals.
A Jones extension would have helped carve out cap space for a potential Hopkins signing; this sequence of events was on the receiver's radar. Instead of a deal by training camp, the Jones process dragged much longer than most anticipated and is all set to produce a rare in-season holdout.
The Chiefs had balked at a monster third Hill contract and let Mathieu walk in preparation for another Jones extension, but not too long after those 2022 decisions, Aaron Donald signed a market-reshaping Rams deal. Just as the Raiders' Davante Adams extension helped lead Hill to the Dolphins, Donald's three-year, $95MM pact ended up hijacking the Chiefs' Jones plans.
Donald's 2017 holdout led to a Week 1 absence, but it did not bring the consequences this one does. Jones, 28, has incurred more than $2MM in fines. Sitting on the reserve/did not report list, Jones will also miss out on $1.1MM for each game missed. The Rams waived Donald's camp fines, just as the 49ers did with Nick Bosa on Wednesday. The 2020 CBA prevents the Chiefs from waiving Jones' penalties, differentiating rookie-deal holdouts from players who miss camp on veteran contracts. Going into the final season of a four-year, $80MM extension — agreed to at the 2020 franchise tag deadline — Jones has seen his AAV drop to ninth at the position.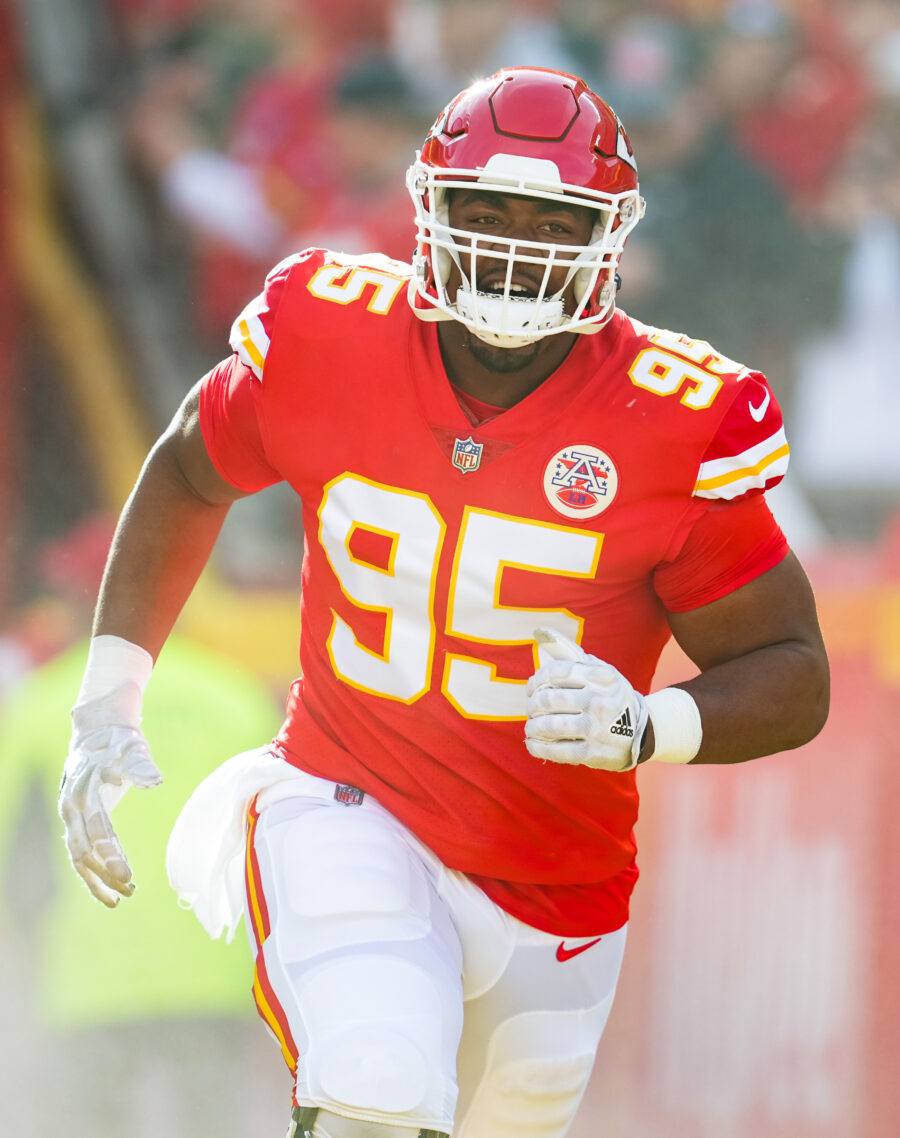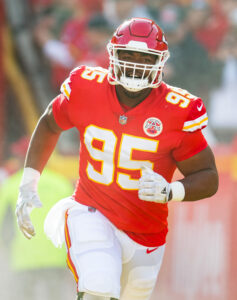 In talks with Jones since at least June, the Chiefs have wanted to pay him closer to the newly formed Daron Payne–Dexter Lawrence–Jeffery Simmons–Quinnen Williams tier, which the Jets standout tops at $24MM per year. Jones, who is the only pure defensive tackle in the sack era (1982-present) with two 15-sack seasons, has countered by asking for money closer to Donald's $31.7MM-per-year pact. Jones has been connected to asks of $30MM and later $28MM per year, potentially dropping his price. Will Bosa's new $34MM-AAV megadeal change his price point?
Jones possesses unique leverage. The Chiefs are grooming young D-ends and have Omenihu out until Week 7. Kansas City also cannot realistically tag Jones again in 2024; because of the 2020 tag, Jones' 2024 number would come in at $33.6MM. While Jones said he did not want to be a distraction by holding in, he has sacrificed millions in staying away. The Chiefs have let just about every other core defender during the Mahomes era leave, while Jones has been the constant. Both Bosa and Zack Martin's holdouts ended up being tremendously beneficial. Will the Chiefs end up caving to Jones' demands?
While Jones has floated the notion of staying away until Week 8 — the point players must report to gain an accrued season toward free agency — it would undercut his financial mission to lose out on $10MM between camp fines and game checks. Vincent Jackson once stayed away from the Chargers, protesting the uncapped 2010 year that changed service-time requirements, through Week 8 but did so on a rookie contract. It remains unlikely Jones will sit out until midseason, though his resolve should no longer be doubted. It will be interesting to see how the Chiefs' defense fares without him in games.
Top 10 cap hits for 2023:
This Jones issue hovered over the Chiefs' offseason during a year in which the AFC grew stronger. The conference imbalance is stark ahead of Week 1, with the AFC featuring a deep contender contingent. Then again, the Chiefs have thwarted most challenges during the Mahomes years. They are the only team in NFL history to host five consecutive conference championship games.
Gunning to become just the second franchise to venture to four Super Bowls in a five-year span (Patriots: 2014-18), the Chiefs should be expected to field a championship-caliber squad once again. But Jones missing time and Kelce entering his mid-30s threatens to thin the margin for error. Though, the Chiefs' ruthless consistency makes them difficult to bet against regardless of circumstances.
Follow @PFRumors