When the Vikings and Adrian Peterson went their separate ways, things did not play out as expected. Initially, we heard rumblings of potential contenders like the Giants and Seahawks having interest in the veteran. Then, one by one, each of those clubs made it known that they did not want to bring the 32-year-old on board. Eventually, the Saints came into the picture and Peterson came on board, despite the presence of Mark Ingram.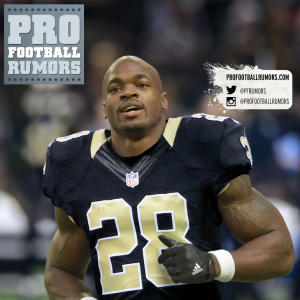 Ingram will continue in his role as the Saints' lead back while Peterson is in unfamiliar territory as a complementary piece. There are questions about how Peterson will handle his new role and some are even doubting whether he can be effective on the shorter end of a timeshare at this stage of his career.
Recently, Peterson spoke with Dan Pompei of Bleacher Report about the free agent process and his future in New Orleans. Here's a look at some of the highlights:
On why he did not ask the Saints about how many carries he'll be getting each game:
"I don't need all those carries to be my best. I don't think I became a great player by having to have 20 or 30 carries to get 200 yards. If they feed it to me, hey, I'm going to eat. Whenever I get opportunities, I'll take advantage of them."
On changing his game to catch more passes down field;
"I was attracted to playing with Brees, a guy who is good at distributing the ball to different players. I know in this system, I'll get some opportunities to catch the ball in space. Drew Brees, he'll get the ball to me."
On the pitch of coach Sean Payton:
"I loved his honesty. He was straightforward. I could sense he really wanted me to be a part of the organization. All coaches want to win, but you can see it more with him. He's very passionate about what he does. About 98 percent of the time, he was doing the talking."
On his motivation:
"Yes, the doubt motivates me. I'd be lying to say it doesn't. You want to do things people say you can't do." "Yes, the doubt motivates me," Peterson says. "I'd be lying to say it doesn't. You want to do things people say you can't do."
Photo via Pro Football Rumors on Instagram.