Bruce Arians has been publicly lobbying for the Browns' job, but the 66-year-old isn't necessarily expecting to get pulled out of retirement. When asked if he'll coach in 2019, Arians said, "It's probably 99-to-1 against," (Twitter link via Tyler Dunne of Bleacher Report.)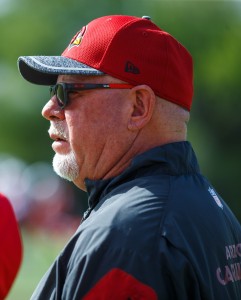 It's unclear whether Arians is having second thoughts about a return to the sidelines or if he has received word that the Browns are not interested in his services. It's also possible that Arians, a unique character, is simply having some fun with the rumor mill. As recently as three weeks ago, we heard that Arians would likely be considered in 2019 head coaching searches.
Arians has said that he would only consider coaching if it was for the Browns' position, one that may not truly be available if they finish out strong under Gregg Williams. The Packers' head coaching job recently opened up with the firing of Mike McCarthy, but he is rumored to have "very little" interest in that post.
Arians posted a 49-30-1 regular season record with the Cardinals over five seasons. He also guided the Colts to a 9-3 finish over the last three months of the 2012 season when serving as their interim HC.
Photo courtesy of USA Today Sports Images.