While all the NFL head coaching vacancies are either filled or will be early next week, John Fox may be poised to serve as an assistant coach for the first time since 2001.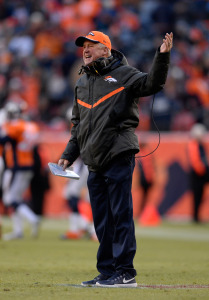 A head coach in each of the past 16 seasons, Fox is mulling offers to join a defensive staff, Jay Glazer of Fox Sports reported during an interview with WGN Radio this week. The former Panthers, Broncos and Bears HC isn't sure if he's ready to take a break just yet. He said in January he was willing to wait for a fit and did not sound then like he wanted to stop coaching.
Fox has drawn interest from multiple teams after the Bears fired him following a three-season run.
"He's gotten some offers to be senior defensive assistant, things like that," Glazer said, via NBC Sports Chicago's Tim Stebbins. "I don't know if he's going to jump into the media side of it. He's kind of mulling some offers whether or not he wants to coach. The coaching bug is not out of him yet."
Set to turn 63 next week, Fox was the Giants' DC from 1997-2001. Many of Fox's defenses have fared well, with 10 of his units during his time as either a DC or HC ranking in the top 10 in total defense. A 16-year head-coaching run would make him plenty qualified to serve as an assistant this coming season.
Photo courtesy of USA Today Sports Images.